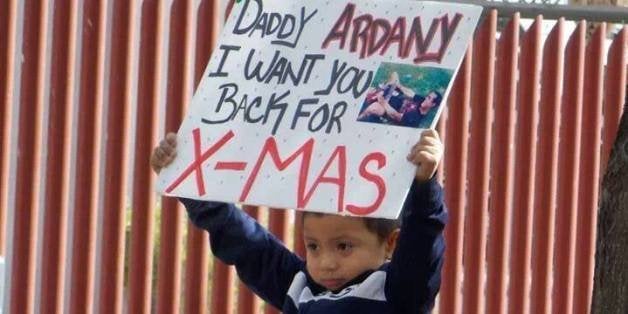 Dozens spent the night and held a vigil outside an immigration detention facility in Arizona, hoping to stop the deportation of an undocumented man whom they say should be allowed to stay.
That man is Ardany Rosales Lemus. He is a father of two U.S. citizen children, including a 2-year-old boy and a 10-month-old baby girl.
Supporters and family members, who began gathering outside the Florence Service Processing Center on Thursday night, say he was pulled over in Phoenix last December for a minor traffic violation and was placed in deportation proceedings. During his time in detention, he missed the birth of his baby girl as well as his wedding.
"We want to stop Ardany's deportation," Brax Lopez, who attended the vigil, told VOXXI early Friday morning. "But above all, we're trying to showcase how unjust the system is with people who are of low priority. That's the case with Ardany and others who are not a high risk or don't pose any threat to this country, and yet they are being deported."
A statement emailed to VOXXI Friday afternoon by U.S. Immigration and Customs Enforcement confirmed that Rosales Lemus was deported and that the plane he traveled in to Guatemala had already landed.
"After conducting a comprehensive review of Mr. Rosales-Lemus' case, U.S. Immigration and Customs Enforcement (ICE) chose not to exercise prosecutorial discretion in this matter," the statement read.
The statement went on to say, "ICE is focused on smart and effective immigration enforcement that prioritizes the removal of convicted criminal aliens, recent border crossers and immigration fugitives who have failed to comply with final orders of removal issued by the nation's immigration courts. ICE exercises prosecutorial discretion on a case-by-case basis, considering the totality of the circumstances in an individual case."
Supporters and family members are outraged
Supporters and family members were outraged to hear the news of Rosales Lemus' deportation and said they feared for his safety in Guatemala.
According to organizers leading a campaign to stop Rosales Lemus' deportation, the father of two left Guatemala and came to the U.S. in 2005 because he feared for his life. He asked for asylum in the U.S. but was denied.
In Guatemala, he worked as an organizer encouraging youth to stay out of gangs and out of trouble. His work led to him being beat up and receiving multiple threats from La Mara Salvatrucha, one of the most powerful gangs in the world.
Among those who expressed concerns over Rosales Lemus' deportation was his mother-in-law, Veronica Huerta, who said:
"Now more than ever I want to go to Washington, D.C., and expose the pain that is being caused by all of this."
Meanwhile, Carolina Canizales of United We Dream said she was "outraged" that President Barack Obama continues to tear apart families like Ardany's.
"A president who claims to support creating a path to citizenship for people just like Ardany violates the trust of our community and paints himself a hypocrite and a liar when he presides over record deportations and insists on removing people from this country who've built a life here and contribute to their community," Canizales said.
Erika Andiola, who recently resigned her congressional job to focus on stopping her mother's deportation, was among those who went to the vigil Thursday night to try to stop Rosales Lemus' deportation. She made her way there shortly after ICE granted her mother's request to stay in the U.S. for another year.
Andiola and others claimed ICE agents used several decoy buses and vans to distract them in order to escort Rosales Lemus from a back exit of the Florence Service Processing Center. A call from Rosales Lemus confirmed he was no longer inside the facility and was taken to an airport.
Before You Go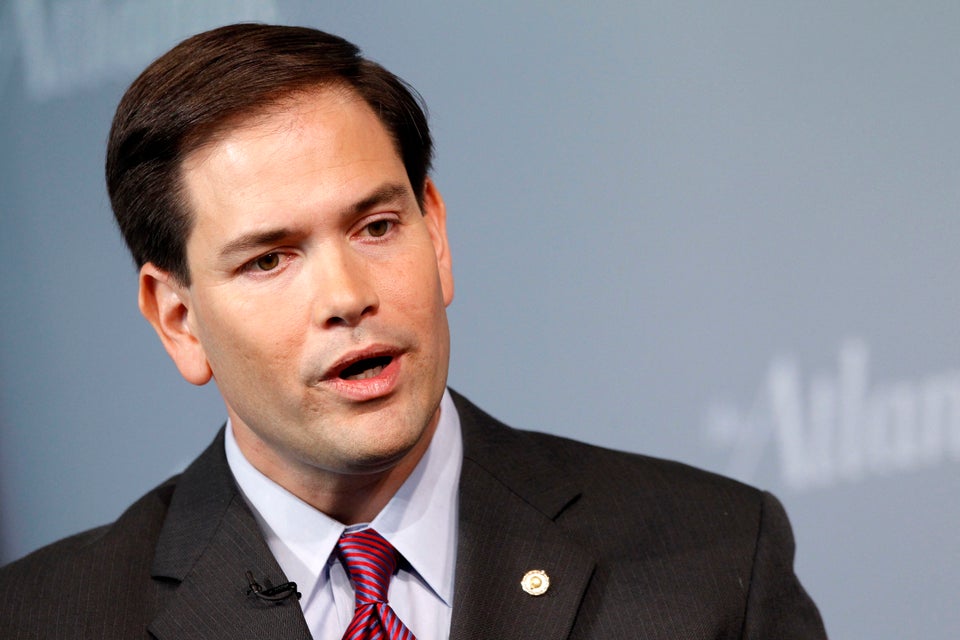 The Senate Immigration Gang Of Eight
Popular in the Community