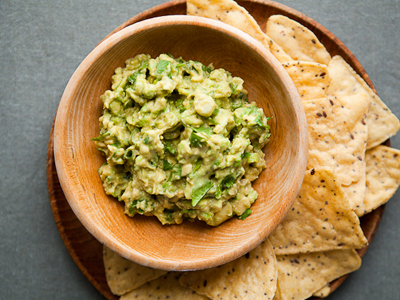 As we food it up for the Super Bowl, we've locked down buffalo-wing tips from a pro and we've got plans for making alternative nachos. We may even "go fancy" with coconut shrimp. This year, however, our 10-pound molcajete of Super Bowl guacamole may set us back more than usual. We've just heard rumors of a 10 percent rise in avocado prices, triggered by a crop freeze that hit Florida and northern Mexico.
As we sat there fuming, we wondered: Since when did eating fresh guacamole in the dead of winter become an inalienable right? Back in the 1980s, when I was growing up in California, avocados were native yet still expensive: $2 a pop, the equivalent of nearly $5 today. Nowadays, however, avocados are so cheap and so commonplace I can slap them on pretty much any Subway sandwich I want. Since when did avocados go from a seasonal/regional delicacy to a year-round national staple?
It comes down to globalization, trade groups, and health nuts. The 1994 ratification of NAFTA paved the way for increased imports from Mexico, where avocados really are grown year-round. Initially, protectionist groups argued that importing Mexican avocados would expose us to dangerous weevils that could ransack California's agricultural industry, but in 1997 the USDA stepped in and allowed for a limited Mexican import, just to the Northeast during winter. The justification was that the cold weather would kill off any weevils, keeping California's crop safe. The USDA's decision was a watershed moment, opening up a major new market to eager avocado consumers during months when avocados would be largely unavailable (or very expensive).
Rather than whining about the influx of imported avocados, in the early 2000s the California avocado growers aligned themselves with importers and got better organized. In 2002, with the formation of the Haas Avocado Board, growers and distributors had a forum to coordinate national distribution under one roof. This meant a year-round supply of avocados. While the California growing season lasts from approximately February through September (with peak output over the summer), Mexico's crop is pretty consistent year-round and eclipses Californian production by about 3:1. We also get a summer supplement from Peru, a winter bump from Chile and the Dominican Republic, and an occasional assist from New Zealand.
The Board not only coordinates import volume but also pushes marketing tactics and tracks buying patterns. For instance, they figured out we like supermarket displays where avocados are stacked next to tomatoes, and that we don't like it when avocados are individually shrink-wrapped (because it's hard to test them for ripeness). The focus on pushing demand is important, because the increased American appetite for avocados has fueled distributors to seek out more product.
Enter the health nuts. In 2012, the American obsession with super foods and the relatively new concept of "good fats" versus "bad fats" drove avocados to superstar status. Avocado demand spiked 34 percent in 2012, with yet another 10 percent increase in demand for 2013.
At this point, we're eating about 1.65 billion pounds of avocados a year, and lord help you if you can't give me my Super Bowl guacamole. It's funny that the avocado industry has grown from a niche market to a major national supplier, yet is still subject to the whims of Mother Nature. This year's projected price increase comes on the heels of strange weather patterns last year that shrank avocados to the size of a golf ball. But even if globalization and trade groups can't change the weather, they've definitely got us hooked on fresh avocados. Because what's the alternative? My tortilla chips were meant for more than a 1980s-era Super Bowl of nachos alone.
Support HuffPost
A No-B.S. Guide To Life
Related
Popular in the Community