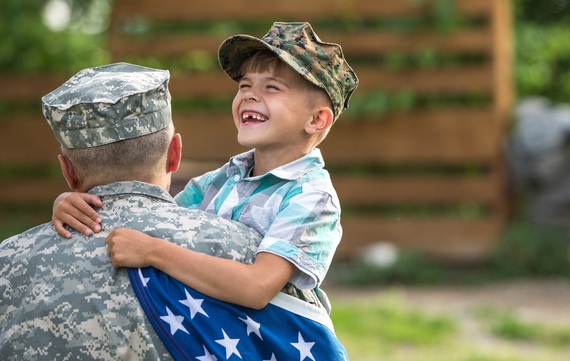 By Paul Sisolak, Contributor
Men and women who serve in the U.S. Armed Forces make sacrifices for their country. In honor of them, Veterans Day is celebrated. Unlike Memorial Day, which honors the memories of soldiers who have died in battle, Veterans Day is a time to acknowledge all surviving and deceased veterans, active and retired.
So, when is Veterans Day? Nov. 11 marks this annual tradition. And although the most significant event of Veterans Day is the wreath-laying commemoration at the Tomb of the Unknown Soldier, you might choose to attend any number of similar local events, parades or other ceremonies. Volunteering your time at a local VA hospital is one way to pay tribute on this holiday, or donating money to a charity like the Wounded Warriors Project.
If a financial contribution is in order, you might need to visit your local bank or credit union to withdraw money, make a transfer or certify a money order or check. But are banks open on Veterans Day? Although Nov. 11 is a federal holiday and most bank branches across the country will be closed, there will be exceptions. Here are banks that will be open and closed on this holiday.
Which Banks Are Open on Veterans Day?
Most branches of U.S. Bank are closed for Veterans Day, though several grocery store walk-up locations will be open this Nov. 11. According to Susan Beatty of U.S. Bank, numerous U.S. Bank branches will be open, in addition to locations at:
Safeway on E. Cypress and Pine Street in Redding, Calif.
Sav-Mor in Orland, Calif.
Hy-Vee in Asbury Plaza, Iowa
Schnucks in Bettendorf, Iowa
Meijer locations in Hamburg, Lexington and Richmond, Ky.
Walmart in Mayfield, Ky.
Coborn's in Little Falls Eastgate, Minn.
Walmart in Springfield, Mo.
Kroger in Mt. Orab, Ohio
Albertsons in Edenbower and Stewart, Ore.
Safeway on Hwy. 20 in Bend, Ore.
Walmart in Clarksville and Ft. Campbell, Tenn.
Smith's in St. George, Utah
Safeway in Nob Hill, Wash.
Fond du Lac in Horicon, Princeton and Ripon, Wis.
Oshkosh in Wautoma, Wis.
Meanwhile, all branches of American Chartered Bank and TD Bank will be open for Veterans Day. All in-store locations of Ohio Valley Bank -- such as at Foodland, Walmart and Save-a-Lot -- will be open from 10 a.m. to 1 p.m. Additionally, all Northfield Bank branches will be open for business.
Bank Branches Closed for Veterans Day
The majority of bank branches will be closed on Veterans Day. Even banks open on this holiday are liable to process checks the following business day. Here is a list of banks with branches closed on Veterans Day:
Bank First National
Bank of America
Bank of the West
BBVA Compass Bank
BMO Harris Bank
Canandaigua National Bank & Trust
Central Bank of the Midwest
Chase Bank
City National Bank
The Columbia Bank
Commerce Bank
F&M Bank
Fairfield County Bank
Fidelity Bank
First Merchants Bank
First Niagara Bank
Fulton Bank
KeyBank
M&T Bank
Nevada State Bank
PNC Bank
Regions Bank
Washington Trust Bank
Wells Fargo
Whitney Bank
The History of Veterans Day
More from GOBankingRates:
Calling all HuffPost superfans!
Sign up for membership to become a founding member and help shape HuffPost's next chapter