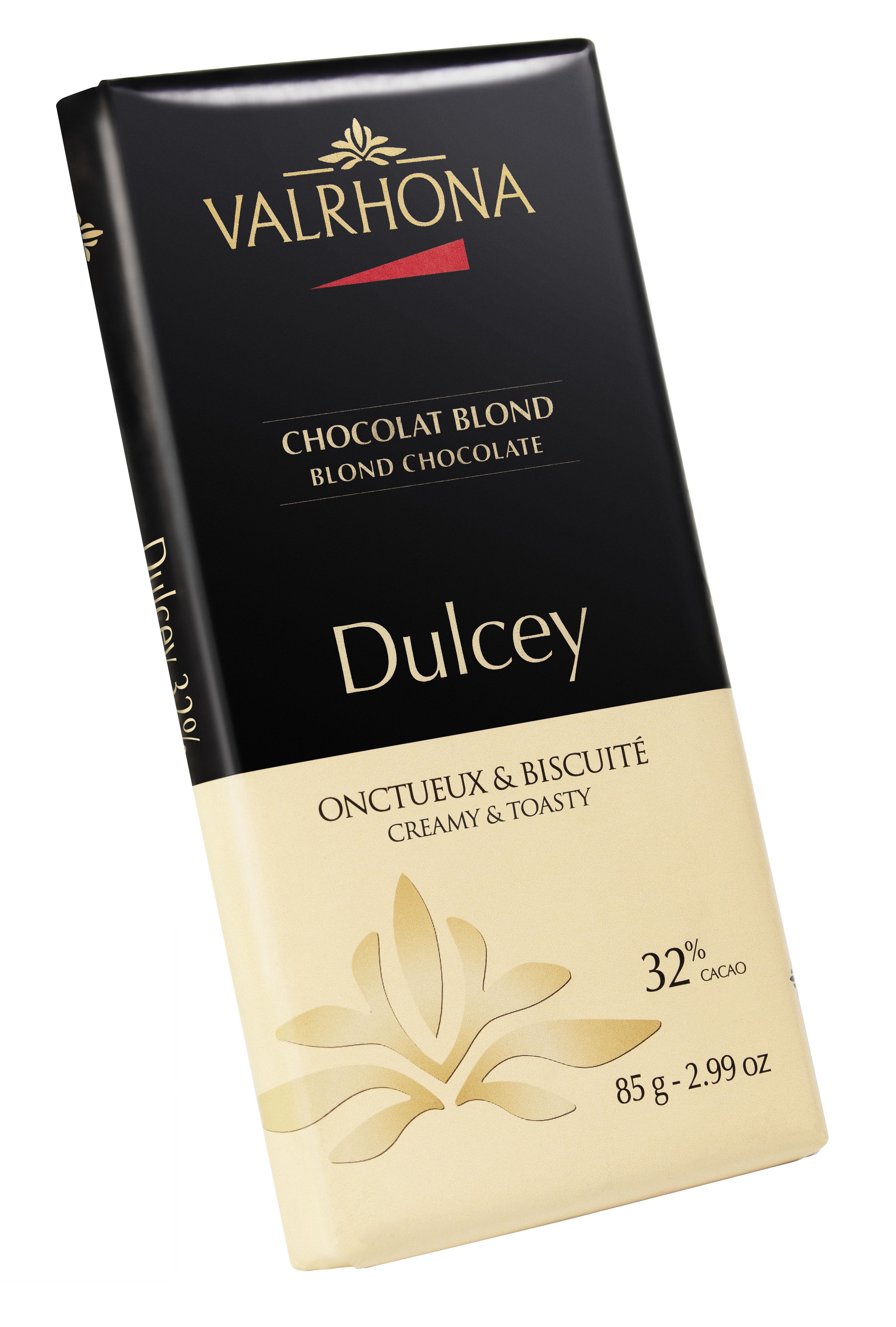 When I was a youngster, my mother surprised the family one evening by setting upon our dinner table a platter of what, by tradition and consensus, should have been brownies, but weren't. "They're blondies," she exclaimed. "I just found the recipe in Wednesday's food section."
There were glum faces all around, especially mine ... until I bit into one of these newfangled confections, and then we had a new dessert favorite around the house.
All this came to mind recently when I bit into a new chocolate bar from Valrhona called Dulcey Chocolate Bar. It is a "blond" chocolate and it is like no other chocolate you've tasted. I expect there will be numerous copycats pretty soon.
Perhaps "blond" or "blonde" (have it your way) is becoming a bit of a trend now that Starbucks has triumphed with its Blonde coffee roast, aimed at people who haven't quite figured out why anyone likes their ultra dark roasts, or what diehard Dunkin' Donuts drinkers call "Charbucks."
The blondie my mother made reminded me of those shortbread cookies that came in fancy cans from gourmet stores. Valrhona, in fact, describes its Dulcey bar as having the aroma of "roasted Breton shortbread."

But to me this new bar tastes like a shockingly rich dulce de leche, which is an insanely popular dessert in Latin America. You make it by slowly cooking sweetened condensed milk until in caramelizes and turns the irresistible color of butterscotch. You can try this at home by standing an unopened can of sweetened condensed milk in a pot of water and then boiling it for several hours -- which is a perilous thing to do since the can can explode, covering your kitchen, and you, with molten liquid. But I've done it several times, and can safely confirm that Valrhona's blond chocolate is a dead ringer for dulce de leche, only better.

Between Starbucks and Valrhona, perhaps we're watching a new market category emerging. After all, Americans also are abandoning dark colas in droves, shifting to "lighter" juice blends and waters.
Hmmm. How to describe it? Tasting nothing like conventional milk chocolate, and unlike dark chocolate, which requires some serious chewing, butterscotch-hued Dulcey melts voluptuously in your mouth. It is at once caramel-ly and uber-creamy with a lovely rich aftertaste. And it was invented by mistake! Frédéric Bau, director of Valrhona's chocolate school, Ecole du Grand Chocolat, inadvertently left a bowl of molten white chocolate on top of a bain-marie and let it cook for hours until it morphed into a brand new category. The company is careful to say that Dulcey is not, however, roasted white chocolate but is, instead, a distinct shelf-stable product due to its "unique production process and ingredients."

I've heard that serious pastry chefs are experimenting with this new flavor profile and I'm intrigued how they're using it. Ghaya Oliveira at Boulud Sud in New York City has created "Cremoso" -- a panna cotta made with dulcey, hazelnut paste, napped with sumac cream and garnished with chocolate hazelnut crunch. And others, coast-to-coast, are experimenting with it now. From Colleen Grapes, the pastry chef at The Harrison in NY (just love her name), to Elwyn Boyles, pastry chef at Per Se, Michael Aguilar of Wolfgang Puck's WP24 in Los Angeles, Kelly Fields of John Besh's August restaurant in New Orleans, to Dana Cree of Blackbird in Chicago. Others are flocking.
I, too, am eager to try tucking Dulcey into dessert somewhere between a brownie and the blondie that my mother made for dinner all those years ago. Note to Ben & Jerry: Blond Coffee Ice Cream with Blond Chocolate Chips would be quite divine, no? You could call it Marilyn.
Rozanne Gold is a four-time James Beard award-winning chef and author of Eat Fresh Food: Awesome Recipes for Teen Chefs, Healthy 1-2-3, and Radically Simple: Brilliant Flavors with Breathtaking Ease.
Related