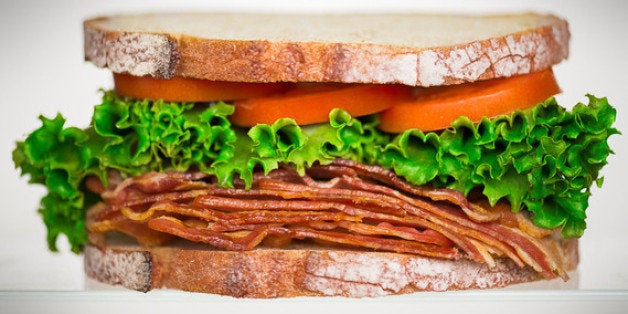 I am a lover of words. And eating. The only thing I love as much as words and eating is debating eating words.
For instance, a friend may offer you a "sandwich", but how can you be sure it's really a sandwich? Using the right words to describe foods is crucial.
Hear me debate food and language with Peter Kim from the Museum of Food and Drink and Helen Zaltzman from The Allusionist on this week's Sporkful podcast.
First up, we revisit a seminal Sporkful obsession: What makes a sandwich a sandwich?
In the past I've taken on the likes of Judge John Hodgman, who opposed my position on hot dogs. In this week's episode, Peter Kim, executive director of the Museum of Food and Drink (MOFAD), joins me live onstage at South By Southwest in Austin, Texas, to debate the true definition of a sandwich.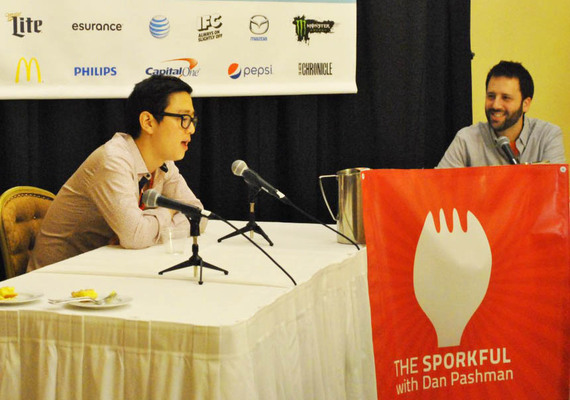 Peter (shown above left, in mid-debate) is a trained lawyer and chef, so he understands the relevant legal precedents underpinning sandwich theory -- like this troubling 2006 court case in which a burrito was accused of being a sandwich, and this NY State Tax Bulletin which defines a buttered roll as a sandwich.
But while I'm a strict sandwich constructionist, Peter takes a more relativist position, arguing that hamburgers and even burritos should be considered sandwiches.
"I don't think we can just look to what we mean when we use it in common parlance, but we also have to think about technically what is a sandwich," Peter argues. "The question is: Where is the soul of the sandwich?"
I lay out a two-part test for defining a sandwich:
You must be able to pick it up and eat it with your hands and without your hands touching the fillings. (If fillings ooze out it may be a bad sandwich, but it's still a sandwich.)
The fillings must be sandwiched between two discrete food items.
Therefore, I believe, this is a sandwich: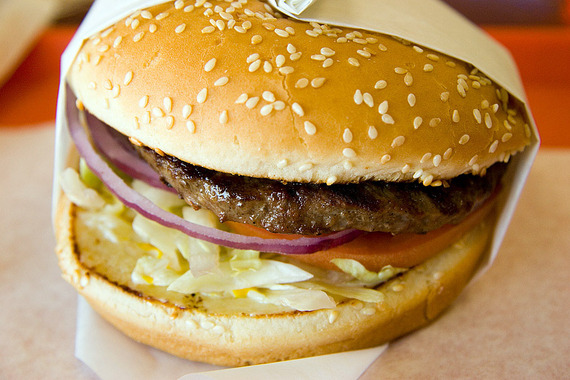 But not this because the fillings are wrapped, not sandwiched: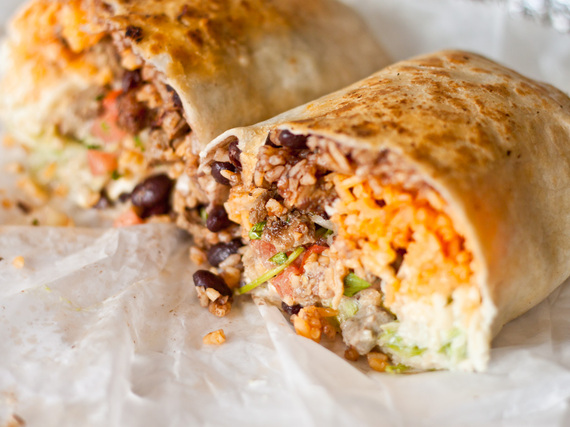 Later in the show Helen Zaltzman, from the podcasts Answer Me This and The Allusionist, joins me to debate the meaning of brunch over brunch at New York's Square Diner.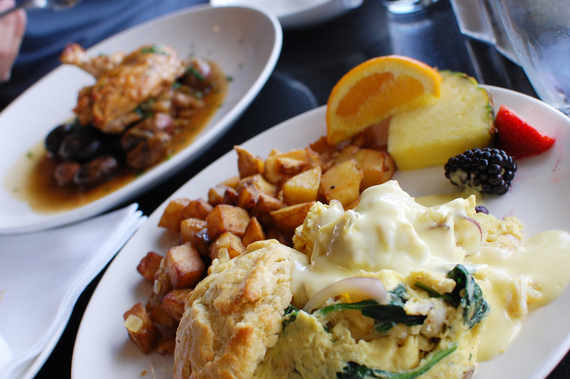 As you can hear in the episode, Helen is from England -- where they invented English. But brunch is an American creation, so she needs a native guide to settle her questions.
"What are the rules to make it brunch, rather than breakfast of lunch?" Helen asks me. "Is it a question of the food stuffs...or is it the time when you eat it?"
I lay out my theory of brunch and then help Helen optimize her own brunch, using my trusty Porklift method (which some of you may remember from my book, Eat More Better).
I know bacon and pancakes, but Helen really knows language and etymology. So I ask her some of my own burning questions about food and language:
What's the best way to spell "donut"? (Too bad, Helen wasn't here to advise us on our recent Donut episode!)
Is sparkling water really water?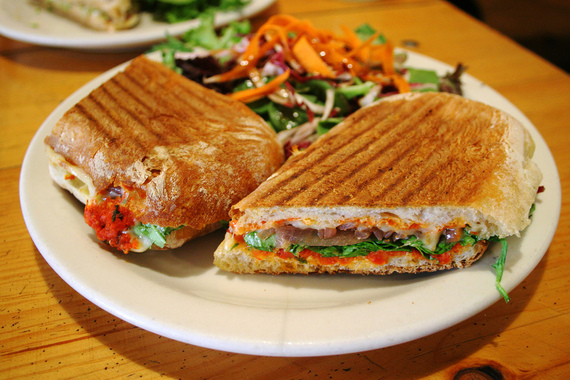 Plus, Helen and I discover that we share a common cause: preserving sandwich language purity.
While I grapple with Sandwich Anarchists like Peter Kim, Helen takes on Language Heretics who wrongly pluralize the name of Italy's beloved pressed sandwiches.
"We imported the word panini and then pluralized it paninis, whereas panini is already a plural word!" she says. "It drives me crazy, so now I won't eat them."
Look for Helen's "Panino Manifesto," coming soon to a sandwich shop near you.
Subscribe to The Sporkful podcast through iTunes/Podcasts app or wherever you get your podcasts.