Are celebrities doomed for more breakups than most of us? It's hard not to ask yourself that question when you stand in line at the supermarket staring at the gossip magazines!
"Brangelina... IT'S OVER!"
"After 11 years, Liev and Naomi are calling it quits"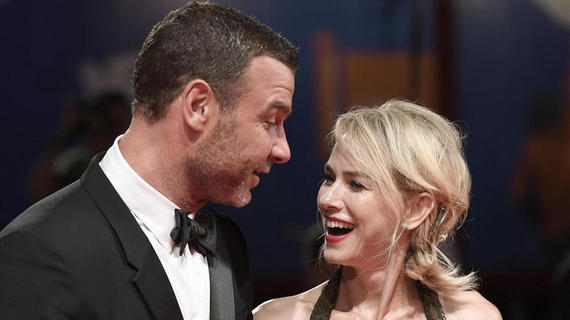 Liev and Naomi at the Venice Film Festival premiere of "The Bleeder" on Sept.2. (Claudio Oronati / EPA)
And the list goes on... Listen, we're not sure if celebrities are more prone to breakups than the common mortal. What we know for sure though, for having been down that road in our "former lives," is that a separation after many years in a relationship is heart breaking, especially when it involves children.
Celebrities are human beings. They too can suffer from a broken heart. And the reasons that trigger their breakups are no different than ours. It's demanding careers. It's new personal interests. It's family life pressure or even health issues. It's cheating. It's a lack of communication. It's loss of trust. All of these are issues that don't usually just blow up. They're more like a balloon that's been seeping air for a long time. After a while, it becomes deflated. So, is there a cure for all of this, a way to prevent deflategate (sorry Tom!...) in a relationship?
Regardless of how toxic a relationship has become, one of the major reason people continue to hold on, is the fact that they have a shared history. A history made of kids, friends, family, and all sorts of memories. A history that once started with a "vision."
When you look at "successful couples," the ones that seem to go through thick and thin together, they all seem to have one key fundamental in place. They have a compelling, aspirational and clear vision of what they intend to aim for together. That's what makes them stronger, inspire them to move forward, guard them against futile arguments and events that start maliciously to seep their air.
In short, their crystallized vision serves many purposes but the primary one helps them remember "why" they are together at the first place. (For more on Couple's Visions, check out our post "4 Principles To Help You Become A Power Couple")
However, when a relationship never had a real common vision and a lot of damage has already been done, the harsh truth is, sometimes it may be more harmful for the couple to stay together. And let's also look at another reality: a breakup is a time to reflect on the relationship and make an honest self-assessment before jumping into another one. Every romantic setback is an opportunity for a life-changing comeback.

As for Liev and Naomi, it appears that they are moving on individually with their lives. In a statement the former couple said that they were looking forward to co-parenting their boys and "exploring this new phase of our relationship." We wish them all the best.
* * * * * * * *
For more free advice dealing with relationships, love and dating, visit ReLovenship.com
Connect with Mario & Diane on Facebook or Twitter for their latest insights.
For booking inquiries or to learn more about them and their upcoming events, go to ReLovenship.com
Mario & Diane are now traveling across the United States and Canada to spread their message: that it is possible to "live happily... EVEN after!"
Calling all HuffPost superfans!
Sign up for membership to become a founding member and help shape HuffPost's next chapter