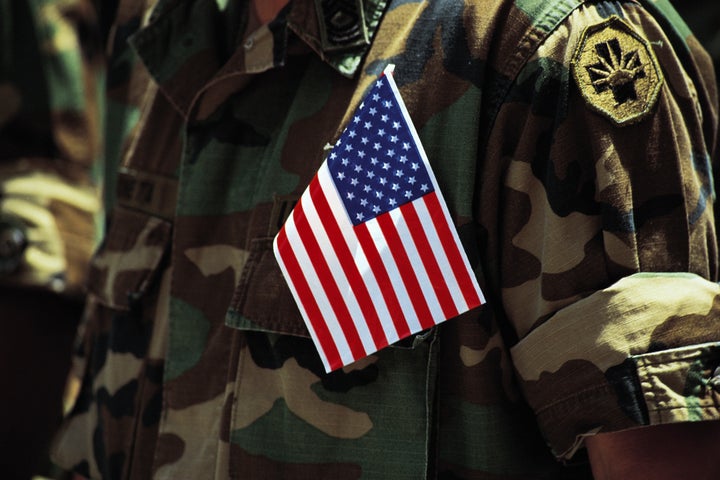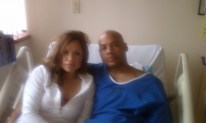 Erica and Bryan Lampe
Marine Staff Sgt. Bryan Lampe, 35 years old, grew up admiring the pictures and awards belonging to his beloved grandfather, who had stormed the beaches of Normandy in World War II. As a result, the military was his lifelong dream. Joining the Marine Corps in 2001, he couldn't wait to show off to his grandfather and was so proud he wouldn't take off his uniform, even while on leave. He would go on to serve more than 10 years in the Marine Corps, achieving many honors, but not without sacrifices that some might say were too much to ask of anyone.
Early on, Lampe was criticized by his sergeant for having "love handles." In his desperation to lose weight, Lampe developed bulimia, purging after every single meal and dropping from 235 lbs. to 168 lbs. in three months. He threw himself into training with vigor and signed up for all the courses he could in order to further his Marine career. Like all Marines, he trained night and day preparing for war. Nevertheless, the reality of war was still lost on them.
"When we finally got the call to go to Kuwait, we were happy for some unknown reason," he said. "But over the next five months, we saw things not a lot of people should ever want to see."
Three days before invading Iraq, amid a big display of helicopters and jets, a general came to talk to Lampe's unit -- the invasion of Iraq was about to begin.
"I remember like it was yesterday," Lampe says. "Scared out of our minds, everything dark, bombs going off in the distance."
Lampe still recalls the announcement of their first casualty. It was a lieutenant who approached a vehicle and was shot at close range. By dawn's light, the carnage around them became visible, but the horror did not slow down. As Lampe's unit pushed through toward Baghdad, they encountered two separate ambushes that went on for so long that they almost ran out of ammo. An airstrike was called in, but the bombs were dropped too close to the unit, and they barely escaped being blown up along with the enemy. After this, things quieted down for the night, but when daylight approached again, Lampe's unit could see 10 or 15 Iraqis walking toward them with white shirts hanging off the ends of sticks, ostensibly to surrender. It was a trick, and as the Iraqis fired weapons, the Marines responded in kind. Within 10 seconds, all of the Iraqis were dead. Lampe and the others approached the corpses and saw that not much was left behind but blood and guts.
With no time to pause and rest, they continued the push toward Baghdad, engaging in firefights the entire way, then the next major ambush occurred. It was a ghoulish scene, with dogs running through the area carrying human body parts in their mouths. Caught in the ambush were a pregnant woman and her husband. Both were accidentally shot. The husband died, but Lampe's unit managed to save the pregnant woman.
Finally entering Baghdad, the Marines were quickly dispatched to patrol the area and create checkpoints for passing vehicles. Iraqi drivers were told that they would be fired upon if they did not stop. Nevertheless, the warning was not always heeded. After one vehicle increased its speed through the checkpoints, the Marines opened fire. When they opened the car door, they discovered that a 3-year-old boy had been fatally wounded.
For Lampe, the mental trauma took a dramatic turn for the worse, and by the time he went home for the first time, he refused to see his family because he didn't want to answer questions about the war. He developed a drinking problem and experienced blackouts brought on by PTSD. Despite this, Lampe was deployed two more times. On one of the latter deployments, his best friend was killed in an intense firefight. Lampe looked to his right and could see that his friend was cut in half. But there was no time to slow down; through tears, he kept doing his job and firing his weapon. Coming home for the last time, Lampe was diagnosed with PTSD and bulimia. He caught hell from his command for revealing his emotional problems to psychologists, with a commander screaming at him, "You don't have PTSD, you're just a fucked-up person!" Lampe shut down.
During this period, he married his current wife Erica. Erica has stood by him through everything. They went to counseling together and tried to build some semblance of a normal life among the nightmarish memories of the Iraq war. But on Aug. 15, 2010, another PTSD blackout occurred.
"I woke up, kissed my wife and started drinking around 9:30 a.m.," says Lampe. "I remember that the morning seemed perfect. I danced with my daughter and sang songs with my wife. The next thing I knew, I woke up in the county jail. I thought I must have gotten a DUI."
But Lampe didn't get a DUI. He had experienced a PTSD blackout in which he tried to kill himself and then attacked his wife when she intervened.
"I did not recognize him," Erica recalls. "His eyes were blank and he kept talking about the war and saying nobody understood what went on over there and how he didn't deserve to live."
The Lampe family continues to try to get Bryan psychological help. But to them, the Marines are only interested in kicking him out of the Corps and stripping him of all benefits.
"He did his job, and it damaged him mentally," Erica cries. "Now they [the military] just want to turn their backs and throw him away."
Bryan pleaded guilty to assaulting his wife and was sentenced to 16 months at the Naval Consolidated Brig in South Carolina. After this, he is scheduled to be discharged under a Chapter 14 misconduct charge -- losing all rights to military medical, mental health care and retirement benefits. A Chapter 14 covers a wide range of misconduct offenses, from minor to serious. Each branch of the military defines infractions somewhat differently. The Marine Corps' approach for removal is "a documented series of at least three minor disciplinary infractions, during the current enlistment, of a nature which have been or would have been appropriately disciplined under Article 15, UCMJ, commanding officers non-judicial punishment."
While Lampe readily admits that he has made serious mistakes, his problems are associated with PTSD resulting from three deployments to Iraq and Afghanistan. In addition, a Chapter 14 can only be processed after efforts to rehabilitate have failed. According to the Lampe family, there have been no such efforts. After his arrest, he was isolated from his mother, wife and daughter and has not received treatment for his PTSD.
While the military must take steps to protect society in a situation like this, there should be consideration for the suffering that the troops have endured while serving our country, especially if they show evidence of a loving family willing to work with the system get the help needed. Many veterans may be reluctant to seek help, out of fear that revealing their problems will get them unceremoniously kicked out.
This case is under appeal, and as Lampe waits, we have to wonder how many other veteran's are suffering the same fate.