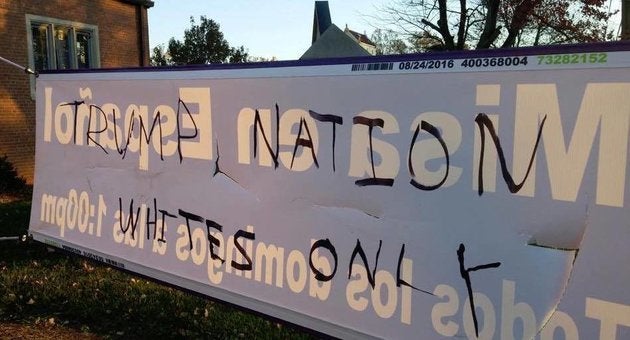 As Donald Trump waged a white nationalist campaign, Christian voters were left questioning how to vote. Christians, particularly evangelical Christians, lean toward the Republican Party. On Election Day, preliminary data available from Pew Research shows that 81 percent of evangelicals voted for Mr. Trump. Now Christians have to struggle with the question of what it means to have entrusted the country to a misogynist businessman who courted the alt-right with racist rhetoric aimed at Latinos and African-Americans (not to mention bigoted words directed to people of faith outside the Christian tradition). Is it a fair question to ask if Christians are racist based on the election results?
The question is complicated even if the answer is easy (yes, there is a deeply racist strain within American Christianity). Evangelical voters in the Deep South and the Midwest often come from economically depressed areas where demagogues from Huey P. Long to Donald Trump have stoked economic fears by blaming people of color and immigrants for the problems of the nation. The fears of these voters ― will our family be able to keep our house? ― are real. It does not take a lot to transform fear into bigotry. President Obama did remarkable work to bring America out of the Great Recession, but Congress blocked further progress like the American Jobs Act that could have improved the lives of Americans across the board for purely partisan reasons while Mr. Trump stalked the county questioning Mr. Obama's citizenship.
On issues like abortion and gay marriage, there is a big divide among Christians. Other issues are more likely to draw Christians together. Evangelical leaders like Russell Moore of the Southern Baptist Convention called out Trump's views on women and immigrants as disqualifying stances for someone seeking the presidency. Leadership from people like Moore was not enough to stop the Trump train, however. Are we surprised? After all, the Southern Baptist Church has a long history of racism. It was created to be a religious voice for slavery and up until the 1970s would not ordain African-Americans to ministry. Moore's church no longer ordains women to ministry. It is difficult to envision Southern Baptists ever seeing an African-American or women as qualified to lead the country.
Pope Francis had harsh words for Mr. Trump. "A person who only thinks about building walls, wherever they may be, and not building bridges, is not Christian," replied the pontiff back in February when asked directly about Mr. Trump's promise to build a wall between the United States and Mexico. Sixty percent of white Roman Catholics voted for Mr. Trump in the end. Sixty-seven percent of Hispanic Roman Catholics voted for Hillary Clinton, according to Pew, but Mr. Obama won Hispanic Roman Catholics with 75 percent of the vote in 2012. It is worth asking if sexism played a role in Clinton's dip with Hispanic voters when compared with Mr. Obama along with the close nature of this race overall. The answer is self-evident.
Christians are called to welcome the stranger, to lift up the poor (both individually and through public policy), to be seekers of justice and reconciliation. Most Christians did not vote that way last week. African-American Christians did. So did many mainline Christians (a dwindling force in American life). Jewish and Muslim voters resoundingly rejected racism and bigotry by rejecting Trump and embracing Secretary Clinton's message of inclusion.
Plenty of decent GOP leaders denounced Mr. Trump. So this is not a question about partisanship. We are talking about morality, faith and where racism intersects with Christianity. Christians will need to pray and reflect on this because whatever occurs next will be partly our responsibility. My hope lies with those pockets of Christianity, from African-Americans congregations to progressive mainline Christians, who already are pledging to oppose the policies of the Trump Administration.
We have to repent of our sins. It is time for all good people of faith, regardless of our tradition, to repair the sin-sick soul of the nation. That requires acknowledging that racism infects the church universal, rejecting outright any policy from the Trump Administration that harms God's creation ― the earth itself ― while welcoming the stranger and helping to lift those in poverty into a better life.
Calling all HuffPost superfans!
Sign up for membership to become a founding member and help shape HuffPost's next chapter
BEFORE YOU GO
PHOTO GALLERY
Donald Trump Win Sparks Protests Nationwide