I remember spending countless hours researching entrepreneurship prior to taking that leap of faith. The information was endless and very overwhelming. It seemed like everyone was an expert on some aspect of entrepreneurship. Most of the information I gathered from my late night web searches was pretty consistent. However it was just research. I really wanted to know how to implement all of the tools and strategies I was learning about.
I started looking into training programs for business owners. Pursuing another college degree was not my goal. Besides my college experience assisted me in finding a career working for someone else, not myself. Also I was not interested in obtaining any student loans. Business training programs seemed like an excellent option.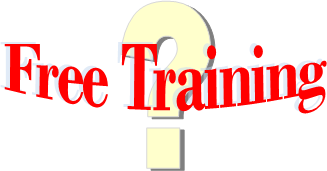 Various agencies and companies offer workshops, special events and programs for business owners. Many of the programs are not free, they just have "no-out-of-pocket cost" to you. I found courses at local libraries, government funded agencies, industry associations, business networking groups and the list goes on. Over the past seven years, I have attended many of these trainings as a trainee and as the trainer.
For the most part, I have always learned something new at each program. After attending a "social media workshop" a few years back, I had a discussion with some attendees about the value of the training. After two hours of attentively listening and actively participating, I may have learned one or two new tips. One of the attendees expressed her discontent with the "common knowledge" that was shared. Another attendee was so enlightened that she could not believe that much information was being given away for free.
How could three different people attend the same training and yet have totally different opinions on the value of the experience? One attendee was willing to pay for something the other thought was just plain common knowledge. I believe the answer is dependent upon the value of the new benefits received from the training.
My goal during the social media training was to improve my LinkedIn profile. I acquired a couple tips that ultimately increased the number of people who viewed my profile. However were the social media results received a suitable return for the two hours of time I invested in attending the training?
Over the years I have learned that training programs are not intended to be a one stop shop for everything I need to know about a particular topic. I expect to learn something new. I do not expect to learn everything I may need to know. I also believe the people involved in hosting free business training programs are creating an opportunity for business owners to invest in their own business. I invest my time by attending the program. I invest my energy by implementing the tools I learn. My ultimate goal is to yield a future return.
Yes, free, better known as "no-out-of-pocket cost," business training programs are worth it. Expectations must be reasonable. Running a business has many working parts. Therefore it is not reasonable to assume that any particular training program will provide you everything you need to know about a particular part of your business. Remember the training is an investment and the benefits may not always be immediate. It took nearly 18 months before I secured my first engagement via a LinkedIn connection. Therefore I would say the training was worth it.
This blogger graduated from Goldman Sachs' 10,000 Small Businesses program. Goldman Sachs is a partner of the What Is Working: Small Businesses section.
Related