Global reinsurer Swiss Re announced a cholera insurance offering for Haitian women entrepreneurs at a September meeting of the Clinton Global Initiative (CGI) in New York. Swiss Re is partnering with the non -government charities (NGOs) Fonkoze USA and Mercy Corps to develop a benefit plan that ensures real time payouts once a pre-defined set of criteria are met. Unfortunately, the press release makes the misleading statement that, "Cholera first appeared in Haiti after the heavy rains in the fall of 2010."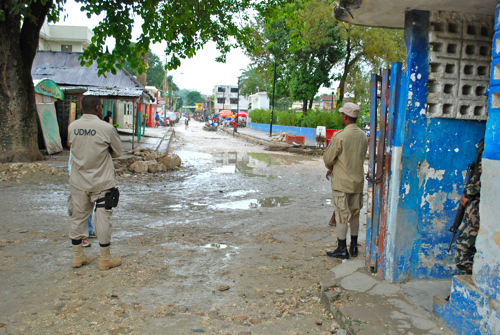 Mirebalais: The epicenter of the 2010 cholera outbreak in Haiti Photo: G. Nienaber
But the minutiae of this story goes beyond "heavy rains" and the offer of cholera insurance. It is a narrative that crosses into the grey existential realms of morality. It requires an examination of duty, individual rights, guilt and reparation. The players are neither good nor bad, but the Haitian people will bear the consequences of decisions made in the halls of financial power.
Despite Swiss Re's brief statement that cholera appeared after heavy October rains, reports by the Centers for Disease Control, the United Nations and others confirm that United Nations' troops from Nepal contaminated the Artibonite River system because of a faulty septic system that pumped sewage contaminated with the bacterium Vibrio cholera directly into the Meille River near the central plateau city of Mirebalais.
Notwithstanding initial United Nations denials and CDC affirmations, the contagion quickly spread through the fertile Artibonite valley and the local prison, On October 14, 2011 the cumulative number of reported cholera cases was 473,649, of which 251,885 (53%) were hospitalized and 6,631 persons had died.

On the surface, "cholera insurance" appears prudent until one asks a few important questions. Critics ask why Haitians should pay for cholera insurance when the United Nations has yet to make reparations for a disease it introduced to a country that had never before experienced this strain of cholera and no other cholera infections for over a century. Cholera is entirely preventable and treatable, but treatment must be swift and aggressive. Why are there no plans by either the Clinton Global Initiative or organizations that benefit from its funding to either fix the water delivery system once and for all, provide water filtrations systems in remote areas, and/or place permanent cholera treatment centers in every village in Haiti? Former president Bill Clinton is also the United Nations Special Envoy to Haiti.
Regine Barjon, President, BioTek Solutions, Inc./Biotek Haiti S.A., recently provided testimony at a joint hearing of the Western Hemisphere and International Development Subcommittees of the Senate Foreign Relations Committee. Regarding the advisability of cholera insurance, Barjon, in an email, expressed the need for infrastructure as a priority.
We must first acknowledge that the main causes of cholera is the lack of access to potable water for most Haitians and the inability of the State to provide adequate waste collection services, which it cannot afford due in part to an insufficient tax pool. Though I strongly believe that addressing cholera is the right and human thing to do, I am hoping that we can start looking beyond mere containment towards establishing the necessary foundation that will prevent future outbreaks and reduce the Haitian population's vulnerability to any such illnesses.
Fonkoze is Haiti's largest micro finance organization. Founded in 1994 as Fondasyon Kole Zépol by Father Joseph Philippe, the Grameen Foundation recipient currently has 50,533 women borrowers with an outstanding loan balance of 409,376,655 (HTG Haitian Gourdes) or US $10,021,257. The Grameen Foundation has been supporting microfinance activities in Haiti since 2003. Grameen gives Fonkoze high marks and positive assessments for its work in Haiti.

Swiss Re is also partnered with Fonkoze in a natural catastrophe micro insurance program that provides protection to women clients against work losses due to earthquakes, floods and hurricanes. The policy paid out following very heavy rains in late May and early June 2011 in the southwest part of Haiti. A total of 3,815 clients received insurance benefits, according to James Kurz, Fonkoze's senior financial analyst.

Kurz explained in an email that the price of the current work loss policy is 3% of the value of the client's loan. "They pay the premium at the time of the disbursement. So for example, a client taking a $250 loan would pay $7.50 when they receive their loan."
The current policy does not include cholera insurance, which is still under development. "The commitment that the partners made at CGI was to develop a cholera product, test it, roll it out with Fonkoze's clients, and then share the results with the world," Kurz says. That means that it is very early. We don't know exactly how the product will work, or what the price will be."
Kurz confirmed that obtaining work loss insurance is a pre-condition for receiving a loan from Fonkoze. Since there is no current cholera insurance available, the only model is the current insurance program for earthquakes, floods and hurricanes. As a"reinsurer," Swiss Re is second in the world with over 30 billion dollars in assets.

Insurance is a profit driven business and designing a reinsurance program for micro insurance incorporates standard business principles, even though micro insurance vendors may operate in undeveloped or natural disaster areas.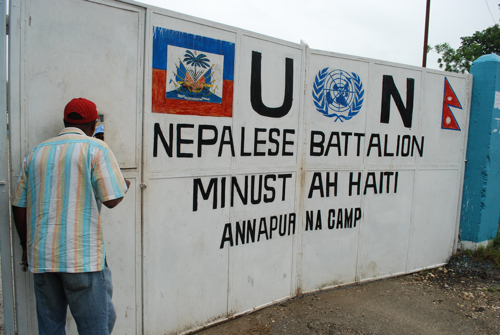 Fonkoze did not want to comment on the issue of UN reparations, but Kurz offered that Fonkoze is working in the context of what is happening today. "The reality is that the Haitian people are at risk of cholera. Even if they survive, the disease can cause them tremendous financial hardship and strip them of years' worth of hard work getting out of poverty," he says.

Critics ask whether cholera has introduced a profit motive for international reinsurers.
Controversial American investment guru Warren Buffett bailed out Swiss Re in 2009 for 3 billion Swiss francs ($2.6 billion). At the same time, Buffett invested $5 billion in Goldman Sachs and $3 billion in General Electric, receiving lucrative terms in both cases, according to financial analysis published in the New York Times, The Wall Street Journal and other financial publications.
Buffett has been in the news lately because of the equally controversial "Buffett rule." President Barack Obama coined the term as part of his deficit reduction plan to raise taxes on wealthy Americans.

At the time of the bailout, Buffett's holding company, Berkshire Hathaway, already had significant business ties with Swiss Re. "In January 2008, it entered a quota share arrangement with Swiss Re through which it acquired 20 percent of its new and renewed property and casualty business in exchange and acquired 3 percent of its shares at the same time," according to the New York Times.

Recently the Wall Street Journal quoted Buffett's remarks in his annual letter to Berkshire shareholders in February 2011. Buffett called "unwelcome" the repayments of crisis-era investments he made in GE, Goldman Sachs, and Swiss Re.

WSJ says Buffet's Swiss Re investment "padded Buffett's wallet by roughly $1 billion."

Buffett's letter to investors can be found on the Internet.

Grousing about the early payback of lucrative loans from Swiss Re, among others, Buffett wrote to shareholders at Berkshire Hathaway "all of the redemptions are nevertheless unwelcome." Worrying that repayments and reduced earning power due to low interest rates, Buffett was optimistic about "getting lucky and finding an opportunity to use some of our cash hoard at decent returns."

Writing, "That day can't come too soon for me," Buffett "updated Aesop," quipping "a girl in a convertible is worth five in the phone book." (Page 18, second paragraph, last sentence)

Are Fonkoze and Mercy Corps unwittingly helping major stockholders in the reinsurance firm Swiss Re turn Haitian women into Buffett's "girl (s) in the convertible?"
Recovery from cholera is predicated on admission to a medical facility or immediate diagnosis and treatment. Cholera insurance is not being offered to the percentage of population likely to contract cholera, the uneducated and rural peasants.

Why is cholera the main focus? What about other diseases such as malaria and dengue fever? TB and HIV/AIDS are far more likely to lead to chronic disability and prevent Haitian women from paying back their loans.

Statistics might provide some guidance.

The United Nations predicts up to 400,000 cases of cholera per year, with a 1.4 percent mortality rate or 11,000 deaths. The Haitian population is 9.7 million people.

But it will not be healthy young women entrepreneurs dying. It will be the chronically ill, elderly, and infants as well as rural peasants with no access to water purification. Maternal mortality rates in Haiti are 68 per 10,000 (.68 percent), which is greater than the risk of dying of cholera (.57 percent). A woman's' risk of dying from any pregnancy in her lifetime is 1 in 17. (5.9 percent), or ten times the risk of dying from cholera per year. (World Health Organization Mortality Country Fact Sheet)
In 2010, 15 percent of the poor market women served by Fonkoze left the program because of expenses related to health issues," said Carine Roenen, Director of Fonkoze, in a statement on their webpage.
As a result, in November, Fonkoze and Global Partnerships (GP), a Seattle-based nonprofit social investor, announced a strategic initiative with Linked Foundation a Carpinteria, California-based private foundation, to improve women's health in Haiti.
So what is the answer? Barjon offers that the Government of Haiti needs to address the issues of self-sufficiency and a robust private sector, thereby providing the means to infrastructure.
This can only be done by building a large enough tax base to pay for and provide basic services to all Haitians such as: potable water, basic health care, education, good roads to facilitate commerce including improved food transport and distribution to eradicate food insecurity; and energy and security for the population at large. All of this can only stem from the establishment of a viable private sector and a self-sufficient Haitian economy which will invite foreign investment.
In the end, clean water is a human right and a moral imperative. There is no grey area.
Related
Popular in the Community