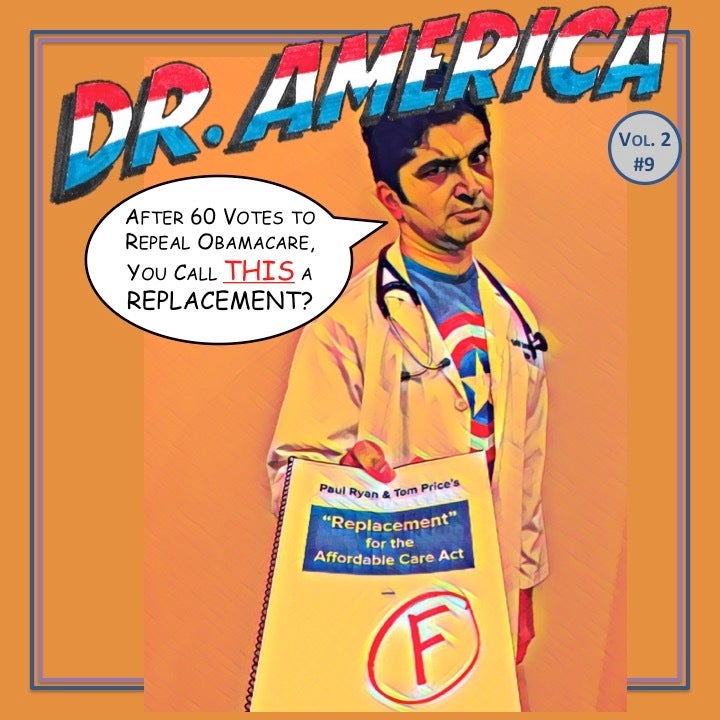 Based on a rough draft of a bill leaked Friday, February 24, Republicans in Congress are developing a plan to replace the ACA. Some might say it is too early to criticize a rough draft. However, as a doctor and health justice advocate, I feel the politicians opposing Obamacare have had almost 7 years to develop an alternative. Republicans had the audacity to vote over 60 times to repeal the ACA without any replacement. After all their theatrics and tantrums, they owe my patients and the rest of the American people a plan that can withstand scrutiny. So let's scrutinize:
1. Are the insurance plans in the House GOP's replacement bill as affordable as they are under the ACA?
Right now, the Affordable Care Act gives subsidies to people based on their income. The ACA goal is that if you have a low income, you'll get more help, while people with higher incomes get less help. In their replacement plan, House Republicans are planning to change the tax credits to be based on age, not income. If you're older, you'll get more help, even if you're a millionaire or billionaire. If you're younger, you'll get less help, even if you have a struggling income. The tax credit will only be between $2,000 and $4,000, which is hardly enough to help low-income families afford health insurance.
2. How does the House GOP's replacement bill maintain or change Medicaid and CHIP?
Under the ACA, 31 states and Washington, DC expanded Medicaid, covering the health care needs of 15 million Americans with low incomes. When surveyed by the Commonwealth Fund, 77 percent of new Medicaid enrollees across the country described their coverage as good, very good, or excellent. Right now, when a state opts to expand Medicaid, the federal government picks up 90 percent of the cost for expansion, much to the relief of struggling state budgets.
Speaker Ryan and other House Republicans say they don't plan to "pull the rug out from anyone who received care under states' Medicaid expansions." Pull the rug out? It's more like they're pulling the wool over everybody's eyes. House Republicans plan to terminate federal funding for the Affordable Care Act's expansion of Medicaid by the year 2020. After that, if a state wants to keep covering people through its expanded Medicaid, it must find the money for it on their own. Furthermore, the House GOP's bill calls for per capita caps on Medicaid where the federal government gives each state a small, fixed amount of money for each person enrolled in the program. Alternatively, a state can get a block grant for Medicaid, where a state gets a small lump sum of federal money for its entire Medicaid program. Whether they're called per capita caps or block grants, I call them attacks on the health of my patients and my fellow Americans, over 70 million of whom are covered by Medicaid. No one voted for Congress to create chaos for this cornerstone of health care.
3. Does the House GOP's replacement bill protect people with pre-existing conditions?
Right now, one of the most popular provisions of the Affordable Care Act is that it stops insurance companies from discriminating against people with pre-existing conditions. The ACA stops insurance companies from kicking you off your plan if you develop an expensive illness like cancer or a serious injury. Thanks to the ACA, insurance companies can not sell you a plan that covers everything but your pre-existing condition. Also, you can not be charged extra if you use insurance to cover costs for your pre-existing condition.
Under the replacement plan from House Republicans, patients with pre-existing conditions must maintain "continuous coverage" in order to avoid the insurance industry's discrimination. "Continuous coverage" is an unacceptable replacement for protecting patients with pre-existing conditions. The average American's experience with cancer demonstrates why. After most patients find out they have cancer, they need weeks or months away from their jobs to start treatment. During that time, a patient might not be able to keep her job, much less her health insurance benefits. There may be a lapse in insurance coverage during the time a patient is between jobs, or before she can get insurance on an exchange marketplace. Because this patient failed to maintain "continuous coverage," an insurance company could charge her 30 percent more under the House GOP's replacement for the ACA. Some say this policy emphasizes personal responsibility. As a doctor and health justice advocate, I see a policy putting profits before patients.
4. Based on all of the above, will the House GOP's plan cover the same number of people?
Right now, over 90 percent of people in America are covered for health care through Medicaid, private insurance, and/or Medicare. This is the highest rate of coverage our country has ever seen, and the Affordable Care Act is a major contributor to that achievement.
There is simply no way the replacement plan from the House Republicans will cover as many people. Their plan wrecks Medicaid, a cornerstone of health care for millions of Americans. Medicaid can not cover over 70 million Americans through per capita caps or block grants, and many of those people have nowhere else to go for coverage. Their plan provides less help to people who cannot afford private health insurance. Their plan lets insurance companies discriminate against Americans with pre-existing conditions. Early estimates are that 30 million people will lose coverage if the ACA is repealed, and the House GOP's replacement plan will create additional shock waves across public health.
We must remind our Congress and the Trump regime that the majority of Americans did not vote for Trump and they certainly did not vote for chaos in health care. Any upgrades to the Affordable Care Act need to deliver real health justice, where every man, woman, and child has the right to high-quality health care. We need to free ourselves from worrying whether a new diagnosis means the end of our family finances. Staying healthy is hard work just by itself. Let's stand up to the insurance industry and demand better value for premium dollars. Let's build upon the great work Medicaid and Medicare are doing. Health care must not be a privilege for a few. However, in order to make health care a right for all, all of us must fight for it.
In the latest episode of his podcast on We Act Radio, Dr. America reveals the public health consequences of recklessly replacing the ACA: https://goo.gl/Yz3w6o
Popular in the Community