Capitol Fax's Rich Miller has an argument to make: If one were to look at the workings of Illinois state government last week, they might not be able to tell whether they were examining a political campaign or the negotiations of actual elected officials:
After staring at my computer screen for over an hour, I realized that my goal of providing you a succinct and thoughtful analysis of what happened on a very weird day last week in Illinois government was impossible.

Instead, we're going to have to take this in pieces.

* The Court Case - CJ Baricevic was one of the lawyers representing a host of unions in their successful St. Clair County lawsuit last Thursday to force the state to pay its employees without a budget. The victory came just two days after a Cook County judge ruled that paying employees without an official state budget was a clear and total violation of the Illinois Constitution.

Why was St. Clair County's ruling so different?

Well, Baricevic happens to be the son of the county's chief judge, John Baricevic, who was once the county board chairman and is regarded as one of the most powerful Democrats in the region. The younger Baricevic is the local Democratic choice for Congress against freshman Republican Congressman Mike Bost. According to Ballotpedia, the judge in Thursday's case also appears to be up for retention next year in the heavily unionized county.

Hey, I'm not saying nothing bad about no judges. I visit that fine county every now and then. I'm even told the judge in the case isn't the type to be sensitive to such pressures. "He's just a pro labor guy at heart," explained one area politico, who added that I was "reading too much" into the local political angle.

I'm just saying, is all.

Anyway, it appears that the legal issue of whether state workers get paid without a budget may have to go all the way to the Illinois Supreme Court - if, that is, Attorney General Lisa Madigan is willing to endure the political flagellation she'll most certainly receive for her almost Ahabian pursuit of this great white whale. The Democrat could've easily stepped aside and let the paychecks be processed. But, she's convinced this is a constitutional violation, so onward and upward.
And watch an in-depth analysis of the relationship between the two biggest players in that state government: Gov. Bruce Rauner and House Speaker Michael Madigan. Rauner has a message for Madigan when it comes to the use of tax hikes to end the budget crisis and shutdown: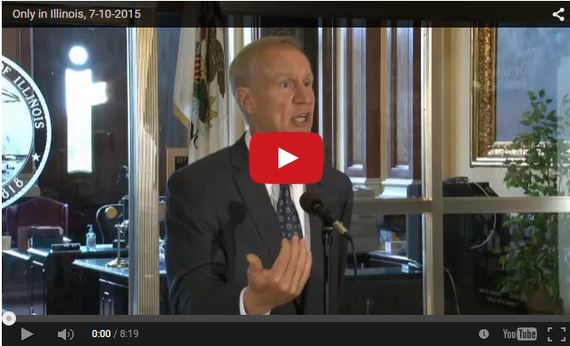 Calling all HuffPost superfans!
Sign up for membership to become a founding member and help shape HuffPost's next chapter