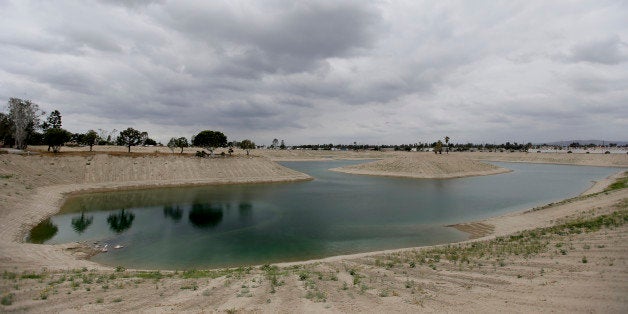 If there is a silver lining to be found in the devastating California drought, it's that many more Americans are finally thinking about where and how their food is grown. Historically low water levels have put a squeeze on the state's farmers who produce nearly all of the nation's broccoli, grapes, canned tomatoes and, notoriously, almonds.
Until the drought, many of us probably gave little if any thought to almonds beyond eating them. Now, almonds -- and the almond milk made from them -- are the targets of online drought shaming because of their huge water footprint. It takes about one gallon of water to produce a single almond. Almonds aren't the only water hog, though. Consider the beloved avocado: each one takes approximately 60 gallons of water to produce. And a burger? It takes an estimated 660 gallons of water to produce a quarter-pounder. Through the food we put on our plates, California's drought is also America's drought.
The good news is that California farmers have proven their talents at making the most out of less water. Between 1970 and 2010, they reduced their water use by nearly 10 billion gallons each day, even while the number of acres irrigated increased. How has this happened? Farmers have shifted away from flooding their fields and instead are using more productive irrigation.
The bad news is that California is home to a perfect example of how large-scale industrial agriculture, concentrated in an area with stretched water supplies, can run headlong into its limits. As a result, the U.S. has put all of its eggs -- and nuts -- into one basket.
Further compounding the growing water crisis, industrial crop producers pollute ground and surface waters with fertilizers, pesticides, salts and sediment, while industrial livestock operations have contaminated waterways with manure laced with antibiotics, hormones, pathogens and heavy metals. This cocktail can spoil the very water supplies that farmers and communities rely upon.
One of the fundamental principles of sustainable agriculture is the protection and conservation of our scarce natural resources -- including water. Let's look toward organic farmers, who go even further to protect water supplies by using methods like heavy mulches, soil contouring and swales that conserve water while also protecting it from runoff pollution. With support from the public and policymakers, more farmers would be able to use techniques like these.
If we continue to rely on our highly centralized agricultural system - one vulnerable to drought, climate change and extreme weather events -- we will end up depleting the very resource that drought renders so valuable. The situation provides yet another compelling reason to shift to more local, sustainable food systems that emphasize smart water use and local and regional production, so they can better withstand regional challenges like drought.
No state is immune to drought; in fact, the condition currently impacts 64 million Americans in the Southwest and Southern Plains. It also affects those in wetter parts of the country by causing food prices to rise and become increasingly volatile. In severe cases, drought can even prompt the diversion of scarce water resources to communities that have run completely dry.
While sustainable agriculture can't prevent drought from occurring, it reduces our vulnerability to it. Shaming almond growers and consumers for growing thirsty food during a historic drought ignores the other problems facing our nation's food system. Sustainable agriculture provides opportunities for water conservation while also protecting water quality and other environmental resources. For example, while meat has a high water footprint in general, pasture-raised or grass-fed livestock depend more on rainfall, and their well-managed waste helps to fertilize grazing fields for the future. Animals raised in factory farms, however, depend more on irrigated grains for feed and their waste must be contained in huge manure ponds, which often leak into groundwater, or spill into nearby waterways.

We need consumers to support a more resilient form of food production by continuing to vote with their forks -- and with their ballots. We need policymakers who have the vision and leadership to promote the transition to a more sustainable food future. California's drought has brought all of these other systemic problems into sharp relief. Yet in doing so, it reveals our unprecedented opportunity to rethink and innovate how we meet a basic need. Sustainable farmers are already leading the way.
Chris Hunt is the director of GRACE's food program, Sustainable Table, where he develops program strategy, oversees program staff and spearheads GRACE's collaborative efforts to build a sustainable food future.
Peter Hanlon is director of GRACE's water and energy programs, where he works on the food-water-energy nexus, power plant water use, renewable energy, coastal and estuarine health and fisheries.
Popular in the Community