This story is a part of a collaboration between HuffPost's Girls In STEM Mentorship Program and The Intel Foundation. Inspiring Girls is a podcast series highlighting the innovative thinking and work of extraordinary girls, presented by The Intel Foundation in honor of their 25th Anniversary and the work they do to foster education, especially among girls and women in STEM.
In 2008, Michelle Hackman, then a sophomore in high school, read an article about a newly coined term: Disconnect Anxiety. According to a market research group, over 40% of people were suffering from occasional anxiety when they were separated from their phones or technological means of communication.
Coupled with this was Michelle's increasing awareness that her friends, rather than engaging in actual conversation, were more inclined to text each other, not only in transit but when they were actually sitting down for dinner. Conversation would come to a near halt and an unavoidable silence would find itself on the dinner table as little thumbs would click the letters on smartphones, with a desire to connect.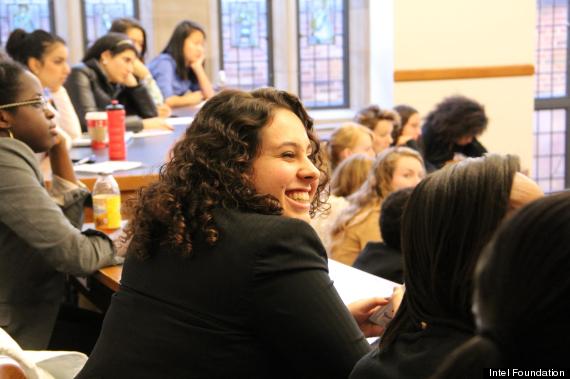 While all of this was interesting to Hackman, she didn't see it as her next research opportunity since she wasn't much inclined towards science.
"I was much more of a social science kind of girl. I hadn't entertained the idea of devoting my high school career to running an experiment and writing up a paper and entering a contest. But my 9th grade physics teacher approached me and said you need to join my science program and I said 'Absolutely not, there is no way, don't waste your time.'"
Not only did she end up meeting President Obama, she won third place in Intel's STS Award, a total of $75,000, which went directly toward her college tuition at Yale.
Today, Hackman isn't doing many scientific studies but she tends to write quite a bit about STEM and the role of girls and women in these fields.
"I think that a lot of excuses that people give about girls not going into the sciences are flimsy. There's a deeper institutional bias that women must face and it's not so easy to go about fixing it. I do think that programs dealing with science and young girls are very helpful."
In Inspiring Girls, you will hear from Michelle, sharing the discoveries she made, alongside Stephen Hartman, a psychologist based in San Francisco and a venerable expert on the psychology of cyberspace. He believes that texting, and the online world, offers a profound sense of possibility and imagination.
Please click the play button to learn more and hear from the girls themselves. To explore more about the Intel Foundation's 25th Anniversary program click here.
REAL LIFE. REAL NEWS. REAL VOICES.
Help us tell more of the stories that matter from voices that too often remain unheard.