They're stretchy, comfortable, versatile and on-trend, but leggings and jeggings are still among the most polarizing styles in the fashion community. Are they pants or are they not? O, The Oprah Magazine's Creative Director Adam Glassman has a firm stance on this issue, telling one of his inquisitive Twitter followers exactly how he feels about the leggings-as-pants question.
Theresa, a recently divorced mom of two, asked Glassman about leggings on Twitter -- "Leggings or jeggings? Which is better?!" -- and he had such a strong reaction that a simple a @-reply wouldn't suffice. Instead, Glassman asked Theresa to meet him in the O Magazine fashion closet, where he can dole out his advice in person. And he certainly wastes no time getting straight to the point.
"Leggings and jeggings are not pants," Glassman says in the above video. "People try to make them into pants -- you can't! A pant is a pant, and a jegging is a schmatta."
Turning his attention to Theresa -- who happens to be wearing a pair of jeggings -- Glassman lays out the harsh truth: "Let me tell you right now, friends don't let other friends wear jeggings," he says. "I'm sorry. They're really not flattering."
Theresa doesn't disagree, and admits that wearing leggings and jeggings comes with its own set of issues. "I'm a little uncomfortable at times because I've got to make sure when I sit that it's not showing anything," she says.
"I've got a better solution for you. A much better solution," Glassman tells her.
An O Magazine staffer brings out a clothing rack filled with pants. Glassman reaches for a dark pair of skinny pants.
"You need to wear a skinny-leg pant, or a cigarette pant, instead of something that's so, so tight," he says to Theresa. "I want something that makes your hips look balanced with your ankle and with your entire body."
Glassman sends Theresa off to change into a new jegging-free outfit. When she emerges, she's donning black cigarette pants with a shimmering gray tank top and a long gray jacket with three-quarter-length sleeves and a vertical floral pattern in one pop of color.
"How friggin amazing do you look?" Glassman says. "These cigarette pants are amazing on you. They're still slimming. They still give you a great leg and they help balance out your body."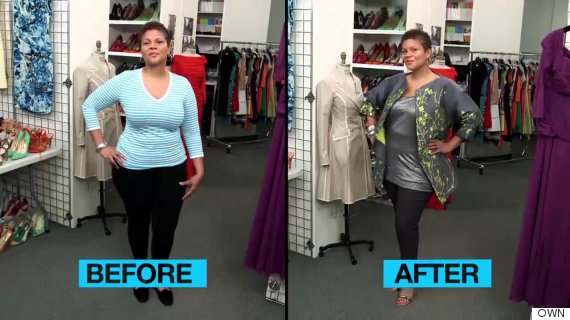 What's your fashion question for Adam Glassman? Tweet him using the hashtag #AdamSays.
Calling all HuffPost superfans!
Sign up for membership to become a founding member and help shape HuffPost's next chapter
BEFORE YOU GO
PHOTO GALLERY
Celebs In Tights, Leggings & Spandex