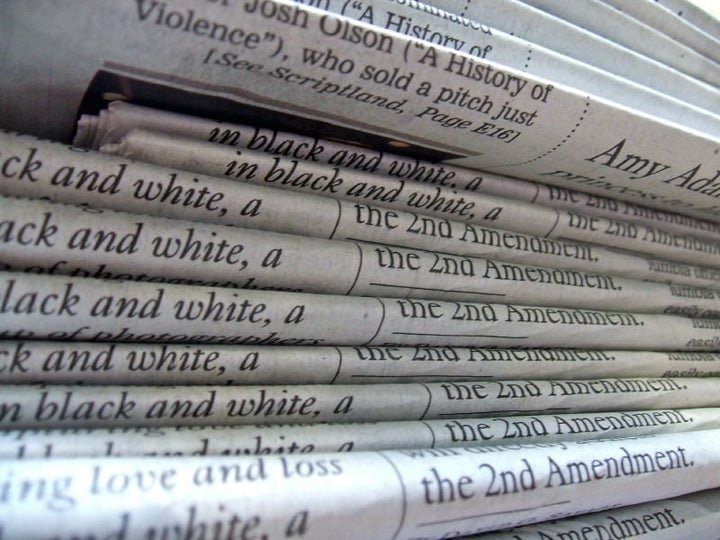 Newspapers are on the wane and print is heading for extinction.
Newspapers have found a new life and print is becoming creative.
To believe various reports about print media, notably newspapers that have seen a marked transformation in recent years and dip in circulation figures, one can't blame readers for being confused.
Taking the industry's pulse is a tricky affair. Facts and figures come in different shapes and sizes.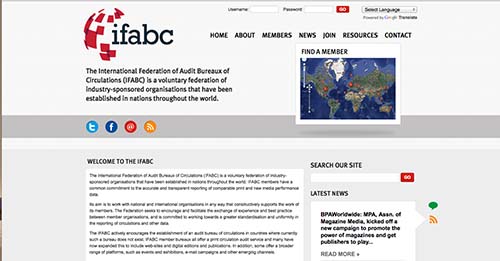 Screen shot of IFABC's home page
The downloadable survey detailed the fall which it said was due to news consumers turning more to mobile devices and online sources.
"ABC members in 23 countries around the world sold 123.5 million newspapers per month in 2011, almost 2 million fewer than they sold in 2010, a decline of 1.6 percent. Every country included in the stats reported a decline in average circulation except Belgium, Brazil, Malaysia and the U.S. (and Malaysia's rise was 0.08 percent -- slightly more than 3,000 copies)," reported The Media Briefing.
If one looked at just the year 2010 to 2011, circulation fell for the first time since 2008, it added.
Although IFABC's U.S. members had reported a slight increase in circulation, the rise could not be extrapolated to the rest of the country.
2.5 billion people read a newspaper in print regularly. That's more people than the 2.2 billion that use the Internet, or who have the capability to get content on their mobile telephones.

More than 500 million read newspapers both the print and digital form, and 100 million more read the digital version only.

Newspaper circulation grew by 1.1 percent globally last year, to 512 million copies, and 4.2 percent between 2007 and 2011. The growing newspaper business in Asia has more than offset circulation losses elsewhere in the world.

Free newspapers continue to be a factor in many markets, despite some retrenchment, and saw global distribution of 36 million in 2011.
The survey also noted that newspaper circulation in many "mature markets" was declining.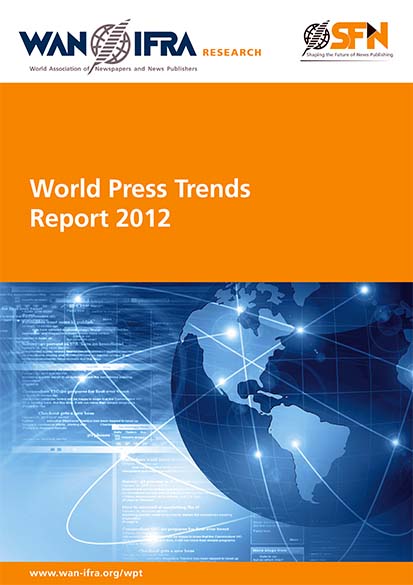 World Press Trends Report 2012 cover (courtesy WAN-IFRA)
On the flip side, digital audiences were growing but digital revenues did not match that growth as successful business models were still in a state of flux.
"Despite the circulation declines in mature markets, newspaper reader levels remain high - Western Europe and North America have the highest levels of readership by region," it said.

The survey also showed the extent to which digital revenue contributed to newspaper companies' overall revenue.
In developed countries, three-quarters of the papers answering the survey reported digital revenues provided under 10 percent of overall intake - and often much less.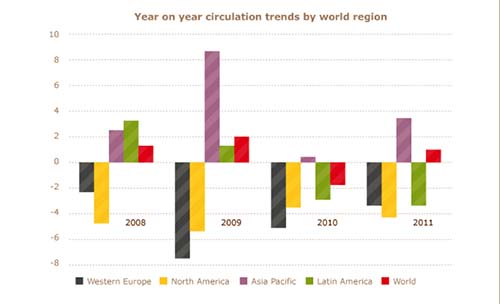 Annual circulation trends by region (courtesy WAN-IFRA)
Enter "the promise of tablets," as a growing platform for the dissemination of news and all forms of information.
"This, along with emerging payment systems, suggests that content payment is likely to become far more common in the future," it concluded.
Growing digital audiences may well replace overall numbers lost in print but not necessarily in the immediate future, the report said, adding that a different model for increasing revenue was required.
To help stakeholders, WAN-IFRA's World Editors Forum published "Open Journalism," an 18-page primer of case studies from around the world focused on news organizations that have attracted participation by consumers to engage them in the process of creating and improving output.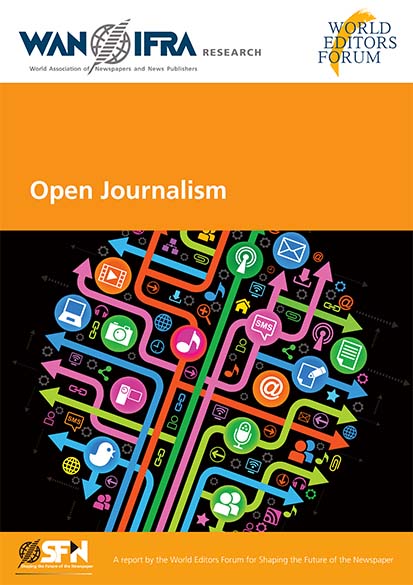 Open Journalism cover (courtesy WAN-IFRA)
With calls to adapt or die (or suffer more losses), editors are increasingly turning to crowdsourcing their information and relying on social media to obtain news or tips on news.
Although the publication touted open journalism's incorporation of content and ideas from all (including producers and curators of information), it pointed to the challenge of not accommodating, or reducing, the impact of scoops.
The examples cited in the booklet were Sweden's Norran, France's Le Monde, Denmark's Dagbladet, Colombia's digital publication La Silla Vacía, Qatar's Aljazeera website, and, Britain's Archant, Guardian, and Economist.
REAL LIFE. REAL NEWS. REAL VOICES.
Help us tell more of the stories that matter from voices that too often remain unheard.