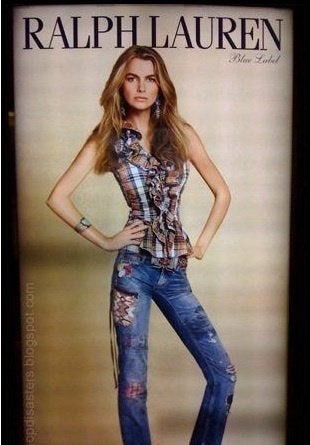 It may be the last vestige of overt prejudice, but fat people aren't treated well at all in our society. Having been one of them, and now being thinner, I can attest to the way it was vs. the way it is now. One of the best benefits to weight loss is how the world treats you when you are thinner.
When I was heavy, I was either invisible or someone to look down on. If I went into an upscale boutique, the sales gal would invariable turn her nose up and tell me to look elsewhere. I once went into the Versace store and looked around. On the racks were sizes 00, 0, 2 and maybe a 4, but that was it. The sales gal was nice there, and came over and whispered, "We have larger sizes in the back."
Elayne Boosler, whom I love, says that after she gained weight, no one saw her. "Men don't see me, women don't see me, in fact, I think I'll go work for the government. I can waltz right in, steal all the important data, and no one will notice. Did you see anyone? No, I didn't see anyone, did you?" Funny, sad and true all at the same time.
As a psychotherapist, working in the field of obesity, eating disorders and low self-esteem, I get the privilege of watching people transform themselves from heavy to normal-weighted on a daily basis. It is one of the most amazing transformations to be a part of. Some of the people I work with have lost up to 185 lbs. They have gone from barely being able to walk to: hiking, running and shopping in normal clothing stores. People not only treat them better but they get jobs, increase sales and start dating. As a fat person you are not likely to get hired, date or have the door held open for you.
Tyra Banks once did a show where she put on a fat suit and walked down the street in New York City. She asked people for the time and it was horrible. People were mean, called out "fat pig" and seemed to feel just fine about doing that. Tyra ended up in tears. Then she walked down the same street as her thin self, and people were falling all over themselves to tell her what time it was and couldn't have been nicer. Coincidence? I think not.
So being thinner has so many benefits that I am always amazed at the number of people who don't want to do the work it takes to get there. There is only one way to lose weight, and that is to take in less calories than you burn. That's it. I teach people to keep food records, weigh on a regular basis, count calories (because that is what your body does) and move more. It is so worth the work and anyone can do it. Yes, even you.
If you'd like to participate in the research for Irene's new book about the process of weight loss, please take the survey.