The coworking space has seen a lot of media coverage over the past few years, with many claiming that traditional office life is on its way out, replaced by business lounges, coffee-shop-inspired spaces and short term serviced office lets.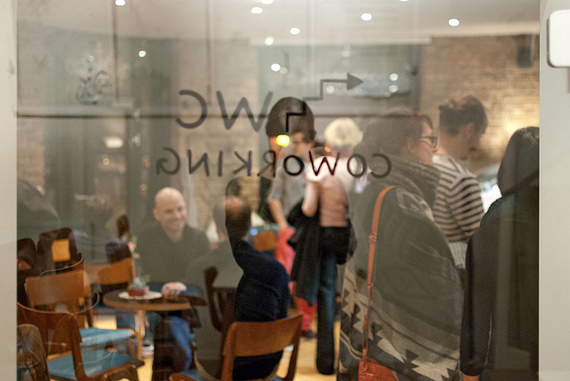 Image Credit: Flickr, Creative Commons: Nicola Holtkamp
In Britain, the serviced office industry has increased by 67% and serviced offices themselves now cover 5 million sq ft of central London. The rise of big companies and Britain's most amazing and unusual homes cannot be denied, and the expansion of smaller companies like i2 Office and Landmark-PLC are not to be ignored. i2 Office have expanded their London serviced offices steadily since 2007 to 15 locations, alongside opening new offices throughout the country.
But it's not only London. This phenomena appears to be global. Far from the quirky office spaces of trendy East London or Brooklyn, they are appearing in Saudi Arabia, India and South Africa. When a fairly new industry, or at least area in an existing industry, starts to boom it is bound to catch the eye of investors.
So is investing in these spaces a worthwhile venture?
WeWork, a New York Based startup that offers serviced office spaces to travelling entrepreneurs is now worth around $5 billion, according to The Wall Street Journal. With gains like these it is unsurprising that investors are wanting a piece of the "sharing economy" pie.
The sharing economy has attracted interest through rise of companies like AirBnB and Uber, offering to save people money by creating an ethic of pooling resources and using technology to (paradoxically) hark back to simpler times when people had more of a "what's mine is yours" attitude.
Coworking spaces and serviced offices are playing into this popular hand and mingling it with some savvy real estate, but is this trend here to stay or will investors see a loss in the next few years?
It seems not. Business is booming and the claims that the traditional office environment is dying are not too far off the mark. It is predicted that by 2022, most of us will be working remotely through various cloud technologies and from almost wherever we choose - providing it has a decent WiFi connection especially with the fact that some people thrive in the coworking spaces due to interaction and collaboration. It is the rise of cloud technology in particular that has allowed for a less strict office regime, enabling the looser working arrangements of coworking spaces.
Another driver not to be ignored is the rise of equity crowdfunding. Many coworking spaces are using platforms like Invesdor to raise the initial funds to set up shop.
However crowdfunding has its downsides when it comes to investing in equity. It is safer, especially if you want to invest a larger amount of capital, to work through a stockbroker who can assess your investment needs.
The crowdfunding route does not engage as such with whether the market is right for you, thus making it easier to invest badly and lose money.
This demand could be good news for prospective investors looking at smaller outfits. The expansion of such spaces in India and UAE are where investors should be looking. In the UK it seems the market is becoming saturated with such spaces, but looking overseas can herald great results.
If you're looking for an investment in the next few months, it could be just the right moment to look overseas at the way space is being used, if business plans look similar to some of the success stories we've seen in the UK and USA then you could be onto a winner.
REAL LIFE. REAL NEWS. REAL VOICES.
Help us tell more of the stories that matter from voices that too often remain unheard.