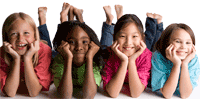 I was rejected from all girls' schools, twice. The first time was when my parents applied, on my behalf, to kindergarten and later, when I applied to college. Of course, there's no turning back. But having met a number of genuinely confident and accomplished women who are of the all-girls school ilk, I think, in my case, I would have benefited. It turns out that graduates of all-girls high schools show stronger academic orientations and higher levels of confidence in their math and computer abilities than their coed peers according to a national study issued last month by UCLA's Graduate School of Education & Information Studies.Instinctively this is not news to many of us who may have squelched our intelligence and voices in the company of guys back in the day, but the report shows that not everything is sugar and spice.
In an effort to contribute something new to the existing knowledge on single-sex education, researchers looked at the achievements, aspirations and attitudes of women entering college and the "net effects" of single-sex secondary schooling after controlling for students' demographic background and other high school characteristics.
Academics: Good News
The report's findings reveal that girls' school graduates consistently assess their abilities, engagement and ambition as either above average or in the top 10 percent. Compared to their co-ed counterparts, they are more likely to pursue careers in engineering, (typically male dominated), engage in political discussions (switch from being seen and not heard), keep current with political affairs, and see college as a steppingstone to graduate school (we're talking schools here).
We also learn from the report that independent single-sex school girls interact more with their teachers, they study longer hours and the mean SAT composite scores (verbal plus math) were 43 points higher for female single-sex graduates in the independent school sector than their co-ed counterparts.
Self-Esteem: Not-So-Good News
There were few distinctions between these groups when it came to psychological and physical well-being. Self-ratings of emotional and physical health were virtually identical for single-sex and coeducational graduates, and both groups are equally likely to anticipate seeking personal counseling in college. Face it, being a girl is tough, especially when it comes to being in the company of other girls. The sad thing is that for many, this doesn't improve with age. The exception in the little distinction category is that 42.8 percent of independent single-sex attendees reported frequently feeling overwhelmed by their responsibilities compared to 38.0 percent of women from independent coeducational schools. Hmm. Think this has anything to do with 43 point SAT differentiation?
Girl Power
Supporters of single-sex education often champion the leadership opportunities existing at schools where student governments, yearbooks, and other extra-curricular activities are led exclusively by young women (or men in the case of all boys' schools). But, 44.6 percent of single-sex alumnae rate their public speaking abilities highly, relative to 38.5 percent from coeducational independent schools. The numbers suggest a potential advantage of the single-sex environment: the opportunity for women to express themselves publicly without the level of self-consciousness that may exist in mixed-sex settings.
But the question remains, however, if these seemingly confident public-speaking women will be able to express themselves in the workforce, in the company of men and around the boardroom table. First they have to get there. This leaves room for further studies that look at women's aspirations and accomplishments after they complete college or graduate school. It would be good to generate some numbers for women twenty or thirty years out of high school. You go girls, no matter where you are, we are cheering for you.
The findings of the report can be found here.