As the first generation of South Asians age into their 60s and 70s in America, elder services specific to their culture are scarce.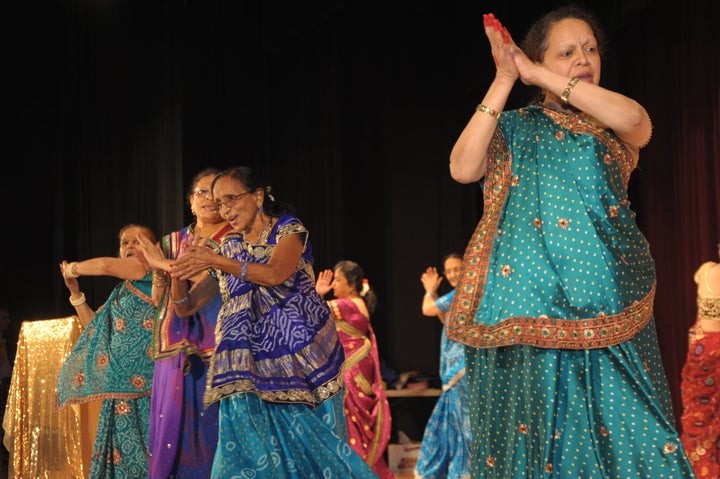 From the outside, Room 104 at the Sunnyside Community Services senior center in Queens, New York, looks just like any other room in the building. To get to it on this cold Monday in February, I walk past the usual crowd of elderly New Yorkers-white, Hispanic and black-who frequent the center. They sit on the chairs quietly, waiting to speak to an administrator and only occasionally glance up at the lighted screen that displays the day's lunch menu: chicken, brown rice, beet salad and fruit.
Open the door to Room 104, though, and we are greeted by the incongruous sound of 45 older Indian men and women enthusiastically singing a devotional song in Hindi. The singers are all in their late sixties and seventies. Today, in view of Valentine's Day, that quintessential American celebration of love, many of the women are wearing bright red salwar-kameez.
The men and women gathered around the long wooden table are members of India Home, a nonprofit that offers services that are "culturally appropriate" or tailored to the culture of South Asian seniors who live near mainstream centers in Queens. Many of these aunties and uncles, as they are addressed affectionately by the staff, have been meeting once a week on Mondays since 2009.
A short train ride away from Sunnyside is the Desi Senior Center in Jamaica. Here, in a large basement room of the Jamaica Muslim Center mosque a screen divides the room into the men's side and the women's side. While there are a sprinkling of seniors from Guyana, India and Pakistan, most of the 100 elders who attend the center three times a week are Bangladeshi Muslim. It is the only senior center of its kind for Bangladeshi elders in Queens. This, too, is run by India Home.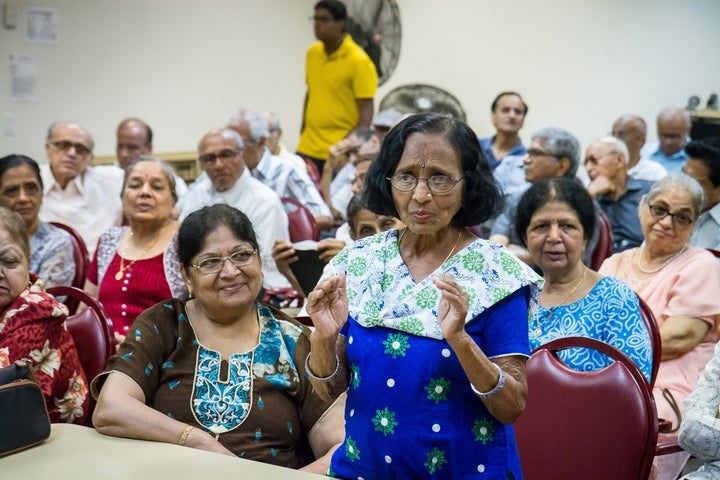 The familiar comforts of home
The men and women who frequent India Home's Sunnyside, SNAP Eastern Queens, or Kew Gardens centers are not newcomers to the country. As the Communications Manager for India Home, I know almost all of the seniors in the room. They have lived, worked, and paid their taxes in America for 30 or 40 years. Their children have grown up in the USA and some of them have found spouses outside their own culture. Talk to the seniors at India Home and before long they will pull up photographs of their white or Hispanic or Asian sons and daughters in law and their mixed race grandchildren living in places such as Cleveland or Florida.
This is not a generation that has resisted assimilation.
Yet, in their old age they long to return to their roots. They want to be around people who speak their language and who like the same favorite foods.
What makes India Home unique in the New York area is that its programs are organized around the philosophy that understands that as South Asians age, they want the familiar comforts of home.
Mr. Chandrakant Sheth, 81, retired from his job as an independent insurance agent several years ago and has been coming to India Home's Sunnyside center for the last four to five years. A compact, well-dressed man who speaks slowly, he has clearly thought about what the place means to him: "We are reminded of our own culture. We've been in USA a long time and we almost forgot what it's like in India. We sing these songs and prayers, celebrate all our festivals. Coming here, it revives our memories."
South Asian seniors growing faster than services
New York has always been a gateway city that welcomed immigrants from all over the world. The Center for an Urban Future (CUF), a non-partisan think tank, published a report called The New Face of New York's Seniors by Christian González-Rivera that documented the rapid growth of New York City's older immigrant population. Howard Shih, a demographer at the Asian American Federation in New York contributed to the report: "The aging segment of the Asian population is the fastest-growing part," he notes. "The wave that came in the 1960s, when the Immigration Act removed race-based quotas, has been here for over 40 years and is now getting to retirement age."
In the decade from 2000-2010, the number of foreign born seniors in New York grew by 30 percent or 42,000, with the population of Asian elderly growing by 68 percent. In the borough of Queens alone, which is home to some of the largest South Asian populations in the country, immigrant seniors are a majority of the senior population in ten out of fourteen neighborhoods. There are also other groups of elders: the ones who have grown old in their home countries and are now moving to the US to be with their sons and daughters.
According to the Center for an Urban Future's report in New York City alone, Indians are the second largest immigrant group. Between 2000 and 2010 the population of older immigrants from India grew by 135 percent or about 8000 people. The number of Bangladeshi immigrants from Bangladesh grew in the previous decade by 471%. The Pakistani populations grew by 38 percent from 2008 to 2011.
However, with significant numbers only allowed to immigrate in the 1960's, South Asians are among the newest of immigrant groups. According to the Pew Research Group, around 87 percent of Indian-American adults in 2010 were foreign-born, the highest percentage among the six largest Asian-American groups.The elders seated around the table at India Home's Sunnyside Center are the first generation of Indians to grow old in the United States. Yet, according to most experts, the undeniable fact is that as a group, South Asians are singularly unprepared to deal with the growing numbers of their elderly in the United States.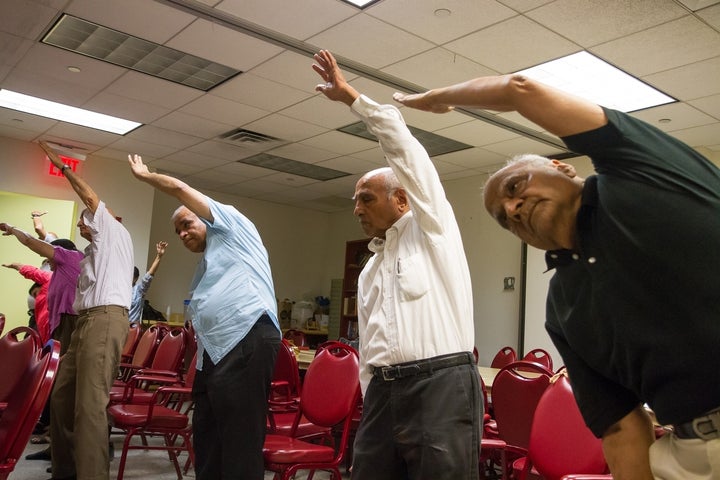 The coming senior crisis
Dr. Rashmi Gupta, an Assistant Professor of Social Work at San Francisco State University, is unequivocal in her warning: "South Asians haven't caught on that there's an impending crisis (in aging) coming." According to her, Jewish, Chinese and Korean non-profits or faith-based groups have long recognized the need for creating a network of elder care facilities that provide culturally competent services and language access to their aging populations. However, there are few organizations that provide the comfort of familiar culture to the growing numbers of South Asian seniors or have staff that speak at least one South Asian language.
South Asians are proud of all that they have achieved in this country, Dr. Gupta says. But now, she says: "The younger generation needs to think about 'what's going to happen to my parents?' "
One of the people who has started thinking seriously about aging and its implications for South Asians in America, is Dr. Vasundhara Kalasapudi of Queens, NY, the Executive Director of India Home. A geriatric psychiatrist by training, she lost her father to vascular dementia eight years ago. It made her realize there were unique challenges in trying to take care of an aging South Asian parent at home.
At the time, even in a giant gateway city like New York, there were only a few informal senior groups that met once a month at Hindu temples or Sikh gurdwaras. There were no formal, staffed non-profits in the New York area that offered South Asian elderly any kind of culturally relevant services or programming.
She personally visited 30 mainstream senior centers, she says. But she says, "there were hardly any Indians in them." That was when and her fellow doctors decided to invest their own money in a non-profit for seniors. "We needed something for our community," she said.
The result of that initial investment was India Home.
The language access hurdle
In a city like New York there are a plethora of services for seniors. However, often older South Asian immigrants cannot get to them because they cannot communicate with the staff who provide these services.
Data compiled by the Center for an Urban Future shows that 62% of older Indian immigrants and 71% of older Pakistanis in New York City have Limited English Proficiency (LEP) – which means they reported to census takers that that they speak English "less than very well" or not at all.
Usha Mehta, 66, has seen first hand the frustrations of seniors who cannot express themselves well in English. She arrived in New York 30 years ago by way of Kenya, and worked with the Duane Reed pharmacy network for 23 years. Nowadays she's retired and rarely misses a day at India Home. Slim and energetic, Mehta herself speaks fluent English, but she has many friends who don't. "In other (mainstream) centers, we can't share our feelings. If seniors don't speak English so well and they have some problems, they can't express themselves."
Rather than struggle with English, many South Asian seniors prefer to stay home. "If they don't feel comfortable why would they go there?" Mehta asks sensibly.
Cultural sensitivity, or having staff who understand the language their clients speak and the cultures they practice, plays an outsize role in drawing immigrant seniors to certain centers.
India Home's Desi Senior Center serves over 100 Bangladeshi seniors every program day. At the center, men and women sit separated by a white screen. Some Muslim women, especially the elderly and traditional, may not be comfortable interacting with men who are not family members. Behind the screen, the women feel at ease enough to move their bodies to do yoga exercises, adjust their hijabs, chat and laugh among themselves.
Food as barrier
Other than language, the other reason keeping South Asian seniors from accessing mainstream services is the food. Many senior centers serve congregate meals, or meals that seniors can eat in the company of others. A shared meal helps combat the social isolation so many seniors suffer from, and often is the only way for poor seniors to get a nutritional meal. But the food in the mainstream senior centers may not suit everyone, especially South Asians, who have many restrictions on what kind of food they can eat.
A substantial percentage of Indians are vegetarian. Many Pakistanis and Bangladeshis have strict religious injunctions about what they may or may not eat. Professor Rashmi Gupta in the course of her research has seen things that starkly brings home the need for cultural sensitivity training for senior care providers.
"In some of these senior homes, South Indian Brahmins are offered jello. At Christmas or Thanksgiving, there are these huge carcasses of turkeys right next to them in the dining room. For South Asian vegetarians, this is unpalatable."
Even Meals on Wheels, the company that supplies meals to needy elders don't offer any ethnic options, she says. "So how do Indians, many of whom are vegetarian, avail themselves of these services?" she asks.
The solution for India Home has been to bring in vegetarian and halal food from South Asian restaurants. For vegetarians at India Home, lunch often consists of lentils, rice, roti or Indian flatbread, a dry vegetable dish, like okra or cabbage, cucumber raita or yogurt-based salad. At the Desi Senior Center, where there are fewer vegetarians, there's usually halal chicken or fish. "I don't expect people like our fathers and mothers to eat pizza and pasta on a daily basis. Even I can't do that," says Dr. Kalasapudi, the geriatric psychiatrist.
Farida Talukdar, 68, a Bengali member of the Desi Senior Center is appreciative: "This is a great service. We are Muslim and strictly maintain halal and haraam," she says.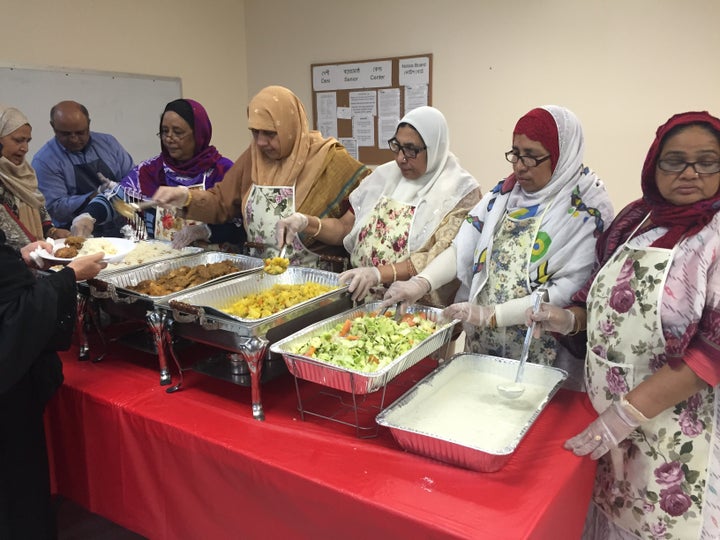 Resistance to senior centers from the younger generation
Even if South Asian seniors are ready and willing to go to a senior center, they often face opposition from their sons and daughters. Often it is tradition that stands in the way of embracing the idea of these kind of places. Respect and care for elders is ingrained in South Asian culture. Until recently generations lived under the same roof, and children were expected to take care of their aging parents.
"South Asians have a psychological block. We think we can take care of our parents like we would have back home. Why send them to a senior center?" Dr. Kalasapudi says.
However, studies have shown that social isolation is the biggest problem confronting South Asian elders. With both partners working and children in school all day, retired seniors have nothing to do at home. Dr. Gupta sees this phenomenon first hand. Seniors say, "I am in a gold cage," she says. They are home bound and have nowhere to go. "People in NYC are lucky—there's the subway. In places where there's no public transportation, where you have to drive, seniors are stuck at home."
Even on days that everyone is at home, there is what Dr. Kalasapudi calls generational isolation. As she explains, "We invite our friends home on the weekend and think we've included our parents in the conversation." Still, they are lonely. "They need to talk to people their own age," she says. Farida Talukdar agrees. Coming to the center, she says is like, " A sigh of relief. How much can I talk to my daughter-in-law?"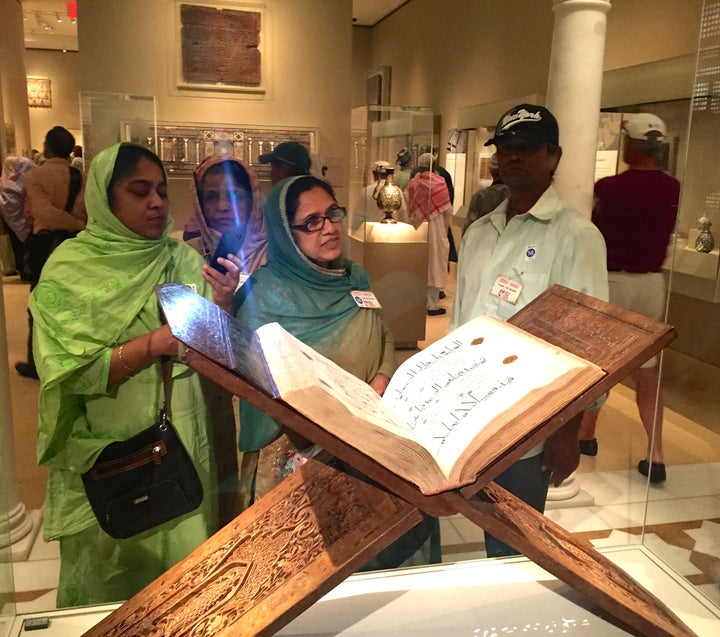 Senior centers, like the ones India Home runs, offer a chance to meet other people who share one's values, culture and concerns and ways to connect with others who are the same age.
At India Home's Kew Gardens center, a group of Indian men bring articles cut out from the papers in India. They read them out to each other and then fall into a heated discussion on Indian politics. At a celebration for International Mother Language Day this February at India Home's Desi Senior Center, Putul Chanda came up to the mike to share her memories of her student days in Bangladesh. She talked about police beatings and marches in the streets. Listening to her, her audience of seniors clapped and cheered. More elders shared their memories – they too were revolutionaries and freedom fighters. The pride in the room was palpable.
Senior centers are about socialization and sharing. But for South Asians, says Dr. Gupta, the realization that seniors need much more than just being fed and clothed by their well-heeled sons and daughters, "is happening slowly." What we need, she thinks, is to learn from other immigrant communities who came earlier to the United States. "Look at Jewish charities—how organized they are," says Dr. Gupta. "What we [South Asians] need is a sea change in our thinking."
Few donations to South Asian senior causes
The resistance to facing the truth of aging in America also extends to charitable giving. Finding funding is a struggle. "Building a community donor base is hard," says Dr. Kalasapudi. For years, she says, "We took loans from my community of doctors. I tapped my own network. " Slowly, India Home has been getting a trickle of funding from government agencies like Department of the Aging and from the Discretionary Funds of elected officials in New York. But individual donations from South Asians are much harder to come by, says Dr. Kalasapudi.
Indian Americans are among the richest of ethnic groups in the United States, earning a median income of $100, 547 in 2013, according to data from the U.S. Census Bureau, much higher than the American median income of $51,939 that year. Almost one-third (28 percent) of Indian Americans work in high earning science and engineering fields, according to the 2013 American Community Survey and the Pew Research Center. In spite of their success, Indians mostly send money back home to support charitable causes in India.
In a report titled, On the Shoulders of Generations put out by the Silicon Valley Community Foundation found that regardless of age or generation, affluent Indians felt that donating to India was a better investment because the need is greater and the money goes further. To quote one example, the American India Foundation, the NY Times noted in 2013 article, raised more than $7 million that fiscal year for nonprofit groups back in India.
However, the Silicon Valley Community Foundation report also noted that "first wave" Indians, who immigrated in the 1960's and 1970's, established a foothold in the country by setting up temples, mosques, churches or gurdwaras. The place of worship became a space to practice identity and thus much of South Asian charitable giving has traditionally gone toward religious activities and institutions.
How South Asians see themselves has also created blind spots in giving—South Asians consider themselves a model minority and that perspective obscures the fact that there are social problems in the community like poverty and elder abuse, homelessness, mental illness and yes, the unmet needs of seniors aging fast in America.
For example, 21% of Indian seniors and 12.4% of Pakistani seniors live below the poverty line in New York City. Many South Asian seniors who immigrate after having worked in their own countries and decide to live with their children in the US may not have any income or Social Security earnings. Dr. Gupta has studied these problems for 20 years. "South Asians don't like to discuss these things. Things like who will take care of your financial matters when you get old and feeble?" she says
It's high time, Dr. Gupta thinks that South Asians as a group addressed these taboo topics. "The most amount of money is spent in the last 5 years of one's life. Live-in facilities, at least the few that are coming up for South Asians are expensive—they can cost as much as $4000 dollars a month."
Dr. Kalasapudi has plans to start day programs for South Asians with dementia, as well as assisted living facilities and nursing homes. "This is a common topic for all of us, how difficult it is to take care of families with medical problems," she was quoted as saying in a recent NY Times article.
But the nonprofit she runs is tiny and the need for funds is great.
Back at India Home's center in Sunnyside, Queens, the programming has moved on to Valentine's Day. The men and woman share their thoughts on their significant others. The talk is not of boyfriends or husbands, but that of children. Usha Mehta talks about her daughter: "She amazing. I began to live the moment I held her in my arms."
Listening to her, many in the room tear up. Several others stand up to speak and there are frequent references to God's grace. Many express gratitude to mothers and fathers long gone. To me, it feels like a typical South Asian gathering, voluble, loud, talking over each other, at ease with the fact that they all understand each other. More than seniors who have dropped in for a program at a senior center, the atmosphere is more like a group of close friends sitting around in a familiar living room, sharing intimate memories. The camaraderie, the lack of formality, the comfort that comes from a shared culture and the lack of need for explanations feels like a glimpse of what is possible for South Asians growing older in America.
Meera Nair is the author of books for adults and children and the Communications Manager for India Home. @MeeraNairNYFollow her on Twitter @MeeraNairNY
Support HuffPost
The Stakes Have Never Been Higher
Related
Popular in the Community