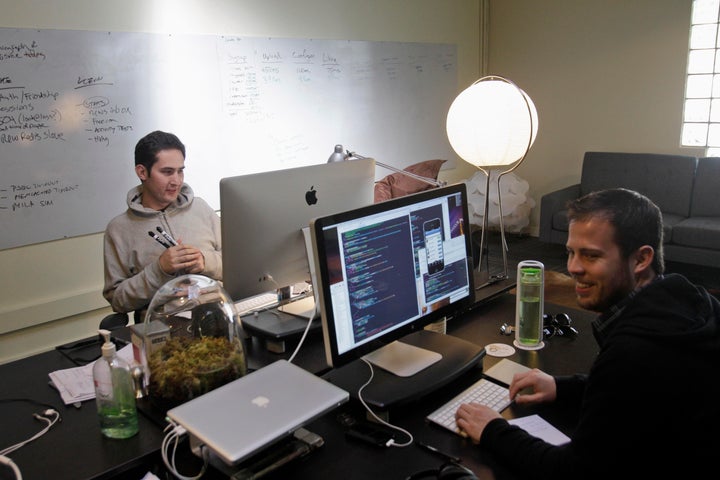 Xconomy's latest "Guide to Venture Incubators" tallied 64 venture incubators in the United States. That 2011 count is triple the number that existed in 2009. The new trend caused Xconomy's Wade Roush to wonder if this incremental growth indicates a bubble.
Wade thinks so, which isn't unreasonable. And I'm sure this list is expanding even as I write this blog. In Ohio, for instance, The Ohio State University's Fisher College Center for Entrepreneurship announced 10-xelerator, a mentorship-driven investment program designed for high-tech entrepreneurs a few months ago.
Given these market dynamics, and the recognition that all net new jobs are created by companies less than five years old, combined with increased interest in cheap-to-launch internet-based businesses, a new type of incubator took root.
It's one with a defined, intensive training program and small amounts of capital in exchange for equity. This particular type of incubator is generally focused on tech companies, which tend to be capital efficient and quick to market. In programs like these, small amounts of capital are followed by intensive focus on building a prototype, getting to a quick market test, and either building momentum (best outcome) or getting to 'fast failure' (second best outcome, as it helps avoid wasted resources, including time, and allows the team to move on to the next big idea).
More likely, the company learns enough to make one or more major pivots along the way through what they've learned--something critical to success (read about that in summary of the Startup Genome Report).
But, according to Roush, "the current profusion of incubators may exacerbate the very problem that incubators were invented to solve in the first place: the difficulty of getting a new company off the ground." He professed that the more startups graduating from these incubator programs, the harder it will be for them to gain attention from investors, media, or customers.
But the problem doesn't lie in too many startups; rather it lies in the expectations of the entrepreneurs. A boom in incubators creates the façade that all are created equal. They're not. A group called Tech Cocktail put together their list of the Top 15 Incubators. Their methodology was spot on. They compiled a list of startup accelerator programs across the country that were then ranked by what they called qualified financing events (i.e., companies that got funded after completing their program), the success of their graduates, and accelerator program characteristics (including the amount of money startups receive and the equity the incubator's owner takes). Tech Cocktail said they then supplemented the rankings by interviews with "classic VCs, investors and past accelerator participants."
When I scanned it, I noticed a few things the top incubators generally had in common.
For one, they're built around a founders who are serial tech entrepreneurs themselves. The good ones have stringent acceptance standards and an established curriculum for entrepreneurs, as well as a limited schedule, meaning you just can't live there forever. They give you three months of intensive help and you either start your business or you don't. Either way, you're in and out.
One of groups on the list was Ohio-based Brandery, which is a member of the TechStars Network, one of the nation's most prominent group of incubators. I spoke with Dave Knox, who co-founded Brandery, and he agrees that as more of these models crop up, the emergence of wannabes is inevitable. "Some entrepreneurs think all programs are created equal. They think that by joining any program, they are going to reach national, big name investors," Knox said.
But that's obviously not the case. It's not even a given if you join the best program. "Some programs are generating unrealistic expectations for entrepreneurs and investors alike," he said. "The top tier programs are generating companies that are demanding extraordinary valuations. The fact that they come from this program is a 'stamp of approval' that sometimes causes irrational valuations -- like a pre-revenue, seed-stage company wanting a $10 million pre-money valuation."
Entrepreneurs need to do their homework. They should understand the difference between incubators and an accelerator. The two words have become interchangeable. In fact, Knox said the Brandery isn't even an incubator. It's an accelerator, just like all members of the TechStars Network. The difference? Knox described accelerators as programs with definitive start and end dates (they typically have 'classes' that 'graduate.') They're largely mentorship-driven and only focus on high-growth startups with a potential to attract venture capital. Incubators
however, typically have less-defined programs and their tenants might stay for several years.
And what if this bubble bursts? The downfall is nothing compared to the 2001 tech bubble, but still would mean incubators closing their doors. I'm not too worried about that for Ohio (or really the Midwest), though. Ohio has gradually built a more balanced and diverse set of incubators, accelerators, and pre-seed and seed capital programs that are creating a broad pipeline of high growth companies.
We have vastly different types of incubators across Ohio, which collectively are delivering a broad set of programs, capital, and services such as subsidized rent, ongoing technical support, a variety of grant, loan, convertible debt, and investment programs, and so on. Through our incubators, Ohio is building companies across a diverse set of industries too. In fact, the state could benefit from more of the type of incubators rapidly spreading across the country to ensure we are supporting IT activity to the same degree we are supporting our other core technical focus areas, such as biomedical, cleantech, and advanced materials.
Since more than half the nation's incubators are housed on either Coast, they can duke it out over whether or not an incubator bubble exists, and what will happen if it bursts. I wholeheartedly agree with something Knox said on this: "The 'me too' programs are the ones that will be in trouble."
Popular in the Community