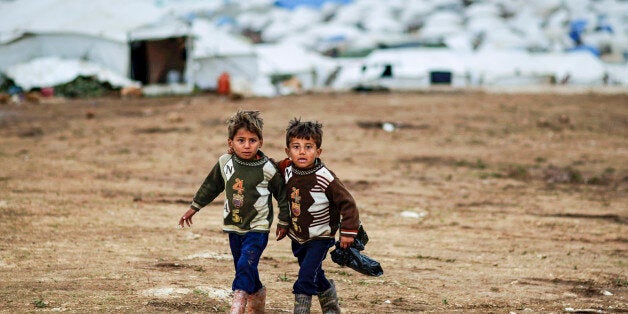 By Pam Bailey, Founder and International Director
As Syrian refugees near their fifth year of displacement and peace in their homeland is nowhere close, a question was raised recently in a Washington, D.C. newspaper for Congressional staffers: "Will Syrians become the new Palestinians?"
For those new to the refugee arena: Palestinians are the oldest group of long-term, "warehoused" refugees. Nearly seven decades after Palestinian refugees fled or were forced to leave the portion of the Palestine Mandate that became Israel, those who survive and millions of their descendants officially remain refugees. Why? Both the local host countries and the international community simply did not have, and continue to lack, the moral compass and political will to implement steps that adequately meet refugees' immediate needs and lay the foundation for a longer-term solution.
Consider the case of Palestinians in Lebanon. Approximately 455,000 Palestinians there are registered with UNRWA, the UN agency created in 1949 to care for a refugee population that was supposed to be temporary. It's estimated that about 300,000 of them actually live in Lebanon; the remainder have managed to travel abroad to study or work.
Fifty to 60 percent of these Palestinians have no other choice but to live in densely crowded and poorly served camps, despite the fact most of them were born in Lebanon. They are not allowed to own property and must live with numerous restrictions and social norms that severely limit where they go to school, work and get health care.
The question of why Lebanon continues to refuse to normalize the status of the Palestinians more than 60 years after the arrival of the first generation has several answers. The official Lebanese response is that treating Palestinians like citizens would signal to Israel and the international community that their right to return to their original homeland is not important or necessary.
"In the end, what good has this done? We have become experts only in survival and that is all. We can buy Eid clothes for three children with $50 or cook a meal on a gas stove with a single flame," one Palestinian told Diana Allan, author of Refugees of the Revolution: Experiences of Palestinian Exile.
More credibly, the Lebanese also point to the precarious nature of their "confessional" form of government, in which the highest offices are proportionately reserved for representatives from the various religious communities. To give Palestinians citizenship, they argue, would upset the delicate balance by swelling the ranks of Sunni Muslims. Although many dynamics were at work during the conflict, still others continue to harbor resentments related to their long and destructive civil war (1975-1990). They blame the strife, and the concomitant Israeli invasion, on the PLO and its resistance fighters (and thus the Palestinians as a people).
And finally, there is the objection to immigrants shared by people around the world: "There aren't enough jobs for the rest of us." A 2013 survey found that 50 percent of Lebanese describe their family's economic conditions as either bad or very bad.
"They don't want us in Lebanon and they're not going to make it better," says Fatema Dabdoub, a Palestinian student at the American University of Beirut and a writer for We Are Not Numbers. "Not all are that bad. I have a lot of Lebanese friends who sympathize with us. But a very big chunk hate us for ruining Lebanon, or view us as uncivilized people. Now, Syrians are living the same reality. Lebanese people aren't fond of refugees."
With such an entrenched institutional bias against Palestinians, and now the Syrians, why and how do some Lebanese develop a different world view? Perhaps therein lies the solution for the future, both here and in Europe, where anti-immigrant views are growing. Interviews with a number of Lebanese with more tolerant and accepting world views show that coming face to face and interacting with "the other" is critical.
Moe Ali Nayel, an independent Lebanese journalist, recalls July 12, 2006, when the Israeli military struck Lebanon in retaliation for the capture of two soldiers by members of Hezbollah. "I went to the south to help displaced people and got to know Palestinians my age," he remembers. "I 'discovered' the camps for the first time, if you can believe it. They have been there for more than 60 years, but they don't exist in any significant way in the Lebanese collective memory. We know they are there, of course, but regard them only as black holes of violence and crime. They are so close, yet so completely hidden in many respects. I was shocked by that."
Yara Harake also is a Lebanese journalist, a producer for Al-Mayadeen TV's show "Behind the Wall." She grew up with very politically involved and progressive parents in Borj Al-Barajneh, just outside the Palestinian camp of the same name. However, it wasn't until she was 15 that she actually went into the camp to help some friends who were volunteering with activities for children.
"I knew about their situation," says Harake, echoing Nayel. "But I never imagined it was that bad until I saw the camp."
Today, Lebanon is home to an estimated 1.5 million of Syrian refugees, and Dabdoub and others see the rejection of the Palestinians being repeated, even as their presence gradually becomes more entrenched.
Just as all Palestinians frequently are blamed for past perceived excesses by the Palestine Liberation Organization when it was headquartered there, reports that some desperate Syrians are signing on with extremist factions like Al-Qaeda and the Islamic State in Iraq and the Levant (ISIL) have transformed their image in the mind of many Lebanese "from victims into potential threats," says Lina Khatib, director of the Carnegie Middle East Center in Beirut.
That, along with the fear that Syrian gatherings will become as rooted as the Palestinian camps, is why Lebanon has declined to classify Syrians fleeing the war as "refugees," preferring to call them naziheen -- "displaced persons." Deprived of formal refugee camps, Syrians in Lebanon are forced to take shelter in abandoned buildings or makeshift encampments that provide little protection against the elements.
Yet, there is a long-term price to be paid for such exclusionary practices. Compounding the hardship of desperate Palestinians, or Syrians, worsens conditions for refugees and their hosts. Not only do such discriminatory practices fuel the anger and frustration that drive extremist recruitment, but they also deprive host countries of the entrepreneurial spirit for which immigrants are known. And then, of course, there is the corrosive affects such discrimination has on our identity as moral individuals.
"Condemning people who fled persecution to stagnate in confinement for much of the remainder of their lives is unnecessary, wasteful, hypocritical, counterproductive, unlawful and morally unacceptable," wrote Merrill Smith, author of "Warehousing Refugees: Denial of Rights, a Waste of Humanity." And that's the bottom line.
Related
Popular in the Community