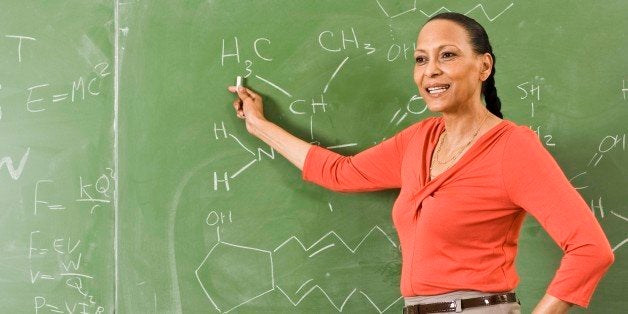 I'll admit it. I'm first in line to fault teachers -- English teachers all the more so -- on poor grammar, written or verbal, poor spelling, and lack of depth in their subject areas and breadth across others. I guess I got a little of the "teachers are to blame" gene from my mom, who threw a massive fit when I told her, as I was finishing up my senior year at Cornell, that I wanted to take a year or so off from pursuing a medical degree to teach.
"We didn't send you to Cornell so you could become a teacher!" she yelled over the phone, seeing her dreams for me crashing down all around her. But when I published my latest blog post on why students need to work hard to succeed in both comfortable and uncomfortable subject areas -- namely math -- I got a lot of teacher finger-pointing in response. "My teacher did me a disservice." Teachers "ignored me." My teachers "let me down."
And I'll also admit, I felt a little defensive. After all, I hear it every day from my own students. "You don't teach us," they mutter under their breath, or sometimes brazenly out loud. "No one gets this," individual students remark beneficently on behalf of everyone. And so I struggle. Every day. Every class. Every interaction. To figure out how to make the complex subjects of chemistry and physics both understandable and engaging to each and every student.
To the ones who are staring into their laps, attempting to hide their cell phone usage. To the ones using chemistry class to cram for another class's test. To the ones furiously copying someone else's homework so they can get full credit. To the ones getting a jump on tonight's homework by working ahead. To the ones whose girlfriend or boyfriend just dumped them. To the ones whose parents just announced last night they're getting a divorce. And to the one whose mother died earlier that week. And, to the most difficult students to reach, the ones who are absent from class altogether.
And I know that, if they just put it all aside for a moment, and fully engaged with the struggle, armed with pencil and calculator, each and every one of them would learn. And I also know that, if they truly attempted the homework, no matter how complicated and confusing it was, and were willing to bask in the discomfort to figure it out, they would grow wings. Yes, wings. Because nothing can stop a child who has learned for herself how to face challenges and work through them. But going to school, expecting to learn without putting in the work, is like joining a gym expecting to build muscles without doing the exercises.
I read a Washington Post article yesterday by a noted psychologist on why telling children they can be anything they want is doing them a disservice by creating undue pressure on them. I totally disagree. The only disservice is making them believe it's easy. And that there are shortcuts. And "right" answers. The American dream has never been more accessible. To the ones willing to do whatever it takes. To the majority of students, however, it's just "too many steps." And they don't "learn" because their teacher doesn't "teach" them. So they return to class with copied homework, or blank homework amid protestations of "I don't get it." Of course they don't get it. Because the only way to get from here to there is through, and "through" is an uncomfortable, time-consuming and frustration-laden preposition.