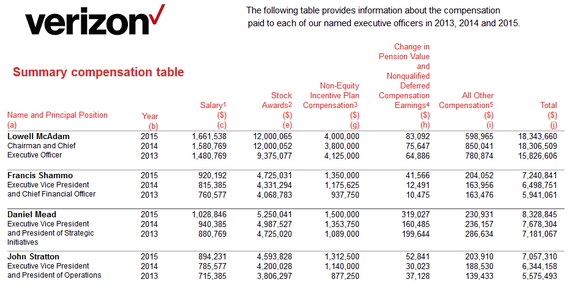 Are low income families, seniors, small businesses, and anyone using the Verizon utility communications networks getting charged for executive compensation?
Is the executive pay part of the larger "Corporate Operations" expenses that are being dumped into the state utility to create 'losses'?
Did the company manipulate the financial accounting to make the wireline networks pay the majority of these Corporate Operations expenses so that they would appear unprofitable, to help the company's policy goals--'shut off the copper', slow down or stop maintaining the wires, much less upgrading them to fiber optics; and, of course, get rid of the unions?
While I personally don't care how much someone makes a year or their net worth, in this case, I care when the salaries and other compensation somehow end up being paid for by local phone customers in an expense item called "Corporate Operations', a large financial garbage pail where almost any corporate expense can end up being charged to the local networks to fulfill harmful anti-public interest outcomes. And while it will take audits to actually see the extent of the damage, interviews with forensic auditors and specialists in telco accounting and FCC rules agree it is most likely that most, if not all of the executive compensation was divided up by Verizon and placed in the state utilities, like Verizon NY or Verizon Massachusetts. But this practice is national in scope and is most likely being done by the other incumbent phone utilities, such as AT&T and CenturyLink.
And it begs the question - should local phone customers, especially low income families, be charged for the corporate holding company's expenses, much less the personal rides of the CEO on the corporate jet? And how much of these expenses are for the wireline, local phone networks vs cross-subsidizing the wireless or entertainment development, or lobbying about items that have nothing to do with the wireline local phone networks?

The Verizon 2015 Proxy Statement, which includes executive pay, was filed with the SEC last month, and it shows (see the first chart) that lots of money is going for compensation to the top four Verizon executives--$114,322,605 in the last three years alone for just salaries; $41 million in just 2015 to just four people.
Considering that the average household income is about $50,000 these days, four Verizon phone company executives made as much as 820 households in 2015, and this represents, according to the US Census, about 2,167 people.
But that's just the annual salaries. Lowell McAdam also gets $40 million if he gets terminated, he racked up $126,000 for the personal use of the company aircraft, (included in his salary) and there may be an additional $22 million extra paid when he became Verizon CEO in 2011, and $7.6 million in 2015.
Now, I'm certainly not a specialist in the arcane manipulations of executive pay. In fact, I probably left out other compensation due to the gobblygook nature and obfuscation going on. There is no single chart in this proxy statement with all of the current and potential future payments for just Verizon's CEO Lowell McAdam, for example. So, I included some of the actual info for your own analysis.
But, before I Go into the Exec-u-Pork, here are Three Things You Should Know about the Corporate Operations Expense.
First, here is the Corporate Operations expense definition from the FCC's rules on telecommunications (trimmed for the article). It's a veritable garbage pail of Verizon Corporate's wishes.
§ 32.6720 General and Administrative

This account shall include costs incurred in the provision of general and administrative services as follows:
(a) Formulating corporate policy and in providing overall administration and management. Included are the pay, fees and expenses of boards of directors or similar policy boards and all board-designated officers of the company and their office staffs, e.g., secretaries and staff assistants.
(b) Developing and evaluating long-term courses of action for the future
operations of the company. This includes performing corporate organization and integrated long-range planning, including management studies, options and contingency plans, and economic strategic analysis.
(d) Maintaining relations with government, regulators, other companies and the general public. This includes:
(1) Reviewing existing or pending legislation (see also Account 7300, Nonoperating income and expense, for lobbying expenses);
(2) Preparing and presenting information for regulatory purposes, including tariff and service cost filings, and obtaining radio licenses and construction permits;
(3) Performing public relations and non-product-related corporate image advertising activities;
(4) Administering relations, including negotiating contracts, with telecommunications companies and other utilities, businesses, and industries. This excludes sales contracts (see also Account 6611, Product management and sales);
(5) Administering investor relations.
Thus, Corporate Operations includes paying the lawyers who are negotiating the union contracts, it is paying for the PR to make the company look good, it includes helping to create legislation and filings that are designed to optimize profits and not the public good, even though these companies control the state utility, the critical infrastructure. In short, Corporate Operations is paying for... well, everything that has nothing to do with the expense of running the state utility's local networks, or items customers should be paying for.
And if you hear things like - But those FCC or state rules were 'forbeared' or removed or... In 2014, Verizon New York and the NY State Public Service Commission never changed the accounting. And if you hear But these prices are 'price capped'--say "Garbage. Explain how the prices continue to rise based on 'losses' in New York State, for example. They are tied to expenses and the arbitrariness of the regulators to grant rate increases without any audits.
2) Low Income Families, Seniors, Anyone with Phone or Broadband Service were Overcharged. In 2014, we know that Verizon Corporate Operations expense - in just New York, was $2.6 billion and that 60% was charged to Local Service. I.e., the local phone customers, including seniors, low income families, small businesses and everyone else paid billions in this expense for just the copper-based phone service and ancillary services.
Taken from the Verizon NY 2014 Annual Report, Local Service brought in $1.4 billion in revenues but paid $1.6 billion in this Corporate Operations Expense; this is 109% above the revenue. This alone made Local Service 'unprofitable'.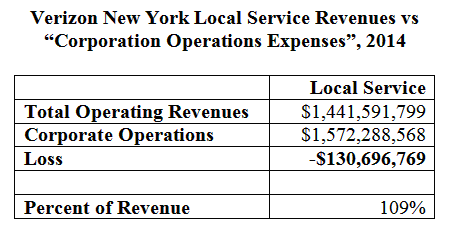 This made the state utility networks look unprofitable and Verizon NY showed massive losses. Add to this, since 2005, Verizon received multiple rate increases of 84% on basic phone service, (commonly known as "POTS", Plain Old Telephone Service) and got 50-300% price increases on various add-on services, claiming losses. This added about $1500.00 extra to customers' bills over this period, 2006-2015--and the overcharging is growing. Prices should have been in steep decline, however, as the actual expenses to offer the copper-based phone services are nominal.
And low income families get a multiple whammy from Verizon. First, many of the areas NOT upgraded by Verizon are in low income neighborhoods, so these customers can't get fast broadband or have Verizon offer direct competition to the cable company. Next, local phone customers also paid extra for upgrades they will never get as there were multiple rate increases, some of which included fiber optic upgrades. Third, prices should have been in steep decline, not increasing. Finally, they, like all users of the wireline networks, are the victims of this manipulation of accounting and could be paying for McAdam's personal rides on the corporate jet, among other executive perks.
3) Local Service has Paid the Majority of this Ever Increasing Expense for a Long Time. Because of a failure of the FCC and states to properly audit and monitor the expenses being dumped into the state utility, among other problems with the accounting, Verizon New York and every state utility used faulty mathematics that dumped the majority of Corporation Operations expenses into Local Service. And it's been getting worse, year by year. In 2003, Local Service was 65% of revenues and paid 65% of expenses and the other categories paid expenses based on revenues. But, by 2014, Local Service still paid 60% of the expense but brought in only 27.6% of revenues. The other areas, such as 'Access Services' (including 'Broadband Data Services', also known as 'Special Access') and 'Nonregulated', like FiOS TV, pay a fraction of this expense, based on their revenues. For example, Nonregulated services has almost the same revenues as Local Service in 2014 but only paid 10% of the expenses.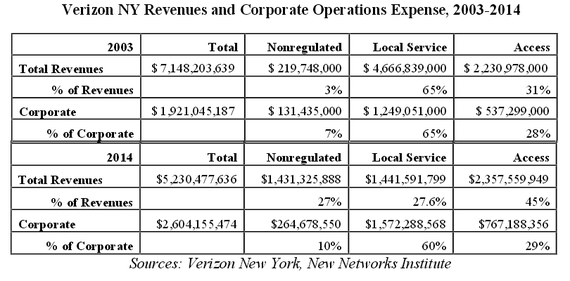 NOTE: While the overall revenues of Verizon New York went down, this is mostly because as services became deregulated, their revenues were no longer shown as part of the state utility financial books. However, much of the expenses stayed with Local Service.
When the company says 'local service is unprofitable', then, the answer should be - We demand audits and investigations.
Let's Go through the Executive Compensation.

The beginning chart showed that the four senior management made $114.3 million dollars from 2013-2015--three years. (NOTE: According to a recent email, Lowell McAdam's salary when up to $23.1 million in April, 2016, from $18.3 million in 2015.)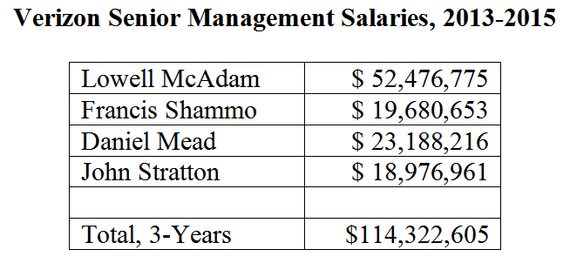 You should note that the tax law only lets the company take $1 million dollars in deductions, and that's why companies have a handful off different payouts after the word 'salary'; but there are caveats. According to Verizon:

"Federal income tax law generally prohibits a publicly-held company from deducting compensation paid to a named executive officer (other than a chief financial officer) that exceeds $1 million during the tax year unless it is based upon attaining pre-established performance measures that are set by the company's compensation committee under a plan approved by the company's shareholders. The Committee has the flexibility to take any compensation-related actions that it determines are in the best interests of Verizon and our shareholders, including determining when to request shareholder approval of incentive plans and when to award compensation that may not qualify for a tax deduction."
But, besides taxes, Verizon found other benefits--from rate increases and creating losses in the state utility, as well as not paying state or federal income taxes. In New York, Verizon lost over $2.5 billion annually for 5 years, 2010-2014 (with a caveat for 2013). It is unclear if corporate salaries were or were not part of the tax 'benefits' from the losses, or were used as part of the deduction. I.e.; the company dumps the salaries as part of corporation operations expense into Local Service. It makes Local Service show losses; the losses are used to not pay taxes. Is that a disguised equivalent to a tax deduction through a different financial back door?

Outstanding Equity Award--Bonuses, it would Appear, above the Salaries.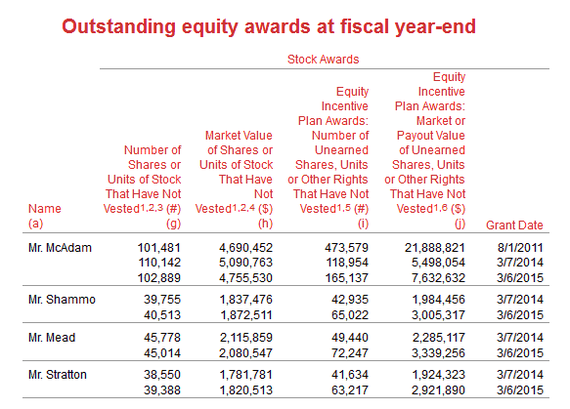 Below is the gobblygook explanation (from the footnotes) about $22 million more for Lowell in just 2011. As you can see from the text, they have figured out elaborate ways to make these calculations seem legitimate. Note: the $7.6 million listed for McAdam is not specifically listed in the opening chart, but may or may not be included in one of the other payouts.

My only question is--was this added to the Corporate Operations expense in every state?
Compensation Tables: Potential Payments Upon Termination or Change in Control

CEO Lowell McAdam also would have gotten $40 million dollars if he got fired, with or without cause, or died or was disabled in 2015.

According to the Proxy Statement:
"Estimated payments. The following table shows the estimated value of the awards that the named executive officers could have received in respect of their outstanding unvested equity awards if any of the following events occurred on the last business day of 2015: (i) a change in control of Verizon without a termination of employment; (ii) a change in control of Verizon and an involuntary termination of employment without cause; and (iii) a termination of employment as a result of an involuntary termination without cause, qualifying retirement, or death or disability."
Pocket Change and Personal Use of the Corporate Jet

This last collection of corporate largesse is particularly poignant considering that the Unions are on strike. Lowell got $600,000 in benefits, from the personal use of the corporate jet to money for his savings plan, life insurance, and the use of a company vehicle for personal use; he even got his 'out-of-pocket' expenses reimbursed for a preventive medical examination. (These payments were included as part of the $41 million 2015 payouts in salary+ to these four executives.)
This is some of the fine print from the Proxy:

Were these expenses added to Corporate Operations expense? Did customers really pay $19,000 so that Mr. Stratton's wife could attend a corporate party? Are Verizon customers all paying for the executives' "financial planning" or Lowell reimbursed to get a 'routine' preventative medical check up by a doctor?
It's time to audit the books. It's time for investigations.
Related
Popular in the Community