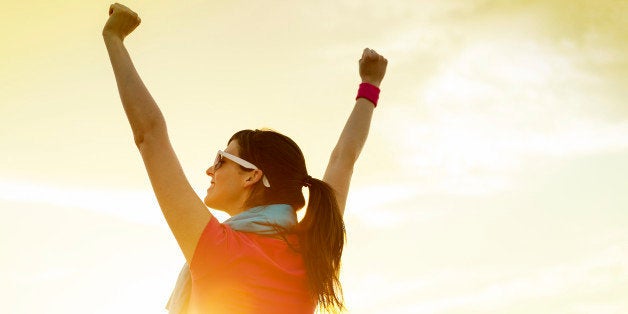 It was like any other morning, I got up, had my coffee, got the kids to school, came home and opened my inbox. That is when it changed.
Have you ever been in the situation where things are going so well that it is sometimes hard to believe?
In my inbox that morning was an email from Arianna Huffington inviting me to be a contributor to the Huffington Post.
WOW! I could not believe my eyes. Really? Arianna Huffington is interested in MY work!
As exciting as this was, it was just the beginning.
At the beginning of 2015, when I took my business online, my goal was to make sure I got more exposure. Being a contributor here at the HuffPost was a great step in that direction, within weeks my luck kept flowing. I was also published in Chicken Soup for the Soul: Time to Thrive and within two months received a literary award for my E-book The WOW Factor that has not yet been launched.
The success I was having in this part of my business was encouraging. It left me wanting more and to take my online business even further.
I would like to tell you that things just kept getting better for me, however the truth is, as with anyone trying to achieve a goal, I hit some obstacles. There was so much technology to learn - social media, Leadpages, Mailchimp, webinar platforms, conference lines, Google analytics just to name a few. To sort through all of this was simply overwhelming and I felt like I was hitting my head against a wall. It was a constant journey of two steps forward, one step back. I would look for webinars and courses to learn all of this plus learn how to build the ever so important "list" that I was promised was the key to online success.
I recognized that I needed guidance and experts.
Like many people building an online brand I was following the work of Brendon Burchard, Marie Forleo and Ali Brown and as time went on I came across many other influencers, some I still follow today and some I have cleared from my inbox.
When I look back over my first year of taking my business online I recognize there were 3 women who really made me go "wow".
These women have successful businesses with a common theme of authenticity and belief in giving and serving. They are already successful and I have a feeling this is just the beginning for them -- in 2016 we will see even more. If you have an online business or intend to start one and you overwhelmed by all of the technology and millions of courses being offered I would suggest you start following these women pronto.

The top three women to watch in 2016 to grow your business and life.
Kimra Luna I first came across Kimra when I was learning how to market my business on Facebook -she is an online marketing guru hosting a Facebook community called Freedom Hackers with 22,000 members (and growing).
Over the last 12 months I have needed answers on how to create a Facebook ad, why my ads are not converting, how to upgrade a sales page, the list goes on and on. Every time I have been frustrated with the "how to's" of my business Kimra and her tribe of followers have been there to help.
Kimra is in her Facebook group everyday offering her service and dedication for free, she is teaching others how to grow a business online, stand out and captivate their audience. Make sure you check her out - she has a down to earth approach, striking blue hair and punk rocker style and if you are looking for inspiration, Kimra has an incredible story of going from welfare to a million dollars that is well worth a read.
Loren Slocum Lahav: is an author, speaker, businesswoman, and International Crew Director for Anthony Robbins and even though our coaching sessions can be few and far between, Loren is my coach. Loren was recommended to me when I was seeking a mentor who had a successful business, a young family and loved life. Loren pushed me to trust in myself and to truly show up in my business.
When I told her my story of being outside my comfort zone was the feeling I have when I stand on top of a mountain with my skis on and I decide to jump in and go for it. Loren said, "That's it! That's your story -- it is true to who you are and it gave me goose bumps hearing you talk about it". She encouraged me to write about it as my first article in the Huff Post and to write another story for Chicken Soup for the Soul. Loren's strength is encouraging you to "Stay True" to yourself and live life to the fullest. She is a natural leader who people love to follow.
Denise Duffield Thomas - "The Lucky Bitch".
To be completely honest when I first came across Denise's work a few years back I was not 100% convinced she was for me, yet something made me keep watching her weekly blogs with intrigue.... and I am so glad I did. Denise is a money mindset mentor who helps the new wave of online women entrepreneurs. It seems that when I am thinking of a new way to grow my business and am caught in the complexity of it, Denise shares her tips and trainings on her weekly video blog, making the steps simple and easy to follow. Denise has helped me with pricing of my products, how to create my own online course, how perfectionism was costing me, how to get interviewed in my business and how to make blog videos (which I am starting this year). Denise offers me so much value and openly and honestly shares what has worked well for her business -- and what has not. Her Australian style is fresh, educational and entertaining.
If you do not know these three ladies, I suggest you make it your business to go and find them. I for one, will be watching and learning from them in 2016 as I take my business to the next level.
Now it is time to get busy on my next set of goals and work on is how to take my business exposure up another notch.
If you would like to see how I successfully achieved these goals last year and what I am doing this year, download this Action Guide that I share with my high end coaching clients. It is jam packed with strategies I teach and have used with coaches, entrepreneurs, global business leaders and elite athletes. Just as the women above have shown me, I want to be adding value to others - so take a peek - it is my gift to you.
Calling all HuffPost superfans!
Sign up for membership to become a founding member and help shape HuffPost's next chapter