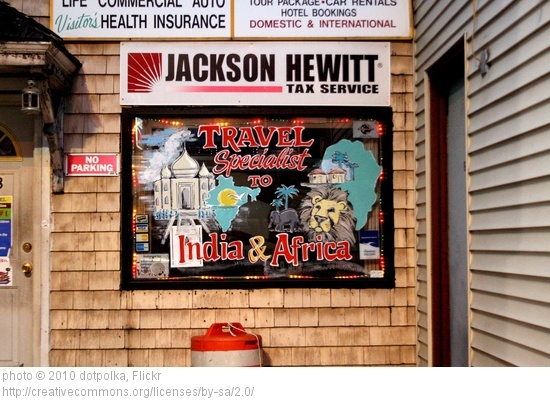 Throughout the changing landscape of all industries, one thing has remained amazingly untouched: the local travel agency. Sun-bleached Bermuda posters still adorn the walls, fax machines carry on purring their tinny tune, and atlases continue to be referenced during flight routing. Seemingly against all odds, these small businesses have remained intact.
Walking to work, I noticed two local agencies within a few short blocks. If these small businesses could survive recessions, overcome a complete industry overhaul by the internet, and still pay rent, they must be on to something.
I decided to construct a mock trip to compare the price and experience when using a travel agent against the high-and-mighty internet -- a multi-city itinerary that could use some human manipulation. Online algorithmic searches often fall short when pulling up multi-city trips, so this is the exact kind of trip I wanted to test.
My trip would visit Berlin and Reykjavik from Toronto in the first two weeks of February (dates being pretty flexible). I had smugly decided, in the words of Bob Barker, that if the price was right I'd book the flights, thinking that this would lend some authenticity to my face-to-face interactions.
Before hitting the streets in the hopes of meeting a real-life travel agent, I decided to make some calls. I called 10 travel agents throughout the city, and each time was met with vague questions and unenthused voices.
Regardless of this initial impression, all of the agents assured they would circle back with a quote by the end of the day. So, while waiting for an influx of phone calls and emails, I boldly hit the streets. I envisioned being met by agents with open arms; or at least be given a few travel pamphlets and stale mints.
By 6 p.m., I had virtually nothing. I had received only a few superficial quotes and one phone call.
What had gone wrong? Could these agents sense my lack of commitment? Why had the agents who pinky-sweared they would call me back not follow through? Isn't not returning a call completely defiant of the meaning of customer service?
From the few quotes I did receive, the total cost for my Toronto - Berlin - Reykjavik - Toronto trip ranged from $1,400 all the way up $3,000!
With these limited results, I opted to call a few larger travel agencies that have an online presence, but are heavily focused on delivering live customer-friendly service.
My best encounter was with Aussie-accented Luke from Flight Centre. Our conversation was over-flowing with "awesomes" and "cools." His reassurance made me feel like yelling out my credit card and passport numbers from the rooftop.
The one thing stoping me: the price. His quote was $1,626.
With a quick Kayak search online, my DIY flight itinerary came out at only $1,251.
This would mean a savings of $375 from Luke's price if I booked on my own. Sorry, but no one is $375 worth of charming. Couldn't there be a happy medium?

Hey, Price. I'd like you to meet someone special, Service.
Without having much travel agent success, I asked one of the most seasoned experts at Flightfox, a human-powered travel hacking platform, to take a look at my itinerary. After answering a few questions, she quickly came up with an itinerary.
Finding My Itinerary for 40% Cheaper
Her itinerary was the only one that deviated from the others. Instead of first flying into Berlin, her itinerary would take me straight to Iceland, then onto Berlin. After a week in Berlin, I would return back to Reykjavik for a few more days, and then catch my return flight back to Toronto. The Flightfox Hacker total came to just $855.
This is $545, or 40 percent cheaper than the best price I received from a travel agent, and $396 or 30 percent cheaper than my DIY itinerary.
According to Kelly Monaghan, long-time travel expert and author of Home-Based Travel Agents, "booking airline tickets is one of a travel agent's most difficult jobs." In fact, in his chapter "Booking Airlines," he actually uses the word "hassle" 10 times (not including synonyms).
The general gist: independent travel agents do not make enough money booking flights.
Instead, agents have carved out a place for themselves in booking package vacations, cruises, and luxury and VIP getaways. These bookings generally serve a smaller, but loyal niche group of customers.
In short, traditional agencies are still very much alive -- I saw them. However, they just aren't interested in me, or my petty flight itinerary.
Perhaps the answer to confidently booking travel lies in a hybrid system; a system that requires "man" to properly and creatively guide the "machine." In a contemporary setting, the operator of this machine may no longer be the travel agent, but the hacker.