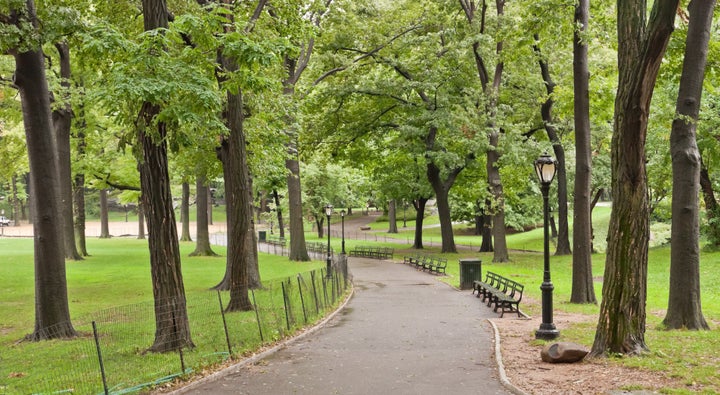 Some people don't love trees as much as they used to. After the severe storms we have had this year, including Hurricane Sandy, city trees can seem like a dangerous liability. Are urban trees worth the risk they pose to houses, cars and people when a violent storm comes through?
Urban environments are tough on trees. Street trees are often boxed in without enough room for healthy roots or they don't have a sufficient water supply to sustain them. Branches on street trees can be broken by buses or trucks that travel or park too close, or they can be damaged by overly aggressive pruning. The damage often goes unreported, and the trees weaken. High winds can bring those branches -- or the trunk itself -- down on cars, houses or power lines.
But there is another side to it, too. Trees are green infrastructure. Unlike gray infrastructure -- concrete and metal sewers, pipes, bridges, sidewalks -- trees are an investment that increases in value throughout their lifetime, which can last a lot longer than concrete.
In Baltimore, Md., it's estimated that a single tree provides $57,000 in economic and environmental benefits over its lifetime. In a single year, Baltimore's canopy provides $3.3 million in energy savings.
Portland, Ore., is planting 83,000 trees as part of its five-year, $55 million Grey to Green program, to help solve its sewage and stormwater run-off problems.
In Austin, Texas, it's estimated that the city's trees have the potential to store up to 100,000 tons of CO2 per year.
The state of Indiana's street trees provide approximately $79 million annually in environmental and economic benefits. In the capital, Indianapolis, this equals $6.6 million in benefits just from street trees alone.
The list of other benefits trees in cities provide is long -- from removing CO2 from the air, cleaning water and providing habitat for wildlife. But in urban environments, the benefits to people individually and society as a whole extend to social, physical and economic well-being.
People are happier and healthier in cities with more trees. Greener urban areas are connected to healthier and more social interactions between adults and children, as well as lower levels of graffiti, property crimes and violent crimes. According to one major study, public housing buildings surrounded by trees had 52 percent fewer total crimes, 48 percent fewer property crimes and 56 percent fewer violent crimes than buildings with few trees. Tall, dense trees with soft ground surfaces can reduce city noise by 50 percent or more.
Cities trees have also been shown to have significant health benefits. Research on more than 3,000 inner-city children in the United States showed that those who could easily reach a greenspace had less stress and a lower body mass. Among children living in neighborhoods with street trees, there is a lower prevalence of early childhood asthma.
But just as our urban trees are working for us, we need to work for them. As trees in urban forests get larger and provide greater benefits, like any infrastructure, they also get older and may require greater care to keep both them and us safe. Cities must provide adequate funding, crews and staff to keep our trees healthy. But in terms of the services they provide to the city, they are one of the few infrastructure investments that also grows in value.
Eighty percent of the U.S. population lives in urban areas. Over the next 50 years, the population in cities is projected to increase substantially. Urban forests will become even more critical to ensure healthy and livable communities.
With extreme weather occurring with greater frequency, city governments must start investing in urban forests now to mitigate problems in the future. This investment includes long-term, consistent maintenance plans; funding to support jobs for maintenance crews and specialists to monitor and care for trees; and strong ordinances and codes to ensure that planners and developers incorporate trees and greenspace. If we care for our cities' trees, they will give back to us tenfold. It's an important investment in our future. Are they worth the risk? Well, we can't live without them.
American Forests restores and protects urban and rural forests. Founded in 1875, the oldest national nonprofit conservation organization in the country has served as a catalyst for many of the most important milestones in the conservation movement, including the founding of the U.S. Forest Service, the national forest and national park systems and literally thousands of forest ecosystem restoration projects and public education efforts. Since 1990, American Forests has planted more than 42 million trees in forests throughout the U.S. and in 38 countries, resulting in cleaner air and drinking water, restored habitat for wildlife and fish, and the removal of millions of tons of carbon dioxide from the atmosphere. Learn more at www.americanforests.org.
Calling all HuffPost superfans!
Sign up for membership to become a founding member and help shape HuffPost's next chapter