 For 25 years Walmart's advertising slogan has vacillated between "Always Low Prices," "Save Money, Live Better," "Everyday Low Prices" and "Cheap Stuff Made in China With Toxic Levels of Lead Paint" (which is not only the least successful slogan but also nearly impossible to put on a bumper sticker). Thanks to those slogans and Walmart's ubiquitous commercials and thousands of U.S. retail stores, I suspect the first thing you think when I say "Walmart" is, "Low prices" (unless you live on New York's Upper East Side, in which case it's, "Eww").
Nevertheless, after "low prices" there are nearly a dozen more things you can come up with to describe Walmart, unlike, say, Subway. What else is there besides Jared and that very catchy "$5 foot-long" song? Anyway, back to Walmart:
America's biggest retailer
Alleged mistreatment of workers
Destroying small towns by driving mom-and-pop shops out of business
Open 24 hours a day (in many locations)
Everything you'll ever need, under one roof
Convenient
That website, peopleofwalmart.com, a collection of (funny) photos of people shopping at Walmart
Alleged discrimination
Low prices that result from importing goods from China at the expense of the American workforce
Saves shoppers money
There are also a few things I discovered about Walmart while doing research for this piece:
If you have a camper or trailer that you travel with, you can park it in Walmart's parking lot overnight for free.
Walmart is a very generous donor to America's charities, and among the first to step up during national tragedies like Hurricanes Katrina and Sandy.
Walmart employs more Americans than any other business in the U.S., including our government
More than 90 percent of all Americans live within about 20 miles of a Walmart
When I hear political pundits on cable news debating Walmart's pros and cons, the first thing I think is, "Shut up. Shut up. Shut up." After I take my glycerin pill, I think, "I'll bet none of these people have ever even been to a Walmart."
Well, I went to Walmart on Dec. 30, 2012 in Palmdale, Calif. (and I've been to Walmart many, many times before, but this time I brought my camera and an agenda), and while I'm not so naïve to think that my 3-hour visit makes me an expert on allegations of worker mistreatment or the destruction of small-town America, I think I'm now qualified to discuss Walmart's "low prices."
Because not only did I visit Walmart on Dec. 30, but I visited four other supermarkets to compare the prices of items I typically buy for my family of four. The other stores I visited were Smart & Final and Target, both in Palmdale, located within three quarters of a mile of one another, and Ralphs and Gelsons in the San Fernando Valley, separated by about 2 miles.
Of the 40 items I had written down at home to compare, 17 of them were sold by Walmart and at least one of the other stores.
Of course, the other items on my list were available not in the exact same size or amount. For example, Walmart had Bounty paper towels in a package that said "12 Giant Rolls = 24 Regular Rolls," while Target sold Bounty in packages that said "8 Giant Rolls = 16 Regular Rolls." (Note: I did not compare prices of meat and chicken, because their quality ranged from "select" to "choice" to "prime," making a fair comparison impossible. Moreover, at one of the stores, the meat was still barking.) So this was an investigation that compared the exact same items in the same serving or packing size.
I looked at 1 gallon of whole milk, a half-gallon of low-fat milk, a half-gallon of Minute Made orange juice, a box of 10 Capri Sun 100-percent juice coolers, a big box of Pepperidge Farm goldfish crackers, 150-ounce container of Tide laundry detergent, a family-sized bag of Doritos, a box of Barilla angel hair pasta, a jar of Classico tomato sauce with basil, Skippy peanut butter, reduced-fat Oreo cookies, a loaf of Sara Lee classic white bread, a jar of Newman's Own salsa, squeezable bottle of Heinz ketchup, a small jug of Log Cabin real maple syrup, a 64-ounce bottle of Coke, Uncle Ben's garden vegetable rice, green peppers, bananas and apples.
For a gallon of Alta Dena whole milk, Wal Mart was charging $5.48. The same jug at Smart & Final was available for $4.96, a 52-cent saving at Smart & Final.
The Alta Dena half-gallon of low fat milk was available at Ralphs for $3.49, at Walmart for $3.18, and at Smart & Final for $2.69, a 49-cent saving at Smart & Final.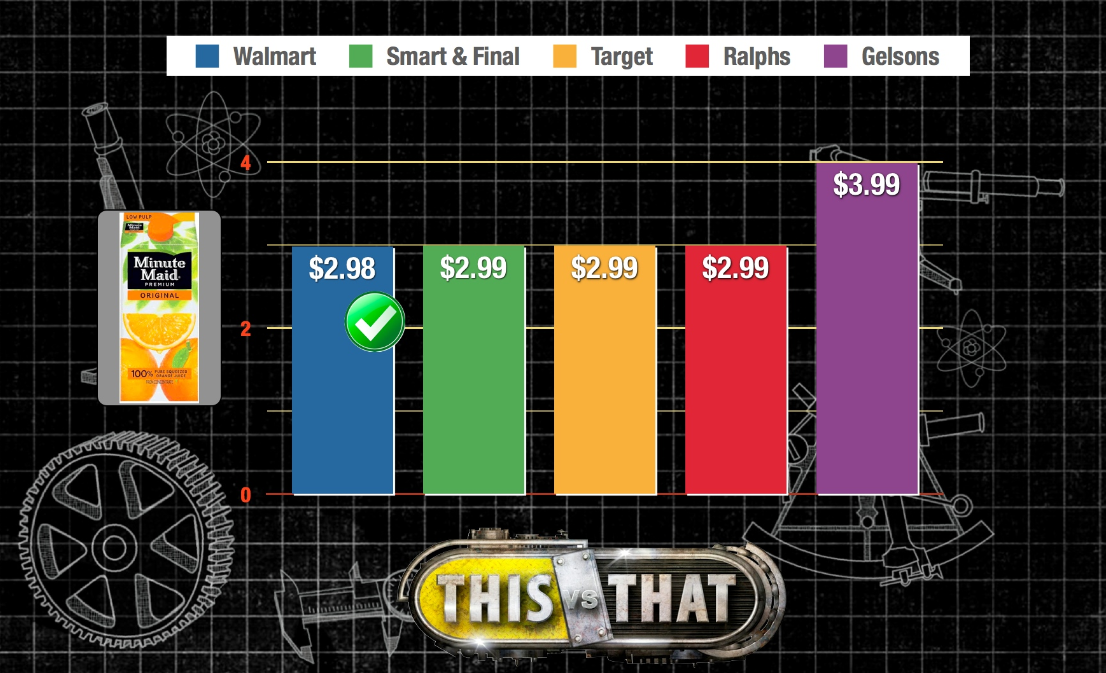 The Capri Sun 100-percent juice coolers were $3.49 at Smart & Final and a penny less at Walmart. However, at Ralphs, it was $4.29.
The giant box of goldfish was $7.98 at Ralphs and $6.99 at Smart & Final. At Walmart? $6.98. Again, a penny cheaper.
The 40-ounce bag of Doritos was $3.99 at Ralphs, $2.99 at Smart & Final and $3.98 at Walmart, 99 cents more than the lowest price.
Target had the lowest price on the white bread, $2.08; at Smart & Final it would cost you $2.99, and at Walmart $2.28, an additional cost of 20 cents.
Of the 17 items, the largest difference in price, $1.17, was for Newman's Own chunky salsa. Ralphs was selling it for $3.29, while Walmart had it for $2.12. (Keep in mind that Newman's profits go to charity, assuming they had any on this item).
(You can read the rest of my comparison report here.)
On the grocery items I compared, Walmart was cheaper some of the time. However, they were more expensive other times. Moreover, several times when they were cheaper, it was just by a penny or two.
What does any of this mean for you? Who am I to say? I went into this thinking that Walmart saved millions of customers billions of dollars a year and that that was of such economic significance that it offset -- at least in my mind -- the allegations of worker mistreatment. In tough economic times, low wages for unskilled workers seemed like the price that customers -- and I -- were willing to overlook in exchange for "always low prices." Maybe not anymore.
And look, I know a one-day trip didn't give me all the answers. I know that there is more to this issue, as there is to all issues we face in the public square. None of our debates are black-and-white, despite the media and the politicians attempt to paint them as such.
However, one thing I'm certain of is this: On Dec. 30, 2012, I collected some actual facts (something I'd like to see media, journalists and politicians do more often). Of course, circumstances can and will change, and that will lead to a new set of facts, but for the time being, my opinion is based on facts that cannot be disputed.
Jon Hotchkiss is the creator, executive producer and director of the new series This vs. That, set to premiere January 2013. You can "like" This vs That here.
REAL LIFE. REAL NEWS. REAL VOICES.
Help us tell more of the stories that matter from voices that too often remain unheard.