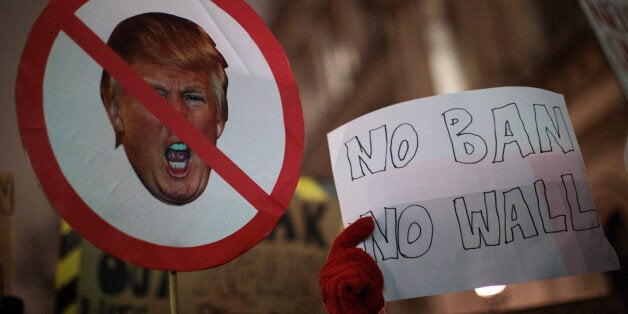 Over the weekend, news reports suggested the Trump administration had brought the nation to the brink of a constitutional crisis, by openly flouting court orders that seemed to upend his executive order issued Friday, banning all refugees and immigrants from seven majority-Muslim countries.
Because there were at least five different court orders issued at different times, following a vague and poorly-worded executive order, the confusion was understandable. It now appears, however, that the Trump administration is saying, at least, that it will comply with the court orders -- although reports of continued detention and denial of access to lawyers over the weekend suggest uneven compliance at best.
Still, even the broadest of those orders, issued Sunday in Boston and applying nationwide, doesn't resolve any of the larger questions that still swirl around this unprecedented ban on refugees and specified immigrants. The order issued in Boston prevents deportation, secondary screening and detention of people who have arrived or who intend to travel to the U.S. in the next seven days, who would have been legally allowed to travel to the United States before the executive order. (Whether it will actually be enforced nationwide is another matter; the order only instructs Customs and Border Protection to notify airlines with flights arriving at Logan Airport of passengers' rights under the court's ruling.)
So while the Department of Homeland Security said on Sunday "President Trump's Executive Orders remain in place--prohibited travel will remain prohibited," that's really not true for the next seven days, and if it intends to "comply with judicial orders," as also promised, then it can't actually enforce those travel bans until next Saturday. How DHS responds over the next seven days will be a test of how this administration responds to future court orders that may obstruct its aims.
Meanwhile, the broader legal challenges to the president's executive order remain to be decided. Those include whether the order unconstitutionally discriminates on the basis of religion; whether it denies those who've arrived in the U.S. the right to due process of law; and whether it violates the immigration law's prohibition of discrimination on the basis of religion, nationality, place of birth or place of residence. These initial orders were just emergency actions to prevent the immediate harm of deportation or detention that faced hundreds of people stuck in U.S. airports, or with immediate U.S. travel plans.
We'll see as the week progresses how the administration complies with the Boston judges' order. If people are continuing to be detained and screened that would not have been before the executive order was issued, then we may well have a constitutional crisis on our hands. But that question will be more clearly answered as we see new legal challenges and more extensive legal rulings, and the Trump administration's response. Stay tuned.
Related
Popular in the Community