Markets in Europe and China are slowing, but the U.S. economy continues cutting a path toward slow and steady expansion. What's next for the labor market? Here's what Glassdoor Economic Research is watching for in Friday's September jobs report from the federal government.
According to the Philadelphia Fed's survey of professional forecasters, economists are expecting an average of 223,000 new jobs per month during the fourth quarter of this year, with growth slowing to 185,000 per month early next year.
When we look at Glassdoor's real-time jobs data, here's what we're expecting:
1. Non-farm payrolls up 210,000 jobs.
2. Unemployment rate steady at 5.1 percent.
3. Labor force participation rate down slightly to 62.5 percent.
4. Average hourly wages up 2.3 percent from one year ago.
One of the most vexing puzzles of the past recovery has been sluggish wage growth.
In normal times, hourly wages should be growing around three to four percent per year. Today they've hovering around two percent per year. Why such anemic wage growth?
Some research points to the large number of sidelined workers depressing wages. Other studies find growing use of perks and benefits -- along with surging costs of employee health insurance -- has kept a lid on wages.
But an important fact obscured by overall wage figures is the tremendous diversity of wage gains across industries. Despite an overall two percent wage growth, recent Glassdoor research found double-digit wage gains for some surprising job titles. And BLS wage data tell a similar story.
The chart below shows the distribution of wage growth across 645 industries and sectors as of July 2015. While median wage growth is 2.2 percent, some industries have enjoyed double-digit wage gains while others have suffered steep declines in hourly pay.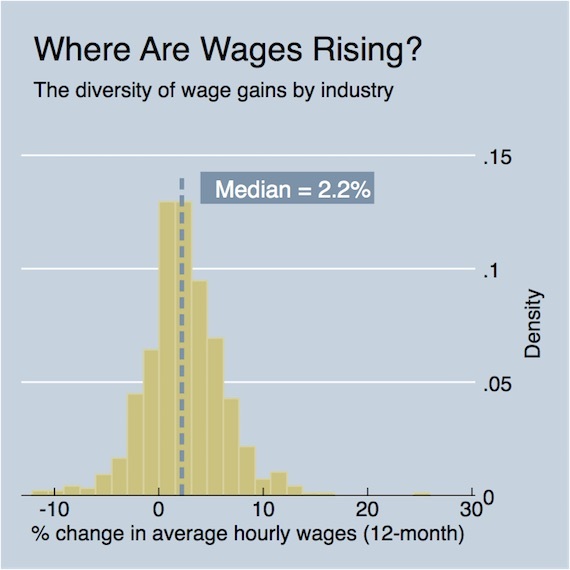 Source: U.S. Bureau of Labor Statistics CES Survey (http://www.bls.gov/ces/). 12-month percentage change in seasonally adjusted average hourly earnings as of July 2015.
The biggest wage gains over the past year went to some workers in the financial services sector, with hourly wages growing an eye-popping 26 percent from one year ago according to BLS data. Certain types of construction workers enjoyed similar wage gains of 15.3 percent, while workers in the graphic design industry witnessed 11.8 percent wage growth.
On the downside, some manufacturing workers suffered steep wage declines of 12.1 percent over the past year. Similarly, workers in retail clothing (down 9.3 percent) and textile mills (down 7.4 percent) suffered average hourly wage cuts, likely due to the impact of today's strong U.S. dollar on exporters.
Bottom line: If we want to understand why America's wages are growing -- or not growing -- it's important to look beyond U.S. averages to specific industries. The actual wage picture facing workers often differs sharply from the topline numbers from the monthly jobs report.
Economists have predicted the Fed will start moving interest rates toward normal, pre-crisis levels this year. Last month's jobs report was among the most closely watched in years, falling days before the Fed's anticipated September meeting. Thanks to stock market volatility and a stumbling Chinese economy policymakers left rates unchanged, turning attention to the next major Fed gathering in December.
Most experts expect the Fed will start moving on interest rates this December. But there's dramatic disagreement -- both among Fed policymakers and in financial markets.
For example, at the time of writing, futures markets pegged the odds of a December Fed rate hike at just 35 percent, illustrating the general lack of consensus about the direction of future Fed policy.
One reason markets are betting Fed officials will sit on their hands is slowing consumer sentiment in recent months. As noted by one popular index from the University of Michigan, "[c]onsumers still anticipate a weaker domestic economy due to the global slowdown and are less optimistic about future growth in jobs and wages than they were a few months ago."
On the other hand, almost every economic indicator today points to a strong and growing economy. As one example, the Philadelphia Fed's widely monitored index of leading indicators was hovering around 1.6 percent in July, a level comparable to past years of strong, sustained growth like the early 2000s and the late 1990s.
As with most questions of macroeconomic policy, where you stand on the timing of a Fed rate hike depends on which measures of the economy's health you put the most faith in -- and which you don't.
Calling all HuffPost superfans!
Sign up for membership to become a founding member and help shape HuffPost's next chapter