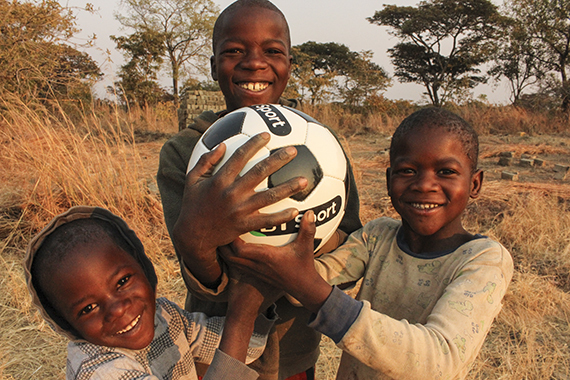 Life has a habit of coming full circle and ensuring your past and your present collide in ways that makes sense to you, and you alone.

It can therefore be difficult to explain to anyone else except your own inner monologue. This sensation was brought home to me as I travelled back to New York to speak at Beyond Sport United.
The focus of this year's event is on the "Power of the Athlete" to drive incredible levels of social and environmental change. Of course, none of this was relevant to me as a scholarship athlete in Manhattan College in the mid to late nineties.

I cared deeply about social change but not at a global level. Social change for me was proving that an ordinary Irish kid from Dublin could go toe to toe with the best Kenyans, Jamaicans and Americans on the planet and inspire other kids to follow suit.

Times of 1:49.08 for the 800m indoors in 1998 weren't good enough sadly for that years NCAA championships. Nor was I good enough over the course of my athletics career to get to the point where I'd achieved everything I wanted on the track and was turning my attention fully to the kind of world I wanted to leave behind.

Thankfully for us all there are many who are and this movement is growing.

Lord Seb Coe was an inspiration to me as an 800m runner. In later years, arguably he surpassed everything he did as an athlete when he lead the bid team that brought the Olympics back to London and for many of us, oversaw the most successful Olympics ever, in particular from a legacy perspective.

For me, if anything captures the Power of the Athlete it's Lord Coe's legacy achievements.

This is where my worlds come full circle. So let me explain.
My grandmother understood what I did when I was an athlete, I doubt she understands what I do in my role as CSO. Those who do understand must wonder at the contrast as on the surface they could seem poles apart. For me though at a deeper level they are remarkably similar.
Every CSO believes in making the world better through business, appreciating that "how" we do business needs to change in the process. Also, and this is the holy grail, that if we do this at every level of our organisations we will be better businesses for the long term. As if that wasn't difficult enough, collaboration and partnership needs to be in your DNA, you need to forge unusual relationships and adhere to the ethos of a team sport at all times.
To reflect this BT's purpose - to use the power of communications to make a better world - must be brought to life in every element of our business strategy. This is more than a role for me, it's an obsession, at similar levels to the obsession I had as an athlete in the late nineties.
Ultimately we felt we could play a role in democratising sport by offering BT Sport for free to customers but also ensuring the communities around us are core to the content creation to the BT Sport channels. This is why we created The Supporters Club.
We offered BT Sport customers the opportunity to make a small monthly donation, through our joint venture with Comic Relief, to use sport to create a better future for young people facing incredible tough challenges all around the world. Many of the Premier League Football and Rugby Clubs and the athletes we work with championed these causes and worked with us to create compelling content for our TV Channels.
We didn't want to hide these stories on our channels but use them as part of the build up to premium content for some of our biggest games. This creates a virtuous circle, which starts and ends with our customers delivering meaningful social impact in the process; it also provides us great, inspiring content for BT Sport.
Almost two years in all the indications are that this strategy is working and it's also changing us as a business, for the better, in the process.
If the Power of the Athlete can show up to champion these goals towards the end of this year in a unified and coherent way we can mobilise billions of fans all around the world to act and champion causes most relevant and meaningful to them.
I wonder if the Global Goals are our next metaphorical Olympic Games with the legacy benefits reaching beyond any one host nation? Are they our opportunity to show up on a set of issues that are most material to the evolution of humanity?
Is this a legacy worth striving for, worth being obsessed about, worth standing together for?
#BeyondtheAthlete #GlobalGoals
Calling all HuffPost superfans!
Sign up for membership to become a founding member and help shape HuffPost's next chapter