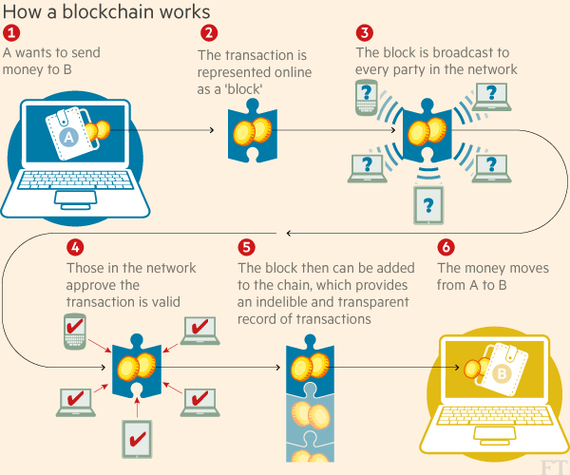 (Source: World Economic Forum, Financial Times)
You may not have heard of Blockchain yet but then why did Bank of America file for 15 patents on it? Why are major banks across the world including the Bank of England and Barclays saying that Blockchain is the next big technology disruptor that will change the face of business?
The Blockchain is an immutable and globally shared digital record or ledger of all transactions which quite simply prevents anyone from spending what they do not have and thereby creates trust in a world currently ridden with subterfuge.
Blockchain conversations tend to center around Bitcoin but it goes much deeper than Bitcoin transactions. Imagine the notion of a global ledger applied to the supplychain of a food manufacturer (is that food item genuinely GMO free?) or the diamond industry (is that diamond for your fiancée a blood diamond?)
Here is ongoing discourse on Blockchain and why it is important to banking!
With banks Blockchain is more than hype. In September, a slew of banks including BBVA, Citi, Credit Suisse, JPMorgan, Royal Bank of Scotland, and UBS all joined a coalition, led by a firm called R3, to implement blockchain technology in banking. In December, five more big names hopped on board, including BNP Paribas, ING, and Wells Fargo.
Here is a more detailed explanation of why and how Blockchain can be relevant
Want to see Blockchain in operations live - with who, where in the globe or how many Bitcoins in real time? Look here.
Blockchains are being conceived for many other sectors as well:
Having trouble getting your contractor to do everything he/she promised? Get them to sign a SmartContract which are unbreakable escrow and eliminate the risk of relying on others to follow through on their commitments. SmartContract makes self-executing computable contracts that verify whether their own conditions have been met, can securely hold value, and reliably release payment. These contracts have been made tamper-proof through storage and execution on decentralized infrastructure. Here is a look at how they work and the full range of possibilities:
Smart contracts
from
Philippe Camacho, Ph.D.
Infact in B2B supply chains the challenge of verifying business value delivery and securing payment is exactly the same but exacerbated a thousand fold! Enter Skuchain who is building a never before possible solution based on Blockchain that allows B2B buyers and sellers to be financed several layers deep in the supply chain while allowing the flow of goods and flow of money to be visible, trustable and instantaneous.
On the social network front: Does Facebook and your other social activity leave you happy ... and perhaps a bit exposed? Synereo uses Blockchain to create a next generation peer to peer social network based on the "attention economy". This means no external entity has access to your information or activity and you decide who can see it at all. What is more you get paid for your activity and ability to generate attention in a new currency called AMP - an interesting scheme to amplify the value of attention you generate and pay you directly without a Facebook or Twitter monetizing it and neglecting to pay you!
One of the most interesting applications of Blockchain is in the election business. FollowMyVote is running a parallel presidential election built on an online voting system that is expected to eliminate all illegitimacy in the vote counting process. Using a webcam and a government-issued ID, voters can remotely and securely log in and vote for their desired candidates. After they've selected their candidates, they can use their unique Voter ID to quite literally open the ballot box, locate their vote, and check that it is both present and correct. Additionally, voters can then watch the election progress in real time as votes are cast.
What's more, Follow My Vote's platform allows for an indecisive voter to return to the system and switch his or her votes at any time before the election deadline closes.
Love the concept of Blockchain and want to invest? Read this.
"For the first time in the history of the world we can reimagine how the world transacts without relying on an intermediary." Nic Cary, cofounder of Blockchain.info
The concept of the Blockchain is less about yet another purported technology panacea and more about solving transaction fraud in multiple sectors. I believe the Blockchain is here to stay and will indeed change our world!
Related
Popular in the Community