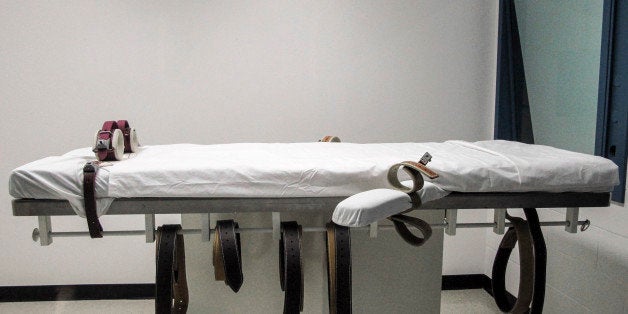 At 12:21 a.m. ET on Wednesday, September 30, Kelly Gissendaner became the 16th woman executed in the United States since the U.S. Supreme Court reinstated the death penalty in 1976. The Georgia woman was sentenced to death in 1998 for convincing her boyfriend to shoot her husband and was the first woman in 70 years to be executed in that state. However, in these same 39 years, the United States has executed 1,399 men. Even death row shows a gender bias, where of the 3,035 people on death row, only 54 of them are women. Why is it so rare for a woman to be put to death?
Let's break down the main arguments:
Argument #1: Women Commit Fewer Murders Than Men
Argument #2: We Live in A Chivalrous Society
With the fact that we still need feminism to gain basic equality in the United States, there's no question that we still live in a very paternalistic society. But is this belief that men need to "protect" women impacting whether they receive the death penalty?
It's often the idea that women were acting under the influence of others or are emotionally fragile, and therefore shouldn't be held as accountable as men. Business Insider quotes Ohio Northern University Law Professor Victor Streib as saying, "'It's just easier to convince a jury that women suffer from emotional distress or other emotional problems more than men.'"
This belief of the sad, weak woman leads into the third argument as to why so few women receive the death penalty.
Argument #3: The Evil Woman Theory
Gissendaner is a perfect example of this theory in action. She falls under the "un-ladylike" and "sexually promiscuous" umbrella, since she was having an affair and had her then-boyfriend kill her husband.
While the second two arguments may not be as false as the first one, they still don't fully explain why so few women are ever put to death. The main reason is much less interesting, but all the more important.
Argument #4: Men are sentenced to death more than women because of how the statutes are written and how the circumstances around the crimes are weighed.
But think about it - who was eligible to be elected to state legislatures for most of our country's history? Old (mostly white) men.
Who decided which factors would favor someone getting the death penalty (called "aggravating factors") and which would count towards them not getting it (called "mitigating factors")? Old, white men.
So, it makes sense that the statutes are written with the male belief as to what crimes are worse and when factors should point towards the death penalty.
Although the list of specific factors can vary by state, most states include as aggravating factors the potential future dangerousness of a defendant, their prior history of violence, whether the murder was during the commission of another felony, and their criminal record. Common mitigating factors can include whether the defendant was under extreme emotional or mental disturbance, whether they were under the control of someone else, their "good" character, and their family background. Since previous histories of violence and criminal records play heavily in favor of getting the death penalty, these factors also favor women. Women murderers generally do not have much (if any) history of violence or criminal records.
It seems that men find the idea of killing a stranger more horrific (or at least an affront to their manhood) than the thought of killing someone they know. In 80 percent of the murders committed by men, their victims were either strangers or someone they barely knew. A study conducted in South Carolina found that murders committed against strangers were six times more likely to get the death penalty. This lends support to the theory that murders against strangers tend to favor men receiving the death penalty.
Related
Popular in the Community