I am in the midst of writing a book and I am blown away by the people I am meeting and their generosity in sharing their stories so openly. The last interview I did spanned two days and lasted 4 hours. The funny part was that we could have spent more time talking as this CEO has been a revolutionary leader. And I am sure our relationship has just started to emerge.
What I am learning from the conversations I am having with 21st century leaders is that they are generous. compassionate and amazing storytellers. They have a way of building community and bringing people together to co-create solutions. It doesn't matter what their title is, they are clear about their purpose and have a desire to learn. They are not motivated by the title itself but the responsibility and accountability that the title provides. It is a means for them to do more in the world and make an impact with their chosen art.
The first trend I am noticing that separates them from top down hierarchal leaders is that they get their hands dirty. They don't delegate their responsibility for communication, diversity or innovation, for example, to a function. The 21st century leader goes into the world and breaks down walls by bringing communities together in conversations. The language they use matters so they stay away from calling people inside or outside their organization an "audience" or a "stakeholder." They know the only time you have an audience is when you are watching a movie, a show or at a concert. The 21st century is about community and open, two-way conversations. We no longer need to yell at people and broadcast to get their attention. People want to truly be engaged in conversation and listened to. The new breed of leaders respect people and allow for communities to form where they no longer need to be at the head.
The second trend is around demystifying our obsession with change. The 21st century leader recognizes that change management is an antiquated business practice that no longer serves their organization. What this leader know is that if you build communities and have people feel listened to, you no longer need to sell them new programs. In this century, change is simple a reality of day-to-day life, inside and outside of work. The 21st century leader does not need to sponsor change initiatives. He needs to be clear on the shared purpose of the organization and that people can play their positions to make an impact. As he also knows how to build communities, all he needs to do is tap into the people and get the conversation going toward the new direction. There is no need for ambassadors, posters or t-shirts announcing the change. All that is needed is a culture of co-creation driven by conscious leaders who create shared purpose.
The third trend that is emerging is around the importance of trust and relationships. The 21st century leader knows that this is the new and old currency in business today. Without it, much is missed. It can no longer be simply a statistic or metric that is tracked over time. It has to be a way of doing business and bringing holistic solutions to organizations. Customers no longer care how an organization is structured; they care about trusting your business to do what you promise.
People today trust where they eat, where they sleep and what movies they watch, for example, based on online reviews. Most of the hands shoot up when I ask people whether they have ever eaten at a restaurant, slept at a hotel or seen a movie based on an online review. We trust strangers today for the most intimate decisions of our lives. We don't know these people. We don't know what they like and yet, we trust their opinions because we know how connected we are. This is happening every second outside the organization's walls. The 21st century leader sees this as a huge opportunity to build trusted relationships with their employees, customers, partners and vendors. They are breaking away through building communities that are based on trust.
The fourth trend is also a key one that brings vulnerability to business. The 21st century leaders does not have all the answers. She goes into situations letting people know that she doesn't know. She creates the space for the conversation and the solutions to emerge. The expert model is left behind in the last century where you had to be the smartest person in the room to shine. In this century, leaders show up around creating shared purpose and understanding the power of hiring the best and the brightest to partner with them.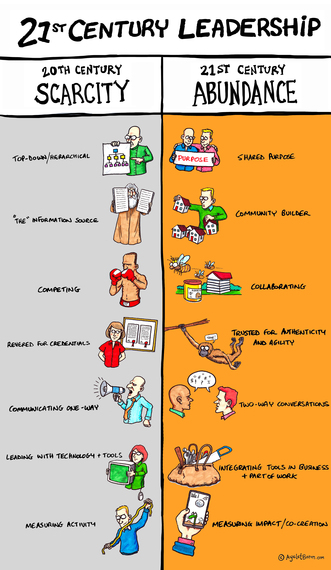 You can tell a 21st century leader because they don't talk about how their organization is structured, they focus on bringing their shared purpose to the world through their communities. I have many more conversations ahead for the book so I will continue to share with you what I find in real time. If you have a great story to share, please reach out to me.
Popular in the Community