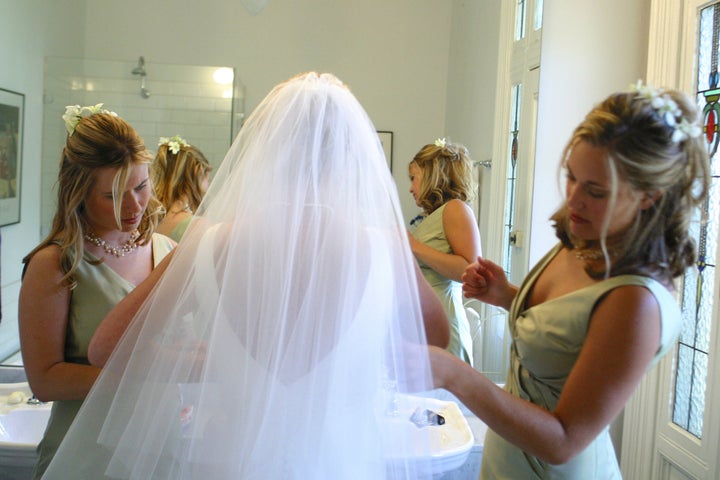 I've had the, ahem, pleasure, of being a bridesmaid a couple times in my life. I know that I should be thankful to be thought of enough to be included in a friend's wedding day, and I was each time. Truly. However, to this day, in my closet sit those two never-to-be-worn-again bridesmaid dresses. A lot of money spent on one horrid pastel colored tent-like creation that made me look like a washed-out ghost, and an eye irritating bright orange number that clashed with my auburn hair worse than flannel with polka dots.
During each wedding I matched the other bridesmaids which, I suppose, made for good pictures. But, to be honest, I felt so uncomfortable during both of those weddings and receptions that all I could think about was getting home and changing into my sweats. I'm all for a good photograph and for being there for your great friends on their Big Day, but I believe it's time for a change in the matching bridesmaid tradition. I peruse wedding blogs a lot; it's a bit of an addiction actually, but that's another story. What I have noticed though is the growing trend in non-matching bridesmaid dresses: All fellow bridesmaids with closets full of gowns (aka Katherine Heigl in "27 Dresses") -- rejoice!
Did you know that the tradition of wearing identical bridesmaid dresses dates back to Roman times? It was believed that if evil spirits attended the wedding to curse the bride and groom they would not know who was actually getting married if there were other guests dressed as the bridal couple? Roman law required that 10 wedding guests wear outfits similar to the couple getting married. This would confuse the evil spirits and bring luck to the marriage.
Brides-to-be, unless you believe in the evil spirits/lucky marriage scenario, I say it's time to break the rules! Instead of dragging your maids to a shop to try on matching numbers, try some of these options.
1. Bride picks the style, bridesmaids pick the colors
You've had your heart set on that off-the-shoulder gown for months. OK, just let your besties choose their favorite color. They'll love you for it!
2. Same color, different shades.
Different shades of one color is really popular this year. Try shades of gray and add some pops of yellow or pink with accessories like flowers in the hair or shoes. Shades of orange, green or light blue are also great colors to consider. This option will still give you that unified look, but your bridesmaids can pick a shade that they feel comfortable wearing.
3. Bride chooses the color, bridemaids pick the style.
Send them a few color chiplettes and send them off shopping.
Take it from someone who knows: It's is no fun spending an entire day and evening in an uncomfortable and unflattering dress. Your tall, thin, short, or voluptuous friends will thank you for letting them choose something that makes them feel beautiful and confident.
4. Have completely mismatched dresses.
Throw caution to the wind and give your girls free reign to pick and choose what style and color they want to wear. Give them matching bouquets or neutral colored jewelry and you can still have that traditional bridesmaids feel but without the heartache.
5. Opt for rainbow colored bridesmaids dresses.
Each bridesmaid gets to choose one solid color and then wears her style of choice. It looks adorable, bright and cheery in photographs. This happy color mixing is perfect for outdoor spring or summer weddings.
6. Choose a dress that they can style themselves.
A twist wrap dress is increasingly popular as it allows the bridesmaids to have the same dress yet style it in many different ways. It allows your bridesmaids to essentially design their own gown. They can even change the style between the wedding and reception. Um, cool!
Creating these options for your bridesmaids can also allow them to shop within their budget and buy a dress they will actually wear after your wedding day. Plus, they'll remember your Big Day as it should be remembered -- full of happy, fun (and comfortable) times!
If, in the end, you are a bridesmaid who ends up stuck with a dress that is just not your style, all is not lost. Check out options like NewlyMaid.com. It's a great service where you can donate your old dresses to charity or recycling and shop for a little black dress at the same time. Win-win!
Related