I am BEYOND excited to present this interview with Earth Goddess Jenny Griffin, the second interview in the Divine Feminine Series on Paint Yourself Into the Picture.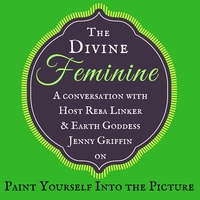 I wanted to address the skepticism that some viewers may feel about the idea of calling oneself 'Goddess' or 'Divine' or 'Sacred,' so I asked some tough questions. I'm so glad I pushed, because Jenny held her ground (yes, she really is an 'Earth Goddess')! Her wisdom is DEEP, and her answers are pure gold.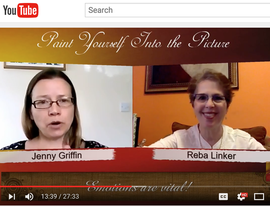 Jenny shares openly about her catharsis 10 years ago where, she says, "I fell apart completely and processed the accumulated grief from abusive relationships."
She describes how she connected to the voice of her heart, the voice of her inner Earth Goddess.
And she tells of her "promise to follow that voice wherever it will take [her]," a commitment led her through poverty and a walk halfway across France, a journey she calls "magical, incredible, and expansive."
This is such a hot topic. YOUR voice is needed in the conversation. In the comments here and on the video, please share your thoughts.
How do you feel about Jenny's take on why the Divine Feminine is "not a gender issue, it's an essence issue."
Do you agree or disagree with her ideas on how we need to step up as a society.
How do you feel about the idea that the Divine Feminine affects all our relationships?
The video holds a wealth of inspiring ideas on how you can welcome the Divine Feminine into your life, no matter where you are, or what your life-style. I'd love to know which ideas resonate with you. What is your 'takeaway' from the interview?
Be sure to subscribe so as not to miss the juicy goodness ahead. It's free, no strings attached, my loving gift to you. All of July is devoted to the topic of the Divine Feminine, and ALL my guest experts are A-M-A-Z-I-N-G! You do not want to miss a single one.
After July, guest expert interviews will be interspersed with the regular Paint Yourself Into the Picture coaching show format. (I am accepting applications for those who wish to schedule a free 20 minute coaching session with me as a guest on Paint Yourself Into the Picture. Click here to apply to be a coaching guest.)
This show is grassroots driven...
If you love these heart-centered, healing conversations, then this show is for you. If you believe, as I do, that these topics are important for the world and for each of us personally, then I invite you to be my sacred partner in bringing this show to others who need its healing message. Your 'Likes', comments, subscribes and shares help lift the show's ratings and help its reach. Click here to watch the interview now.
I've been blessed to receive so much in my life. This show is my way to pay it forward. From the bottom of my heart, thank you for your divine help in sharing it with others.
Would you like to schedule a free on-air coaching session?
Are you ready to create a more vibrant and joyful picture of your life?
Are you ready to step into a greater sense of connection with spirit?
Are you ready to expand your life and live your dreams?
Click Here to apply today.
Or, if you would prefer to work with me privately...
Simply contact me to see if working with me is a good fit. It's lo-tech on purpose - just drop me a line, person to person, and let's set up a time to chat.
REAL LIFE. REAL NEWS. REAL VOICES.
Help us tell more of the stories that matter from voices that too often remain unheard.