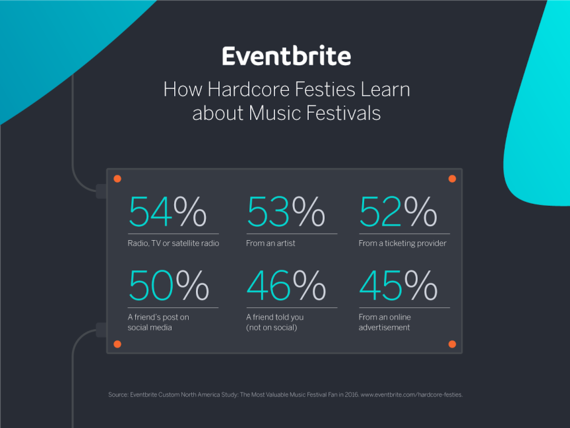 To the regular attendee, music festivals are an amorphous, organic experience that are more of a lifestyle than an event. As new music festivals seem to be springing up exponentially while others have closed their gates for good, companies like Eventbrite are interested in quantifying the impact and trends of these events.
Are festivals on the decline or incline? Who is attending these festivals and how frequently? Are some festivals more popular than others and why? How much money are patrons spending on festivals annually? These are the many questions that run through the minds of festival organizers and now they have been answered with actual, statistical data.
If you regularly attend music festivals and live shows, chances are, you have purchased a ticket from Eventbrite. The company teamed up with independent research firm MusicWatch Inc. to survey over 1,000 festival patrons between the ages of 18-49 years old in North America and discovered some key insights into the festival market. The 20% of people surveyed who attended five to six festivals a year were identified as "hardcore festival-goers" and they are the super-fans who keep this industry thriving.
Music Festivals Are Alive And Flourishing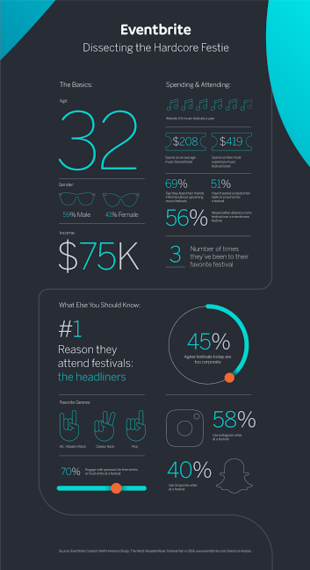 As the music festival community continues to grow, so also do ticket sales. There has been an overall increase in demand as close to 40% of those surveyed noted that they attended more festivals in 2016 than in 2015 while only 21% were surveyed as attending fewer. The vast reach of social media may play a part in this increase as the festival lifestyle as well as aesthetic is becoming a popular trend with events like Coachella inspiring hashtags and even entire fashion lines.
Though festival season is not completely over, it is beginning to wind down and hardcore festival-goers are already in the early stages of planning for next season. Of those surveyed, 56% plan to attend even more festivals next year than this year and 80% plan to continue attending festivals for many years to come. Another interesting finding is that seven out of ten feel a strong sense of community at these events and while nearly 62% invite friends and family, 56% would happily attend a festival alone if friends or family were unable to join. As the festival community grows, so does the sense of camaraderie amongst attendees making it much easier to venture to a festival solo.
"Being ingrained in this business for the past decade, we've witnessed consolidation of key industry players alongside the entrance of new niche festivals and a consistent theme from festival producers and fans alike has been the desire to preserve the authentic atmosphere that makes these experiences so transformational," said Martina Wang, Head of Music and Entertainment at Eventbrite. "Our research indicates that not all festival-goers are created equal and that perhaps the best way for those in the industry to continue to thrive is by tapping into this core group of hardcore fans and what ultimately keeps them coming back for more."
Festival Lineups Are The Driving Force in Attendance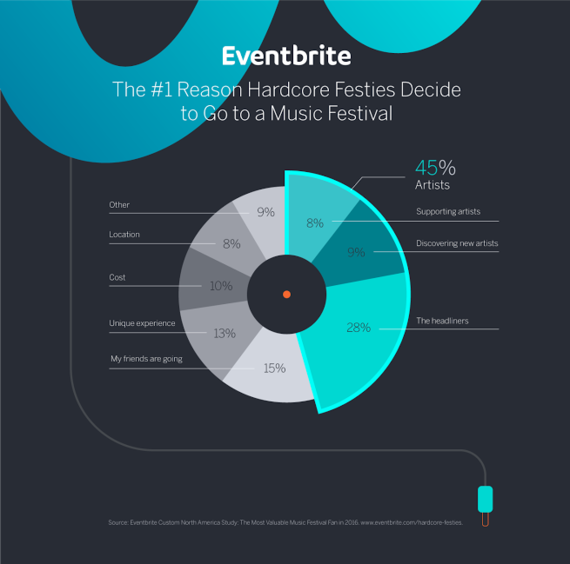 While there are a plethora of diverse music festivals now in existence, the one thing they all have in common is music. So why are festivals such as Bonnaroo that once saw an average of around 75,000 people, having its lowest ticket sales in the event's history? Musical lineup is the most important factor in achieving high attendance at these events.
Though various aspects such as location, cost, weather, time, uniqueness of experience and friends who are attending play a large role in patron's choices between festivals, one-third of hardcore festival-goers state that the headlining performers are the most significant deciding factor and 56% reported that they would prefer to see their favorite artists headline a festival rather than a smaller show at a club or bar.
This data was also supported by the not so hardcore festival-goer. The one in five who went to fewer festivals this year reported that a less enticing musical lineup was the most prevalent reason for their lower attendance next to time and money. Genre also plays a role with alternative/modern rock, classic rock and pop being the most popular among those surveyed. While the people, art, and experience are all integral spices in the festival recipe, music is definitely the main ingredient.
An Appetite For New And Boutique Festivals Has Increased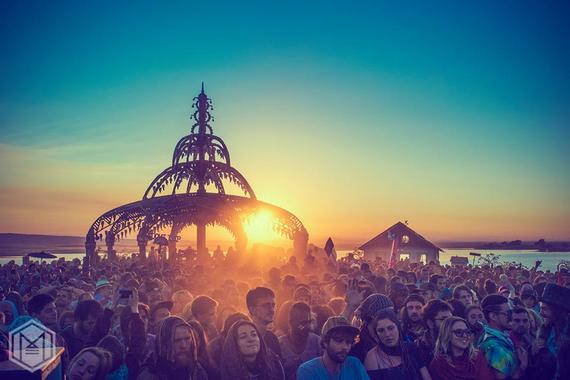 Symbiosis Gathering 2015 // Photo by Miles Najera
Mainstream events such as Coachella, Bonnaroo, Lollapalooza, Vans Warped Tour, and Electric Daisy Carnival have been dominating the festival scene for years. While they are still the main attraction for most hardcore festival-goers, a new breed of festival has been emerging known to many as a boutique or transformational festival.
Though they are often similar logistically, these smaller, more intimate events offer underground artists, educational workshops, yoga, movement classes and more. Non-corporate, independently produced festivals such as Symbiosis Gathering, Electric Forest, Shambhala and Lightning in a Bottle are beginning to draw more and more attendees every year, attracting not only the hardcore festival-goer but also families.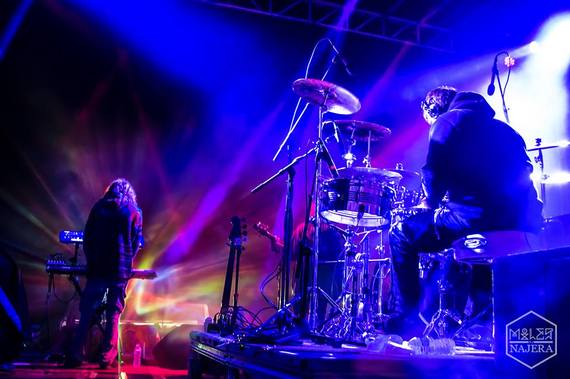 Ozric Tentacles, Infrasound Festival 2015 // Photo by Miles Najera
Despite Coachella, Bonnaroo, and Lollapalooza being reported as the top three festivals attended by survey respondents, half of the festival goers stated that they would rather attend more intimate, niche festivals than mainstream believing that these events will appeal to a more specific set of interests. With so many music festivals to choose from now, nearly 50% of those surveyed believe that there are not too many festivals and more than 40% would rather experience a new festival than one they have already attended.
Of the 72% of people who attended festivals five or more years ago, more than half agree that the scene and community have changed for the better. Now, festival-lovers no longer have to wait an entire year to indulge in that one-of-a-kind festival magic. There are several stepping stones to hop around on before arriving at that big island.
"Affinity for the music, community, and social experiences of festivals is incredibly powerful but with more festivals in the market than ever before, it's become increasingly hard for those in the industry to differentiate themselves and ultimately turn a profit, " said Russ Crupnick, Managing Partner at MusicWatch Inc. "Our research identified a key segment of valuable festival attendees who drive the lion's share of the business. These hardcore fans are consistently outranking casual festival-goers in virtually all aspects of spending, attending, influence, and engagement."
Hardcore Festival-Goers Spend Over $1,000 Annually on Music Festivals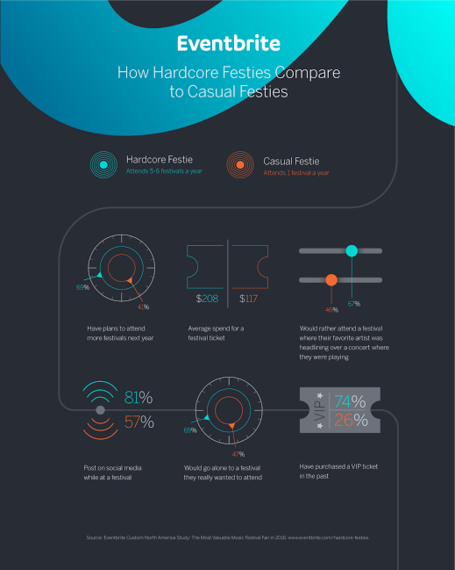 Regardless of whether a music festival is corporate or not, there is money flowing from attendees wallets into these events. How much money and what it pays for varies, but the hardcore festival-goer is not averse to dropping hundreds of dollars into these weekend excursions.
The hardcore festival-goers who spend over $1,000 annually average between five and six festivals a year and spend 78% more money on these events than those considered "casual festival-goers," or those who go to only one festival each year. These surveys also discovered that the group who primarily makes up hardcore festival-goers are millennials at an average age of 32 where 59% are male and 41% are female.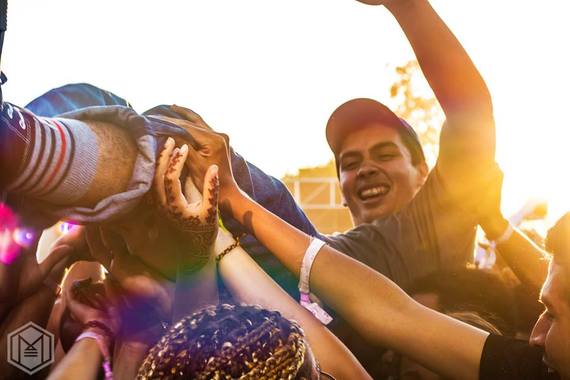 FYF 2015 // Photo by Miles Najera
Nearly three in four hardcore festival-goers have purchased a premium or VIP ticket while only one in four casual festival-goers choose an upgraded festival experience. When the surveyor asked the hardcore festival-goers what the most they had ever spent on a festival pass was, the average cost was around $420 which is 57% higher than the casual, North American festival attendee.
All costs, statistics, and data aside, the one thing that every festival-goer understands, is that no matter how you quantify these events, there is no number or price that can equate with the enchanting nature of these one-of-a-kind experiences.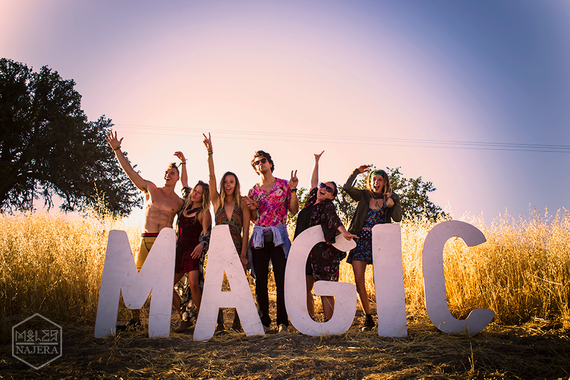 Lightning in a Bottle 2015 // Photo by Miles Najera
Calling all HuffPost superfans!
Sign up for membership to become a founding member and help shape HuffPost's next chapter