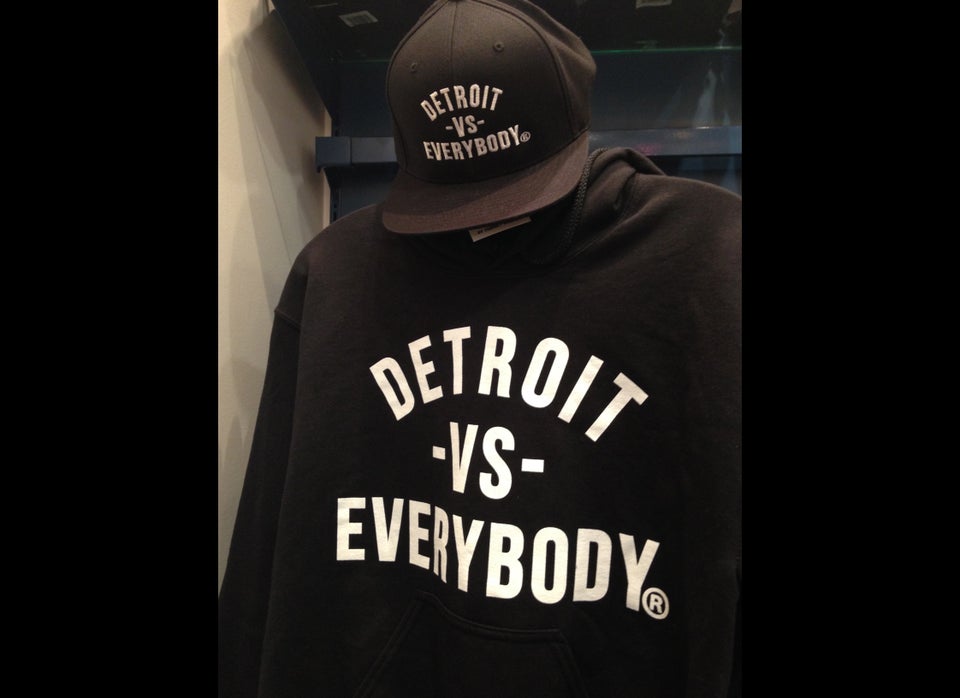 Highlights of the D
When I told my family that I was going to Detroit, there was a resounding "Why?!" Shocked faces. Mumbles. A well-traveled friend simply said, "Eeew."

The media hasn't been too kind to the Motor City, so most people who haven't visited seem to assume it's a wasteland of abandoned buildings and zombie workers from old car factories.
Not only are these characterizations untrue, but the bad reputation isn't lost on the locals. Designer Tommey Walker launched the popular Detroit Vs. Everybody apparel line, while a city movement called Don't Be Afraid of Detroit promotes the many good things about one of America's greatest cities.
I've lived in Brooklyn for nearly a decade, and like this city, Detroit is reclaiming its industrial past and flipping its pariah status into a members-only club. Brooklyn used to be a no-go zone. Now suburban kids buy Old Navy tees emblazoned with the borough's name to add some urban cachet to their wardrobes. Times change.
On Park Avenue off of the Cass Corridor (which certainly had been a dangerous area in recent times), there's a gem of a 1930s supper club called Cliff Bell's. This glorious art deco establishment has retained and restored much of its original glamour. At a recent Sunday jazz brunch, I sipped an Irish coffee as pianist Jarrod Champion kicked off his set with the surprisingly apt tune "Nobody Knows You When You're Down and Out." But there's a lot to know about this intriguing and diverse city.
Detroit has a series of uncreatively-named ethnic enclaves: Greektown, Corktown, Mexicantown. Eighty-seven percent of the city's residents are African-American and one-third of the neighboring suburb of Dearborn claims Arab-American heritage. On the corner of Clarkdale St. and West Vernor Highway is the Mexicantown Bakery, serving delectable pastelisto de queso, cinnamon cookies dusted in confectioner's sugar, cream-cheese ensconced brownies...I could go on. Pick up a plastic red tray and a pair of tongs. Behind a wall of plexiglass doors are trays upon trays of fresh-baked goodies. Pile them high and figure out exactly what you bought later. It doesn't really matter. It's all amazing.
Fun fact: the bakery's owner is Omar Hernandez, father of rock singer Jessica Hernandez. She can be seen around the neighborhood when not on tour with her 50s retro-chic band The Deltas.
But what, then, of the hipsters we've all heard tale of, flocking now to Detroit instead of Brooklyn or Portland or Austin? Not to fear: they were so many bespectacled fish in a barrel along West Canfield Street in Midtown. This is the address of Shinola, City Bird, Nest, Willy's and other incredibly precious (but admittedly lovely) stores. One has to respect Shinola's efforts to bring small-scale manufacturing to Detroit, but I couldn't quite bring myself to buy an $85 iPhone case, no less a $2,000 bicycle.
Just a few doors down, some old college buddies and I had dinner at Traffic Jam and Snug. At this 50-year-old Midtown establishment, in-house brewers use the same equipment for brewing beer and making cheese. The Dopplebock lager braised BBQ brisket panini with a side of potato salad seemed like the right dish on a snowy evening.
Also in Midtown is the Detroit Institute of Arts. This world-class museum houses pieces by Matisse, Picasso, Van Gogh, Degas and Oldenberg as well as gems like Diego Rivera's Detroit Industry fresco and the General Motors Center for African American art. You could, and should, spend many hours there.
Outside of city center is Vinsetta Garage "Serving Detroit Eats" on Woodward Ave. America's original cruising strip. The garage in Berkely, MI, used to grease up the Motor City's cars and now greases plates of delectable American comfort food like the Union Mac mac-and-cheese. Under chef Aaron Cozadd's direction, this cornerstone dish of the upscale diner is made with penne rigate, "so the ridges capture the cheese," blanketed in Vermont sharp cheddar, Pinconning, béchamel and parmesan. It's all topped with panko bread crumbs and baked to delirious perfection.
A bartender told me that people don't really get his hometown, because, "You know, Detroit's got blight." That's true. You won't find manicured lawns and cul-de-sacs in the D, but you'll discover that elusive melting pot of America and a beautiful churning, striving, reinventing.
Some people know you when you're down and out, and I think more should.
Popular in the Community