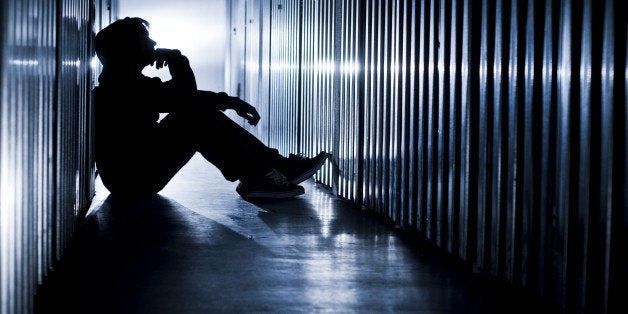 As an academic adolescent medicine physician, I have been conducting research regarding the health of homeless youth in California and street-based children in Kenya for 18 years. I took a detour on a recent research trip to Western Kenya with my daughter to visit the Kakamega National Forest. Job, our gentle and knowledgeable guide, pointed out the monkeys and trees of his native region. He paused to ask about the project t-shirts we were wearing. These were decorated with a colorful logo depicting street-based children and our project name, "Vijana Wetu," or "Our Youth" in Swahili. As I explained that I was collaborating with Kenyan colleagues to document and address the threats to the health of the street-based children in Western Kenya, his face grew increasingly somber. Finally he simply looked down without a word.
"Are you OK, Job?," I asked.
"I am ashamed," he said, "I am ashamed you have come to our country and are seeing us treat our children this way."
Eager to ease his pain and shame, I responded. "In my country too, we have children who are living on the street, looking for shelter and being treated as criminals. It is not just in Kenya."
Job looked up at me and said, "Are YOU ashamed?"
I am not ashamed. I am outraged. And I wonder, where is the national outrage? This week we received news from the National Center on Family Homelessness that 1 in 30 school-aged children experience homelessness yearly. Youth homelessness is an expensive societal choice. CUNY and Columbia-based investigators documented that letting youth live on the streets costs our society a minimum of a half a million dollars in social costs and lost productivity per youth Finally, our own research has documented that youth homelessness is not only expensive, but is too often fatal. For homeless youth 15 to 24 years of age in San Francisco, living on the streets leads to a rate of death 8 times normal for young men, and 13 times normal for young women over a six-year period.
Instead of squandering our most precious asset, our youth, what can we DO? In addition to committing to caring for children who are homeless with their families, our agenda must address the needs of homeless minors living without their parents/guardians and homeless young adults, most of whom were not even included in the recent statistics. Based on our research and community collaborations, we propose the following agenda.

ONE. We can meet our obligation to provide a basic safety net and shelter to youth by urging our representatives in Washington, DC to support the Runaway and Homeless Youth and Trafficking Prevention Act (S.2646), which reauthorizes and strengthens the Runaway and Homeless Youth Act (RHYA), the only federal law that funds vital services for homeless youth. As temperatures start to drop, it is even more vital that shelters and outreach services are protected and expanded.
TWO. We can commit to building housing for transition aged youth (ages 18-24) to ensure that, like their luckier peers in dorms across town, they also have a safe, regular place to stay while acquiring the skills they need to become productive citizens. At the UC Berkeley School of Public Health, we are working with the San Francisco Mayor's Office on Housing Opportunity, Partnerships and Engagement on an evaluation of the city's first supportive housing building specifically for young adults. In the few months these youth have had a safe, reliable place to call home, they are already taking steps to turn their lives around, abandoning survival sex and marginal economic activities, and embracing education and work. Such Housing First models have been found to be cost-saving for chronically homeless adults. The long-term savings for youth in years of productive life gained are incalculable. Innovative community development partnerships, in addition to diverting current federal funding to youth housing, could make this possible.
THREE. We can extend the transitional support services currently provided for foster care youth to age 25 nationally (as is the case in some states, such as California) and provide these same services to all homeless and unstably housed youth. These two overlapping and almost indistinguishable populations have suffered the same consequences of childhood trauma. They should receive the same services to ensure their transition to independence.
FOUR. We can demand that states all implement state plans to end youth homelessness and encourage and incentivize all sectors in state and local government to collaborate to end youth homelessness. Plans exist in model states such as Minnesota. In California, which ranked 48th in services for this population, a plan exists and was published by the Sacramento-based California Homeless Youth Project, but has not been adopted by the state government. Efforts to fund statewide coordination were defeated, surely a fiscally unwise outcome.
FIVE. We can ensure that we meet the federal objective to end youth homelessness by 2020 articulated in The US Interagency Council on Homelessness' Opening Doors Framework. However, the objective will only be that, an objective, unless resources are dedicated federally and incentives are created for the private sector to end this problem.
SIX. We can stop criminalizing youth for their poverty and marginalization, creating even more barriers to obtaining housing, education, and jobs. Laws that outlaw sleeping outside or panhandling ensure that youth will have even fewer choices tomorrow. Youth are our future. Let's give them an on-ramp to a life, not a ticket.
From the Gold Rush through the tech boom, we in San Francisco have benefited from the innovation, hard work, and entrepreneurship of our youth. Like in San Francisco, youth are our greatest resource statewide and nationally. In the long run, it is not only our moral responsibility, but also to our benefit that the opportunity to reach their potential and to live long, healthy, productive lives, is extended to all youth.
REAL LIFE. REAL NEWS. REAL VOICES.
Help us tell more of the stories that matter from voices that too often remain unheard.