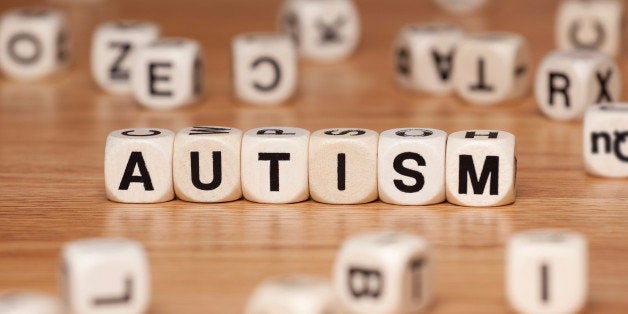 April 2nd is autism awareness day, however people who advocate for autism awareness like myself, well... we take the whole month of April, and parents of children with autism, like myself... we do it every month, every day, we actually use 365 days a year to spread autism awareness.
Autism or also commonly known as Autism Spectrum Disorder (ASD) is a neurological disorder that can have a wide range of symptoms. Often people with ASD are referred to as being on the "spectrum." Symptoms of Autism Spectrum Disorder (ASD) vary from children and adults being considered mildly impaired by their symptoms, while others are severely disabled by their symptoms.
The puzzle piece is the well known symbol for autism. Over the years, there have been many debates over the puzzle piece. Some advocates argue that the puzzle piece is implying that something is missing from them and that the puzzle piece is implying that they are not whole.
The puzzle piece was created by Gerald Gasson a parent board member for the National Autistic Society (FKA The Society of Autistic Children) in London in 1963. The board viewed autism as a "puzzling" condition...hence the puzzle piece.
I believe it is up for interpretation.
I, like so many other parents of children with autism, found support online. I found that each person had their own story to tell and I quickly realized that we all wanted the same thing for our autistic children and autistic loved ones, awareness and acceptance. Not long after arriving in my new community of fellow parents with autistic children, I heard all about one of the biggest autism awareness pages on Facebook, Ink4Autism. This guy was spreading some major awareness and he inspired me to want to do the same.
Awareness can be done and seen in so many ways; bumper stickers, charity walks, personal blogs, like mine, fundraisers, and even tattoos, yes tattoos.
Autism tattoos take on many forms, from the simple puzzle piece designs, to a butterfly with puzzle piece wings, I've even seen the Superman emblem in puzzle piece design. Autism tattoos range in design, no tattoo is the same, which is true with autistics. "If you've met one person with autism, you've met one person with autism" and my personal favorite, "different does not mean less!"
I had the pleasure of speaking with Jack Skorochod, founder of Ink4Autism. Jack spreads autism awareness everyday, with over 100k followers, Ink4Autism is one of the go to pages for so many in the autism community, I had to know how and why he started his cause.
This guy looks pretty tough, covered in ink from I'm guessing head to toe. Some may say he is intimidating, in speaking with him, he definitely smashes the stigma that tattoos are just for thugs. He's a husband, a father, has a passion for tattoos and a love for his family.
We spoke about his organization, Ink4Autism and how it came to life.
"I've always been into tattoos, even at a young age. I've always loved the beauty of them. Although, I didn't get my first tattoo until I was 30 years old. Yeah, but I've more than made up for it since then. I have tattoos dedicated to my wife, sons, family, as well as some memorial tattoos. When my son Lincoln was diagnosed with autism at 5 years old, it seemed only natural that I get a tattoo to show respect and honor to his autism" says Jack.
The idea for Ink4Autism happened in November 2011 when Jack had stopped into one of the many tattoo shops that he regularly frequented. It was at this time that he walked into the into the Lost Anchor Tattoo Parlor while they were running the "Movember" fundraising campaign. "Movember is an annual fundraising event where people grow out mustaches to raise awareness for various cancers, like prostate cancer. This shop was doing mustache tattoos with the proceeds being donated to the "Movember" campaign.
"A lightbulb went off... why not for autism?" says Jack.
The switch was flipped and Ink4Autism was born. If you are involved in the autism community, then you have definitely heard about Jack and Ink4Autism, with over 100k followers, this guy is spreading some major awareness. Even with having a massive following, he's humble and the passion he has for his cause shines through. He is a true advocate.
"My first year I managed to get 18 shops in the US and here in Canada to take part. Some were friends of mine, others were shop owners that I had found online that had already done some fundraising events at their shops, so I knew they would be open to helping out for autism, and thanks to social media, other shop owners found out about it and they contacted me to join and support the cause. People would find out about it through our Facebook page and they would tell their artist friends about it. By the second year I had about 75 shops and had added Australia and the United Kingdom to the list, and it has continued to grow each year" Jack explains.
Ink4Autism is a one of a kind fundraising initiative. Since 2012, I4A has been helping spread autism awareness on a permenant level with autism themed tattoos. During the month of April, you can go into a participating shop to get an autism themed tattoo and the funds are donated to numerous autism charities.
Tattoo shops in 11 different countries around the world have participated in this campaign and since 2012 Ink4Autism raised over $80,000 for autism services.
"Our autism tattoos act as a permenant showing of love for those with autism in our lives. We are smashing the stigma that tattoos are for thugs, and we are raising awareness for autism at the same time. I proudly display that inked love until the day I die. I love hearing the stories of people that NEVER would think of getting a tattoo, and they are getting an autism tattoo to support their loved ones with autism, and to me the most touching tattoos are the sibling pieces. As a dad, watching that kind of support from a sibling is incredible, something I get to witness every day with my own kids" says Jack.
I love the puzzle piece and I don't agree that it implies that something is missing from my child, my daughter was the missing piece to my life's giant puzzle and now I have my lost piece.
I asked Jack what the puzzle piece symbol meant to him and this was his answer.
"I see the puzzle piece as the mystery of autism. It's just one of the parts that make up my son. I know others don't see it that way and it's alright to have someone see something differently than I do... and neither of us is wrong, because we are all on the same path."
Yes, we all want awareness, acceptance, and inclusion for all...and a tattoo, I think I really want a tattoo now.
www.melissaacote.blogspot.com
Related
Popular in the Community