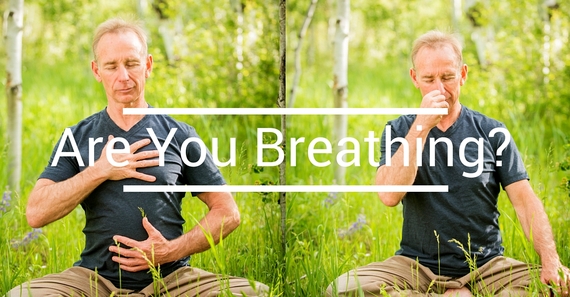 Technically, yes. Or you wouldn't be alive. However, are you optimally breathing? As you sit and read this, check the length, depth and pace of your inhale and exhale. If I had to take a guess, you're probably noticing your inhale is shallow and barely filling the top portion of your lungs. Your exhale is likely almost nonexistent. Or, you're mouth breathing on both the inhale and exhale. Am I close?
My passion around mindful breathing is deeply woven in the fabric of all my teaching. In fact, it's the first of my three pillars for living a healthful life. Respiratory physiology is the most underutilized tool for health and performance yet, the benefits of mind/body practices involving focused breathing reveal it plays an intricate role in chronic illness, organizational performance, building resilience and biohacking into flow states.
For me, a daily question to ask myself is "How am I breathing?" If my breathing is compromised, the next question is why? You see, when my mind wanders off, it's ultimately going to either a place of love or fear. When it's in a place of fear, my breath is shallow and there's no exhale. I notice I'm barely inhaling, my body is tense and my thoughts are not in what I would call a holistic place. And boy, sometimes that voice is loud too! Not only is this changing how I can process emotions and choices, it's affecting the physiology of my body and ultimately, my health.
This is an optimal time for learning. Squashing and dismissing this place I'm in mentally and emotionally only means it's coming back to haunt me again and again. Instead, I use my breath to show me how I'm "feeling" in that moment. The learning comes from examining the natures of my thoughts and allowing these feelings to move through me rather than take hold of me. I'm always reminded of my Kripalu training and the use of BRFWA. This simple acronym stands for Breathe, Relax, Feel, Watch, Allow.
I apply this wave technique while I'm exercising or while I'm working as the intention behind both determines the outcome. My intention in the action ultimately dictates the choices I'm making. If my thoughts are fear-based, they can interfere my with true intention which leads to those times when we manifest an outcome when we're shaking our head saying "How did I get here? I didn't see that one coming."
Stopping to be present and examine the thoughts allow us the possibility of moving through action consciously vs. unconsciously. You can imagine how powerful and useful this is for the mindful athlete, mindful professional or mindful individual.
Right now, do yourself a favor. Ask yourself, how am I breathing? Allow your breath to help you calm your body/mind. Deepen your inhale, lengthen your exhale and slow the pace at which you do both of these. Settle yourself into the discomfort. Don't react. Watch and allow. Allow the feelings to be there without reacting to them. Stay focused on your breath and the moment will dissipate. It's in these moments, we learn how to build resilience, transform thinking and self-regulate emotional responses to them all the while improving the physical health of our body!