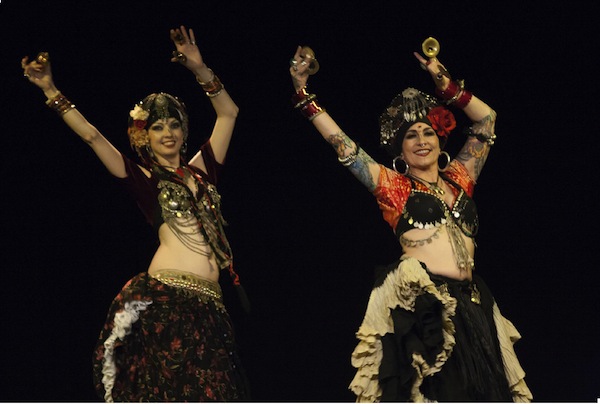 Carolena Nericcio (right) dances American Tribal Style belly dance with Megha Gavin
We talked with Carolena Nericcio, artistic Director of FatChanceBellyDance, about American Tribal Style belly dance and FCBD's upcoming show, Devotion. The large, yearly production is a departure from FCBD's generally more intimate performances, and features her own troupe as well as notable guest dancers of other folkloric and modern dance styles, including Tunisian, Odissi classical Indian, and Turkish.
Since American Tribal Style is an improvisational dance form, what are the challenges of producing (and choreographing?) a show like Devotion?
ATS is improvisational in its original form, but for the theater we encourage choreography to ensure a high impact show. Improv works best when the audience is closer to the dancer, in a cafe setting for instance. The viewer is drawn in and included in the interaction between the dancers, taking in the ambiance of the venue and the other viewers. On the other hand, in a theater setting the viewer is observing a "total package," sitting alone if you will, in a sea of darkness that doesn't allow interaction. We have to create the whole experience for them. Also, the stage is more limiting than a cafe, as we can only face to the front and the viewer can't move around us. In a cafe setting we can turn to face our audience, being seen from multiple directions. That means that when the same thing repeated, it's not redundant. On a proscenium we have to change the steps more frequently, in a way that gives the viewer the feeling of the whole stage turning, if that makes sense. The result of the choreographed version is the same for the viewer, but we know we have omitted improv cues or added extra people to a formation.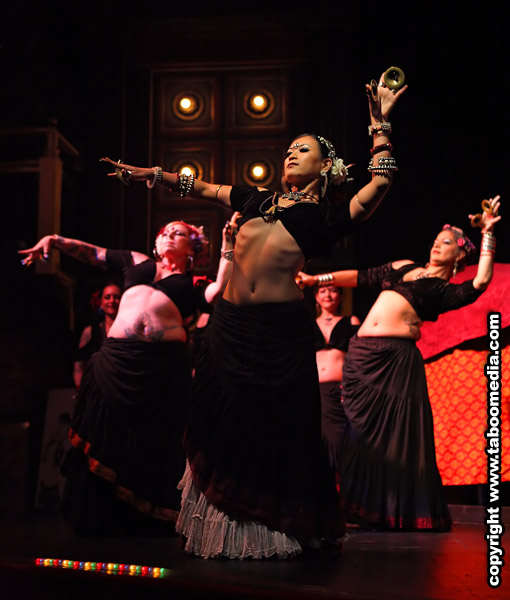 FatChanceBellyDance. photo by Taboo Media
How do you incorporate the other dance forms you showcase alongside ATS?
It's actually easier to incorporate the other forms! In this case; belly dance fusion, Odissi classical Indian dance, Turkish and Tunisian dance and Indian dance fusion. They create variety for the viewer and help to define ATS. The tricky part is having several ATS numbers in the show, presented by FatChanceBellyDance and Devyani Dance Co., our business partner and Sister Studio from Alabama. We have to work together so that we don't overlap ideas as we are all thinking the same way.
How do you decide what other dance forms and dancers are complementary to what FCBD does? How did you choose the other acts in this year's Devotion show?
Devotion started out as a dialogue between several dancers of different backgrounds: myself (ATS), Colleena Shakti (Odissi), Rakadu Gypsy (belly dance fusion) and Devyani (ATS) So, the stage was already set with several complimentary forms powered by the artistic vision of each director. Each year we include Collleena, Rakadu and Devyani and we select a few guest artists. This year we chose Wendy Marlatt for her Turkish inspired work, and Malia for her experience with both Tunisian and Oriental belly dance.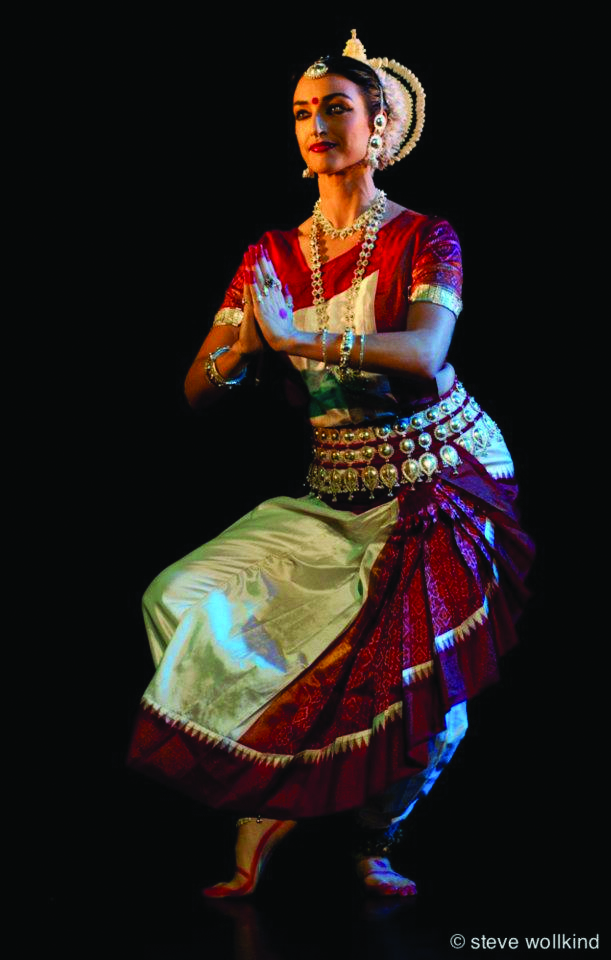 Colleena Shakti of Odissi classical Indian Dance
Some of the cultures in which bellydance developed do not celebrate the female form, at least not publicly. Yet as you have remarked, bellydance is the ultimate celebration of the female body. How do you think that contradiction arose?
Oh, that's a very deep question that would take a lot of time to explore! You'd have to look at it through the lens of each cultural, not just Western eyes. Some traditional cultures hide the female form in order to deter losing her "value" or "honor" meaning that in a culture where men and women are separated, there can be mischief if her beauty is made available to the public. But that's almost like appreciating it, in a closeted sort of way. I think the American culture is the least appreciative of the female form, sending the message that all women should be thin, vilifying the very nature of the mystery of her curves. I claim "ignorance is bliss" on my end, as I think the female form is so beautiful that I'm sure belly dance was created when a drummer watched a woman walking down the street. The sway of her hips was intoxicating and pulled the rhythm right out of the drum.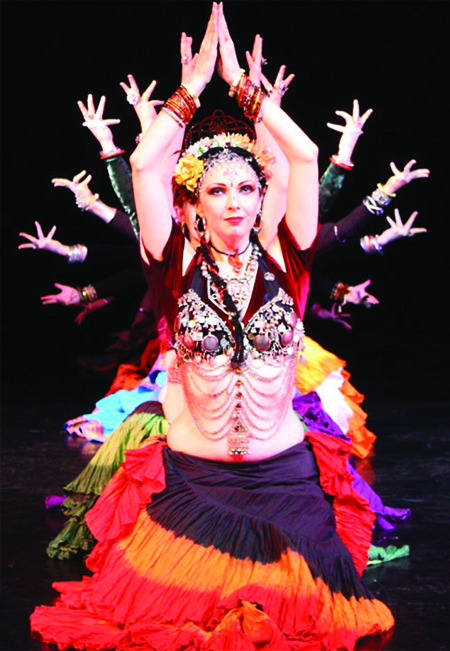 Megha Gavin of Devyani (America Tribal Style)
There are many contemporary dance forms that are more overtly sexual than bellydance. Why do you think there is still a stigma attached to bellydance (if you do think so)?
Unfortunately yes, I do believe there is a stigma attached to belly dance. There is a theory about what happened when the dance was brought over from the Middle East for the Chicago World's Fair in 1893. One train of thought poses that some of the dancers stayed behind when the gig was over and sought jobs at the only available venues, burlesque clubs. An alternate theory supposes that it was American dancers that simply took up the form and found success in the burlesque clubs. Whatever the actual story is, "belly dance" ended up being categorized as "exotic dance." Why it persists, I have no idea. How pole dancing gets better press than belly dance is a mystery to me.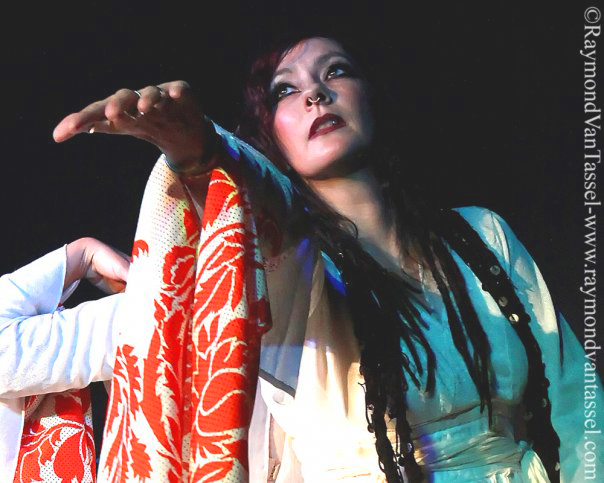 Teresa Tomb of Rakadu Gypsy Dance
Many of the now-popular fusion dance styles are modifications and combinations of different Middle Eastern and African folk dances, and evolved to their present versions and popularity in the West. Do you respond to accusations of "cultural appropriation" with regard to the folkloric dace styles from which ATS is derived?
In my experience, the only people who criticize our dance form are Americans (again, seeing it only from Western eyes.) People from the Middle East, India and North Africa are delighted to see aspects of their music and cultural being enjoyed by Americans!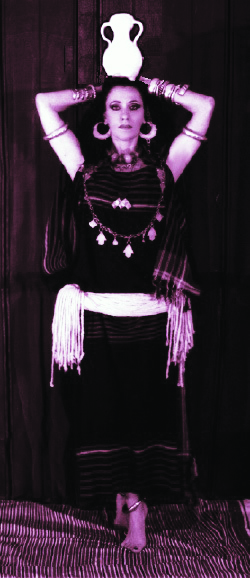 Malia DeFelice, Tunisian folk dance
Devotion, with live music performed by Helm, will be performed at the Julia Morgan Theater on Friday, June 14th, at 8pm. Tickets are $25.
2640 College Avenue, Berkeley, CA, 94704
http://fcbd.com/clvw/events.shtml
Related
Popular in the Community