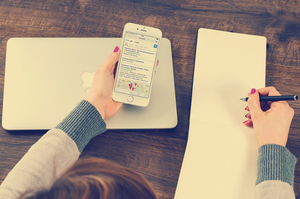 Starting a business based on your passion sounds like fun.
Work your own hours, set your own rules, create your own products ... freedom.
What goes into feeling that freedom I would describe as similar to drowning in information and options.
In this era of technology we are so accessible and information for us to use is unlimited.
The options are endless and I don't believe it to be a good thing as an entrepreneur.
I know I have enough craziness going on in my own head without adding everyone else's into the mix.
Even if you have automation and virtual assistants, making decisions and strategizing about every facet of your small business can be incredibly overwhelming unless you have a plan and tools to help you cope.
Everyone in the online world has something you must read, must implement, must have, must use, must follow ... or you won't succeed. Or so they say!
For me, all of this information stops me in my tracks and actually makes it almost impossible for me to prioritize what I should be doing in my business for growth and success.
We can be bombarded with information about how to use and benefit from:
Facebook
Twitter
LinkedIn
Instagram
Periscope
Pintrest
Google +
Website Creation
SEO
Automated responses
Mail Merging
Launch Strategies
Free Opt-in's
Webinars
Podcasts
And we haven't even started the list on creating a product yet.
So how do we manage all this strategy and information?
1. Stop your "Shiny Object Syndrome".
How many ebooks, courses and programs have you downloaded or purchased and then never even opened? Every time a new product or course pops into our feed or email, the temptation is to sign up. It's free and it might contain the exact information you need to make more money your business, what's the harm if I get it then don't use it. It creates clutter, confusion and chaos in your inbox and "To Do" list leading to even more overwhelm so start by unsubscribing to anything you are already receiving and not interested in.
2. Make an action plan starting with Sales.
The core of a business is selling what you have to offer. Work out who your ideal client is, where you'll find them and then let them know who you are and how you can help them. Only work on the areas of your business that will directly lead to sales and work on the sparkle when the sales are coming in. Send samples, send emails, make phone calls and get yourself in-front of them. Don't take the safe comfortable options of these though. Step out of your comfort zone and that's where the results will be found. It's time to be brave!
After every rejection, every failed launch, every moment when you wonder what on earth you are doing, use tools like EFT, meditation and yoga to re-balance your energy. Drink plenty of water. Be mindful to eat regular healthy meals rather than the temptation to skip meals because you are too busy.
You must look after your mind, body and spirit because if these fall apart, no amount of money or success will be worth it.
Popular in the Community