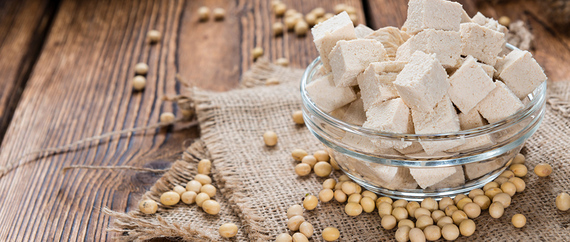 Photo: Pond5
Between tofu and tempeh, miso and soy milk, and the ever-popular edamame, there's certainly no shortage of soy on the shelves of your local food store. Long touted by health-minded folks as a better-for-you, eco-friendly alternative to meat, soy is a favorite among followers of increasingly mainstream plant-based diets. Yet, do a quick Google search for "soy" and some of the first results include headlines like, "The Dangers of Soy" and "Is Soy Bad for You?"
So what's the deal? Here's what you should know about the pros and cons of eating soy.
The Benefits of Swapping Hot Dogs for Soy
One of the biggest benefits of eating soy is that it can replace foods that may compromise your health, says Academy of Nutrition and Dietetics Spokesperson Vandana Sheth, RDN, CDE. "If we are talking about soy in its whole form such as edamame, tofu and whole soy milk, then it is healthier than meat in the sense that soy provides an excellent source of protein, fiber, vitamins and minerals -- without the cholesterol and saturated fat found in meat," she says.
It's the same rationale the Meatless Monday campaign uses to validate the claim that forgoing meat one day a week can lower your risk for cancer, cardiovascular disease, diabetes and obesity. You're probably (or, hopefully!) swapping out less healthful foods, such as red meat, in favor of plant-based foods. And while there's some evidence that soy might slightly lower your risk of heart disease, the effects are minor -- but more on that below.
But Is Soy Really a Superfood?
Aside from the idea that eating more soy might lead you to eat less meat, there's not much evidence that soy itself produces health benefits. Claims that it lowers cholesterol, calms hot flashes, prevents breast and prostate cancer, aids weight loss and wards off osteoporosis are all based on preliminary research, inconclusive evidence or overstated claims according to a 2014 Harvard T.H. Chan School of Public Health report.
For example, while the American Heart Association used to advocate eating soy as part of a "heart healthy diet," they have since backed off that recommendation because the data did not support such a claim, says Heather Patisaul, a developmental biologist at North Carolina State University who has studied the effects of eating soy. "For most people the benefits of soy on heart health are very small: a few cholesterol points but not much else," she notes.
In fact, an American Heart Association review of 22 randomized trials found that eating 50 grams of soy a day only lowers LDL (aka: bad) cholesterol by three percent. To put that in perspective, you'd have to eat one-and-a-half pounds of tofu or drink eight, eight-ounce glasses of soy milk a day in order to consume 50 grams of soy. And that's a lot of tofu, even for the most dedicated of soy fanatics.
Soy has a shadier side, too -- most notably regarding the effect it may have on your hormones. That's because soy contains isoflavones -- a type of phytoestrogren that mimics the effect of estrogen on the body. When you eat lots of soy, it has the potential to disrupt estrogen-sensitive systems in your body, including the reproductive system (which includes the brain, the pituitary gland and the reproductive organs), says Patisaul. There have even been cases where women have eaten so much soy (think: 60 grams a day for a month) that they've temporarily shut down their menstrual cycle, Patisaul says. "The developing brain is also very sensitive to estrogen, as is the mammary gland and the heart," she notes.
It's the same argument you've likely heard against using plastic water bottles containing bisphenol A (BPA), except that soy is even more estrogenic than BPA, according to a review of research on the pros and cons of phytoestrogens by Patisaul and her team. Beyond that, the NIH states that soy's possible role in breast cancer is "uncertain" and advises that, "women who have or who are at increased risk of developing breast cancer or other hormone-sensitive conditions (such as ovarian or uterine cancer) should be particularly careful about using soy and should discuss it with their health care providers."
"Because everybody is different, it is impossible to know what the 'right' amount of soy is, but people can certainly go overboard," says Patisaul. "For people wanting to achieve a reasonably healthy protein intake without experiencing possibly negative effects of soy, there is no need to have soy at every meal or to replace all foods [like milk and cheese] with soy-based ones."
So should you give up soy for good? Not necessarily. Eating some soy can be a healthy way to cut back on meat while still making sure you're eating enough protein. But too much of a good thing has the potential to take its toll on your hormones and your health. "For healthy adults, I think about soy the way I think about things like sugar, alcohol and caffeine," says Patisaul. "Moderation is key."
Related