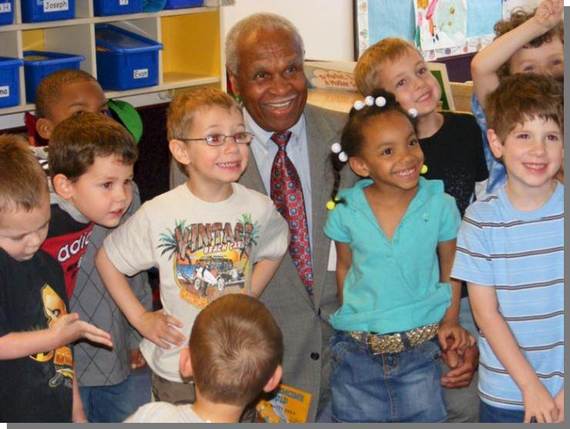 Margaret Mead would have been enthused about last week's White House convening on investing in early childhood.
She would have also been perplexed. Why did the organizers ignore the famous anthropologist's clarion call?
Mead, who was born 113 years ago today, believed that "somehow, we have to get older people back close to growing children if we are to restore a sense of community, a knowledge of the past, and a sense of the future."
While experts discussed the key elements needed to provide a strong beginning for children, the basic, essential role older adults can -- and should -- play in supporting that foundation was benched -- lost on the side lines.
Parents, teachers, philanthropist and business leaders were singled out. But where were the grandparents, the elders of our tribes?
Mead said "Nobody has ever before asked the nuclear family to live all by itself in a box the way we do. With no relatives, no support, we've put it in an impossible situation."
Her daughter anthropologist Mary Catherine Bateson carries on her mother's legacy. She implores older adults -- if you don't have a child in your life, find one.
That's one reason why she, along with early childhood expert Joan Lombardi, serve as the honorary co-chairs of Generations United's Seniors4Kids.
Seniors4Kids network members don't wait to be asked to weigh in for children, they act. Whether it's arguing for degreed PreK teachers, advocating for healthy school lunches or calling for increased spending on quality child care, these older adults find purpose when they become the voice for the next generation.
If you're an older adult and you care about kids, you should show it too.
How? Here are a few possibilities.
* Contact your members of Congress and tell them to support the early investments in children announced at the recent White House summit.
* Write a letter to the editor or call in to your local radio show and explain why as an older adult you support quality early care. Find a few handy facts about the value through Seniors4Kids or the Do Something Grand guide developed for Grandparents Day.
* Volunteer in a child care center or school. Be the extra hands, ears and heart all children need to flourish.
* Be sure the benefits you've come to depend on are there for the next generation. Social Security turns 80 next year. Tell policy makers you want it strengthened for future generations, not cut.
* Help busy families ensure their children have an advocate at school. Start a Grandparent Parent Teacher Student Association and recruit other older adults to actively participate.
* Don't let civic leaders segregate people by age. If your community is considering building a single-age facility like a senior center or teen center, make the case for braiding resources and building a multigenerational center that will be used by all ages.
* Locate a support group for grandparents raising grandchildren and donate supplies, gift cards, or child care.
The possibilities are limitless. What else can you think of to do? Share your ideas at www.seniors4kids.org.
Margaret Mead knew that one of the great gifts we can give the next generation is the gift of possibility. She said "If you associate enough with older people who do enjoy their lives, who are not stored away in any golden ghettos, you will gain a sense of continuity and of the possibility for a full life."
Embrace the role of elder and the responsibility of shepherding children who need your voice and wisdom. Don't wait. The next generation needs you now.
Support HuffPost
The Stakes Have Never Been Higher
Related
Popular in the Community