Most of us are so busy with work and our lives that we never stop to experience or truly feel our feelings! We are either numb or too rushed, stressed or overwhelmed to even know we are feeling something!
We fall exhausted into bed, and our relationships deteriorate or our performance goes down but we still don't notice how we are feeling. We just think life is hard or sucks -- or worse, our partner/work/children/friends are the cause of our issues!
How we feel about ourselves is the most important thing in life.
It forms the foundation for everything else we do. For our success or failure! How do you feel about yourself -- really?
There are three core fears that undermine how people feel about themselves -- do you suffer from any of them? They are unconscious, so you might have to spend a little time exploring your inner caves to find where they lurk!
1. I am not worth loving or I am not good enough!
2. I am unsafe in some way
3. Fear of death, abandonment or separation
These fears are usually embedded by the time we are 7 -- so they may not be yours and they most often are not true! Take some time today or this week or sometime soon when you can be quiet, to reflect on patterns in your life and what might be driving them.
One of the clues to these feelings is to ask yourself at the end of every day "what was my dominant feeling today?"
In an effort to help a friend of ours through a tough time, my husband and I are meeting every night with a couple who have become our family! We go through a series of questions and it has helped us all so much -- not just our family member.
Then we ask "what caused you to feel that way today?" and we all listen without judgement or defensiveness -- but with empathy! It creates the most wonderful, safe environment where we can learn to identify how we feel and what to do about it.
There seem to be some patterns emerging! When any one of us feels disconnected from ourselves, when we are scattered, we multitask or rush, our feelings are negative!
When we have meditated and connected to ourselves and a greater sense of love; when we focus and stay on task; when we avoid negative self talk and stay present -- our feelings reflect it and we feel much happier, positive emotions or peaceful!
So start today -- as you are heading home get into the habit of asking yourself -- "what was my dominant feeling today?" and then "what caused me to feel this way?" and reflect on your answers.
Below is a chart of feelings which has helped us identify what we actually are feeling on days we were unsure! It sounds odd but some days it's really hard to know what you are feeling!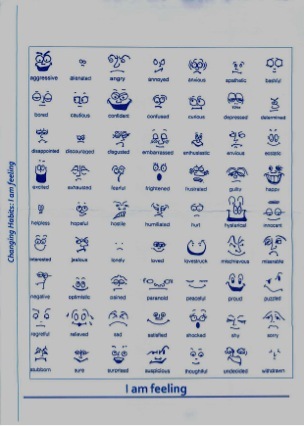 I have taken this from a clinic that hands out this form and I am not sure of its original source but whoever did it -- thank you! It has helped us all a great deal! I hope it helps you to make your life a predominantly joyful one!