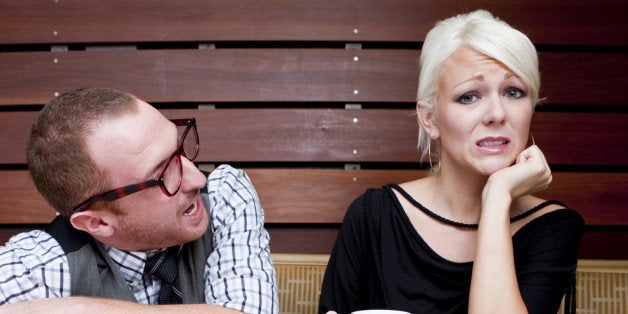 When it comes to dating, are you guilty of lowering your standards? I admit that I used to do this - typically for one of the following reasons:

• I hadn't dated anyone for a while (i.e. bored).
• I didn't believe I was worthy of what I wanted.
• I thought my standards were so high, that I'd never meet anyone who would match them, so I'd just settle for less than extraordinary.

I'd say to myself:

"Well, I know he isn't great at communicating with me on a regular basis, and I should be with someone who is psyched to hear how my day was, but when I do hear from him it's nice..."

Or I'd think...

"I know I should be with someone that values family, but I can see why he doesn't have any close family ties based on his situation."

Or sometimes this would happen: I'd date the person because he was pretty impressive. However, something was still off. Whether it was that he knew he wanted three kids (and I wasn't sure if I wanted kids) or he knew he wanted to live in the suburbs (I didn't).

I was taking my "musts" about my standards, like consistent, thoughtful communication and the importance I place on family values, and turned them into "shoulds". Or I'd stick around because he was a catch, even though some fundamental values may be off - like the decision to have children or where to plant your roots. I threw my musts out the window and settled for different standards.

In all instances of doing this, things never ended well. It would only be a matter of time before it was over and someone was hurt.

The truth is, lowering your standards is one big waste of time. Because once you lower what deep down you truly value and need in a partner - your musts, you are already setting yourself, and this new relationship, up for failure. It's starting off on the wrong foot. And as time goes on with this person, you're essentially not making the space for the right person or situation to be in your life.

In addition to lowering my standards in the past, sometimes I wasn't even sure what they were. What did I value most? What was a must in a relationship? Half the time I was dating blindly and not giving it much thought. I was letting the butterflies of a new, exciting fling get the best of me. And you can guess where this would lead to...(hint: things not working out).

Tony Robbins has said: "The difference between 'must' and 'should' is the life you want and the life you have."

As soon as I got clear about the kind of life I wanted (and type of relationship I wanted), and became firm on my musts, my life started to change, including my romantic life.

I now was able to weed out the guys who I couldn't take seriously, and make space for the right person. I started to change my life into the one I always wanted, and in a short time, the right person came along.
If you know someone who could benefit from this message, share this with them. Can you remember a time you experienced lowering your standards? Share below!
Sign up for my free life and relationships tips and inspiration at my website.