Do you ever have one of those days?
High-heel breaking and stalking-running days?
Those days seem to hit us when we least "need" them. We have too much work to do, too many errands to run, company for dinner. We don't have time for this, too!
And only after-the-fact do we realize, maybe that day was just what we needed. Maybe that day was just the perfectly imperfect moment to put us back on track.
Well take a good, long look at my Monday . . .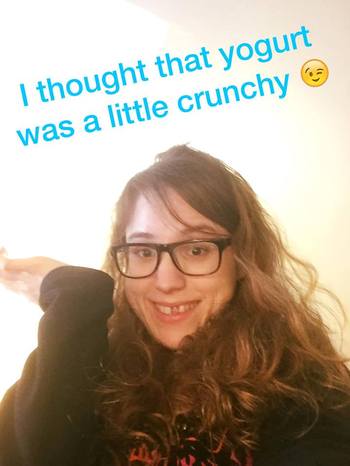 It was one of those days. And it was fabulous!
Because I turned it around. Because I took a hole-in-my-shoe, gap-in-my-smile Monday and made it into a reminder to stop, breathe, and laugh.
Short of losing a front tooth, here are the four ways you, too, can turn a not-so-fabulous-experience into photo-ready-fabulosity
(come on, if Travelocity can be a word . . .)
I know, I said you wouldn't have to take this step. But hear me out. If you fall really hard into . . . I'M JUST KIDDING. Seriously, though, when you lose a tooth - a front tooth - you can't hide it. That missing piece of you is hanging out front and center, waiting for attention. So call attention to it! Make your flaws a part of your identity, and you will grow to love them.
This is where you expect some amazing one-liner, isn't it?
To follow our awkward pause . . . the gift of day-to-day drama is lifelong comedy. Where do you think your favorite comedians get their material?!
It's funny. It's filled with those days we all dread. And hence, those days - in one way or another - are funny, so go forth and find the punch line! (Seriously, though, be a doll and go fetch a punchline; I still have nothing to put in that "cricket"-filled space, and I have to press Publish on this piece!)
3. Brush and floss your teeth (while you still can!).
Twice daily, according to the American Dental Association. But really, even on these hard-to-handle days, remember to put your needs and health at the top of your to-do list. You may be late for a meeting, but you still need energy to get there. You may be late for dinner with a friend, but confidence and self-care go hand-in-hand. So take that extra few minutes of time to care for yourself and brush those teeth while you still have them. I may be blissfully toothless, but I suggest you preserve what teeth you have.
When everything seems to work against us, it's easy to throw in the towel. I mean, I almost threw away the rest of my yogurt after my tooth fell into the bowl! But what a waste that would have been!
After getting to where you are in your life, your day, your hour, are you going to let a little road block push you offtrack?
So, yes, give in to these moments you can't avoid - your tooth falling off, your alarm losing power in the middle of the night. They happen. To ALL of us (says the toothless dental student). But never, NEVER give up, because this little roadblock is only going to make your character stronger, your dinner-table-comedy funnier, and your next not-so-perfect Monday a little easier to handle.
The doctor said she would live in a nursing home, confined to a wheelchair, crippled by pain; that was thirteen years ago. Instead, Mirissa D. Price is a 2019 DMD candidate at Harvard School of Dental Medicine, spreading pain-free smiles, writing through her nights, and, once again, walking through her days.
Popular in the Community