Research findings indicate that customers welcome ongoing communication with brands...if they are based on relevant two-way conversations.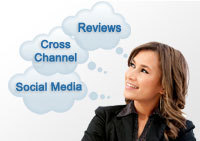 Learnings from Voice of Customer research we have conducted for Fortune brands indicates that customers want the relationship building process to extend beyond the sale, in fact post sale is when they want deeper levels of personalization and targeted offers and communications.
The following three types of conversations were identified as critical;
1. Reviews as Conversations
When a consumer writes a review it is a conversation starter with your business. Whether good or bad it is a "hello" that should not go un-noticed or without a thank you or reply.
Nearly 9 in 10 consumers have read online reviews.
88% of consumers say they trust online reviews as much as personal recommendations.
Additionally, according to BazaarVoice 95% of dissatisfied buyers state they'll buy from a brand again if a complaint is resolved quickly.
2. Social as Conversations
Social interaction is perhaps the most important 2-way conversation you can have with both prospects and existing customers. They are taking the time to find your business and comment on your social page. This is an action that cannot be ignored and deserves both respect and response.
Moving equipment and storage rental company U-Haul uses social media to connect with customers and get in on daily conversations to improve experiences and resolve issues...quickly.
According to Toni Jones, social media director for U-Haul International, "It's extremely important for us to have an open dialogue with our customers and potential customers online....When our customers are talking directly to us about our products and services, we find those to be the most important to engage in--immediately.... We have escalation cues... [and] we're going to address those quickly because we're able to track those messages."
The company organizes social conversations with tags--or subject codes--that categorize topics of discussion. The marketing team has set a stringent standard to respond to complaints and comments on social within 30 minutes during operating hours. The company reports that about 70% of all issues are resolved in a half hour; about 49% are addressed in fewer than 15 minutes.
3. Seamless Cross Channel Conversations
Consumers want to interact and converse via multiple channels, often at the same time. Being available to converse on multiple media lets consumers know that you are making the effort to be accessible to them.
According to the Accenture report, The Secrets of Seamless Retailing Success, "retailers struggling to provide a seamless, cross-channel customer experience may need to re-think key aspects of their approach."
Shoppers are both looking online then buying in-store as well as looking in-store before buying online.
They value the ability to reserve a product online before trying it in-store.
And they want the ability to check product availability across channels in real time.
Beauty retailer, Sephora's cross platform strategy uses digital to enhance the store experience. Their ColorIQ program lets consumers interact in store with sales reps with a facial digital wand that provides feedback about skin tone to ensure appropriate product recommendations. This information is also stored in a consumer's Beauty Insider web account where it is available anytime for shopping online or in store.
Monitor online reviews to gain insights about issues that must be addressed to improve brand image and consumer experience.
Respond in a speedy manner to all consumer inquiries, questions, comments and complaints to demonstrate a high level of customer service.
Be available to consumers online, via mobile and at bricks and mortar locations to promote an easy and seamless purchasing journey.
While there are countless ways to engage in meaningful conversations with your prospects and customers, make sure that you are having these three critical conversations daily and effectively.
Ernan Roman
President, Ernan Roman Direct Marketing Corp., (ERDM)
Inducted into the DMA Marketing Hall of Fame based on results companies achieve with three Customer Experience methodologies he created: Voice of Customer Relationship Research, Integrated Direct Marketing and Opt-in Marketing.
ERDM specializes in conducting Voice of Customer research to identify Customer Experience strategies that generate significant increases in response and revenue for clients including IBM, MassMutual, QVC, NBC, Microsoft and Norton AntiVirus.
Calling all HuffPost superfans!
Sign up for membership to become a founding member and help shape HuffPost's next chapter