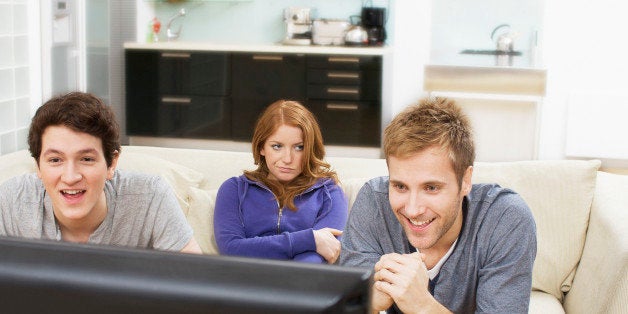 We're now well into football season, with five weeks down and 11 more to go. And if you're anything like me you're over it already! Since I've known my husband, I've hated football. Not because I think it's a barbaric sport that's full of too much aggression and future regrets, but because it means that the man I love will be glued to the television screen for at least eight hours EVERY Saturday and Sunday, and I will be S.O.L. Which comes as no surprise because his love affair with football began long before I entered the picture. So in the past, I've filled my weekends with improv classes, solo trips to the beach and delightfully tacky Sunday Fundays. I've even considered joining the football widows of America Club, but pumped the brakes on that one after realizing that I'm not quite ready to throw in the towel.
Oddly enough there was a time when I was actually a fan -- pre-courtship, circa 2000 when Daunte Culpepper, Chris Carter and Randy Moss were unstoppable! But I digress.
This year, with the words of Sheryl Sandberg echoing in my mind, I decided to try leaning in for football season. Needless to say, I bit off more than I could chew. It was great in theory, but who would've thought that staring at men manhandle each other for two days could be so much work! So back to the drawing board I went to create a more sustainable plan. From now till February, I've tasked myself with discovering things about the sport that I love, because if he's that passionate about it -- why the hell not?
Below, I've listed the top five things that are helping me lean in this year. These by no means qualify me to be a hardcore fan, but it's been fun scratching the surface. Try them out if you're seeking some leaning in-spiration.
1. Food -- As a person who loves food and often views it as a motivator, I feel like it can be the thing I contribute to our football-filled weekends. There's nothing like a good dip, party platter or craft brew to set the tone for a fun-filled day. Experimenting with different recipes and spreads has been great so far.
2. Learn the Lingo -- Watching football can be tough if you don't understand anything that's happening. I know the book, Football for Dummies, is so cliche, but it can actually help and you'll sound like a badass when you correctly identify a first down, pass interference or a personal foul.
3. Apparel -- The way to this woman's heart is through her closet. The University of Oregon has made football stylish again with their fashion forward uniforms. Celebs are also starting to get in on the money this sport brings by launching cute clothing lines for the ladies. Why not look the part if nothing else?
4. Fantasy Football -- Though it may be too late now to join an already existing league, I recommend fantasy football because it keeps you engaged. I play every year because my guy's the commissioner, but try starting your own league. It's really easy once you get past the draft.
5. Go to a Game -- There's nothing like a live sporting event to pique your interests and get your adrenaline flowing. College tailgating is the best, and it usually has zero to do with football. If you get the opportunity to go to a pro game, don't hesitate to go! The energy at the stadium is unforgettable.
As it turns out, I'm a bit of a minority when it comes to my take on the sport. A 2011 poll found that of the 64 percent of Americans who watch the NFL, 73 percent are men and a whopping 55 percent are women. But for all the other ladies and fellas out there who can relate to me, I hope this helps.
REAL LIFE. REAL NEWS. REAL VOICES.
Help us tell more of the stories that matter from voices that too often remain unheard.